More misery for the Hammers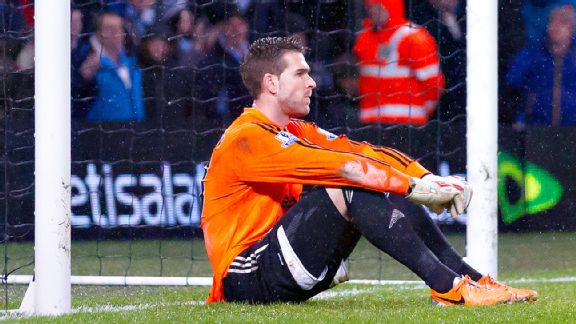 AP Photo/Jon SuperAdrian cast a lonely figure as his defense forced him to concede six goals.
West Ham lost 6-0 at the Etihad Stadium in this Capital One Cup first leg semi-final to a rampant Manchester City who played the part of being one of the best teams in Europe. But the home side were barely given a game by the hapless Hammers who have lost all sense of direction, confidence and the will to battle.

Following the FA Cup debacle, this was an embarrassment that surely leaves Sam Allardyce's job hanging by a thread -- despite what the Joint-Chairman stated in their letter to the fans earlier this week.

For it's not only the scoreline in this first leg -- horrifyingly there is still a second match to come -- although that is bad enough, but more the manner of the defeat; the way the Hammers were systematically dismantled, and the cumulative effect on the club, the fans and the players' confidence that should be of major concern to the Board.

City have taken apart far better teams than this rock-bottom Hammers side this season but -- as everyone feared -- the tossing away of the FA Cup match at the weekend has just compounded an accident that was always likely to happen. Eleven goals conceded in four days and the Claret and Blue now go off to Cardiff with -- well, what exactly?

West Ham still have no offensive threats to score any goals, the defence is injury-ravaged but "bolstered" by the loan signing of Roger Johnson -- a man who has been relegated three times in the past four years -- and a tactical formation that is confusing at best, unfathomable at worst. Allardyce decision to allow Alou Diarra to play a full game against Forest backfired. This match was crying out for his presence in front of a back-four that was bound to have a torrid time against free-scoring City.

West Ham have had an odd relationship with the Capital One Cup in its various guises. They have never won the competition being losing finalists in 1966 (!) -- the last time the competition final was played over two legs -- and semi-finalists many times after the final moved to Wembley. All the semis defeats have been awful, the Hammers often losing to opponents they were expected to beat -- Luton in successive years, a 6-0 defeat to Oldham that still keeps those who saw it awake at night, that loss to Stoke after winning the away leg where Gordon Banks saved Geoff Hurst's injury time penalty -- the list seems to go on forever. This mismatch is sadly another to add to the grim chapter.

How ironic that City's first goal came straight from what many regard as Page One of the Sam Allardyce Book of Scoring: after only 12 minutes with West Ham hoping to 'keep it tight' a long punt from the City half, split George McCartney and Joey O'Brien and found Alvaro Negrado who had time to look up, see Adrian was on his line and not likely to bother him with a challenge, before tucking it into the bottom corner with some aplomb. Had Sam not been slumped on his bench in the rain, you sense he would have appreciated the goal and wondered why Hammers opposition never seem to be so generous when the lofted ball is played down the middle.

At least City's second after 26 minutes showed the superior class that the blue half of Manchester has. The lovely link-up play between Edin Dzeko and Negrado allowed the home side's No. 9 to power in superbly while Yaya Toure's 40th minute goal to make it 3-0 came straight from the 'only at West Ham' catalogue.

Ten minutes before he scored, Toure went down after a strong but fair challenge from Mohamed Diame and looked in some pain as he writhed on the ground.

He could barely put his foot to the grass as he was half-carried to the touchline and West Ham -- who have seen injuries like this all season -- were at least thinking that one of the home sides best players was unlikely to figure much more in the tie. Then, with the subs warming up, suddenly Toure was jogging on the line, fit again! If anyone doubted that modern football is as much about mental strength as skill and prowess, then they had only to watch minutes later as Toure danced past a West Ham defence resembling a string of claret and blue washing on a line to put the semi-final beyond the visitors.

Four minutes after half-time, City were 4-0 up and Negredo had a hat-trick, volleying in from the edge of the penalty area after excellent work from Samir Nasri then Dzeko scored on the hour and ... oh look, let's just say that the Bosnian got a brace but should have had a hat-trick as should Nasri and Toure. Dzeko forgot the score.

"It's not easy to win 5-0 at home against a Premier League team, but we did." he said being interviewed on TV after the game.

"It was six," someone helpfully told him in passing. Only 24 shots on target by City? It seemed much. much more. It was a total embarrassment.

Personally, I found the result more comforting than that loss to Oldham, the successive season defeats to Luton Town -- even the unfortunate loss to Birmingham two seasons ago. But, in the context of the way the season has been going, this is an awful defeat. Wembley is a distant dream -- was it ever anything else? Both the FA and Capital One cups have been surrendered with barely a whimper and all that remains now is to ensure Premiership survival.

This ravaged band of Irons without a clue move on to Cardiff. Perhaps they can find something against a team they have a good record against. Perhaps Manchester City had better watch out in the Second Leg. Allardyce can only hope. There is little else left.