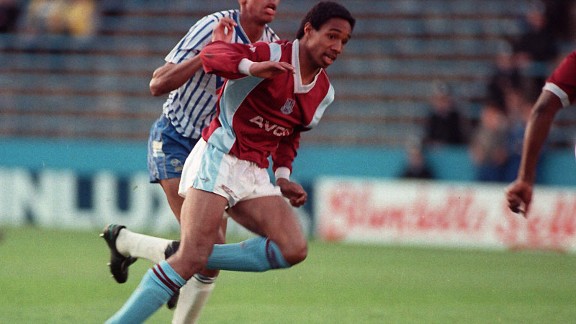 PA PhotosPaul Ince: Was always given a hard time on his return to Upton Park
Someone said to me the other day that "at West Ham you hate any player who leaves and always give them a hard time when they come back". I obviously attempted to argue this point but it got me thinking: is this the general perception of West Ham supporters?

No club enjoys seeing a player leave, especially one that was popular, and it's feels like a bit of a betrayal, particularly when the player joins a side that are traditional rivals or disliked by the fan-base.

At West Ham, the most ferocious reception of any former star was of course Paul Ince; an exciting player and one who had come through the youth system. He was always destined for bigger things and when Manchester United came calling it was perhaps forgivable that he wanted to leave. But what couldn't be forgiven was the way he posed for a photograph in a Manchester United shirt before he had officially signed for them.

Excuses about the incident have surfaced over the years and he was clearly poorly advised, but to do something like that was unprecedented; there has not really been anything like it to this day. While time douses the fire of anger, in the moment and the years shortly after the reception Ince received was largely justified.

In recent times it's been Frank Lampard Junior who has had much abuse thrown his way at West Ham. His situation is quite different to that of Ince, or any other player, because most of his problems were caused after his departure.

Lampard Jnr was a little harshly treated by a very small section of the West Ham support during his time at the club due to his father, also Frank, being the assistant manager and his uncle, Harry Redknapp, being the manager. It was deemed that he received preferential treatment. He was very rarely taken off, despite going through a dip in form, and also had a little more weight than a young player perhaps should have.

When his father and uncle were dismissed by the Hammers he also saw this as a time to move on and who can blame him? He had played 170 times for the club, scored 38 goals and had just broken into the England side. He left to join Chelsea in 2001 but his trips back to Upton Park have seen him berated and booed throughout.

This was due to many pre-match comments he made before the West Ham versus Chelsea games and he even went through a stage of struggle when he refused to talk about West Ham. My theory is that Lampard Jnr felt terribly hurt that his own had turned on him. He was a West Ham boy, his father a West Ham legend and for him to receive such abuse saw him lash out in the press.

He gloated that he was now at a 'big club' and painted himself as a victim of abuse when at West Ham. This was not the case and certainly not to the degree that he made out.

Lampard Jnr rose to the bait every time West Ham played Chelsea and could not help but getting caught up in the emotion when other players would have just let it go. So yes, the Hammers fans have a pop at Lampard, but it's a two-way street, and it still to this day gets underneath his skin.

Next we have Jermaine Defoe who put in a transfer request the day after West Ham were relegated. He eventually stayed at the club that summer and played in the Championship where he was sent off three times in three months and refused to pass to other players. Are Hammers fans not correct in feeling a little aggrieved at this disrespect to their club?

However, Nigel Reo Coker is one instance where things may have been a little over the top. He was minutes away from being the first West Ham captain to lift a trophy since Billy Bonds, yet a year later he was out of the club and hated. Our poor season saw Alan Pardew sacked and Reo Coker's form dip.

Rumours of off the field arrogance didn't help and he was seen as the face of the Irons' struggle and, possibly, wrongly blamed for this. But again, he didn't help himself.

Hammers fans all remember the game against Manchester United, the first under manager Alan Curbishley. He scored the goal to win West Ham the game but his celebration was one of man who had a massive chip on his shoulder. He couldn't wait to leave the club and his career has nosedived ever since.

When it comes to Rio Ferdinand, Michael Carrick, Marlon Harewood and Bobby Zamora they are shown nothing but respect. This is because they haven't behaved in a disrespectful and discourteous way towards the supporters or club.

In short, West Ham fans do not hold a grudge against all former players but feel they have some justification in barracking a number of high-profile players who may have shown disrespected the club and the supporters. Is there anything wrong in that?