Are the odds against Sam Allardyce?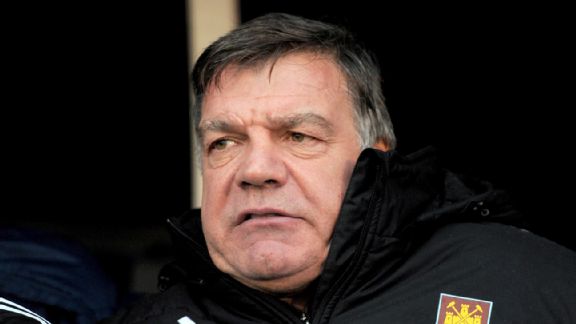 Steve Bardens/Getty ImagesThe writing appears to be on the wall for Sam Allardyce and disappointing West Ham.
"Damned if I do, damned if I don't," said Sam Allardyce before the weekend's horrific 5-0 drubbing at the hands of Championship side Nottingham Forest.

He was referring to his decision to send out a team sprinkled with youth players and first-team squad members in a match he described as "a third priority," but coincidentally it has been a phrase found on this very blog over the past few months describing -- normally as a backing of the manager -- some of the other decisions Allardyce has taken in a season which has now turned into a grisly nightmare.

After the torrid 90 minutes that was broadcast live on terrestrial TV, though, I'm now thinking Sam has arrived late to this particular party. In my view, he is now doomed if he does, doomed if he doesn't. So horrendous has been the criticism of Allardyce by the fans, so gut-wrenchingly embarrassing the defeat, it's difficult to see what can save the manager barring an against-the-odds semifinal victory over Manchester City followed by a good win at Cardiff in the league. Anything less and the two Davids (Sullivan and Gold) will surely have to pull the trigger.

I've always been fascinated by the ability of managers like Arsene Wenger and Sir Alex Ferguson to blood younger players -- often in number, in cup games -- by seemingly fitting them into a template already established by the senior players. This is a relatively recent phenomenon which just shows how modern football relies on tactics and a strong team ethic to shape a successful side, rather than just having the best players -- although, understandably, one then begets the other.

What nobody foresaw, though, was that Big Sam -- like some latter-day King Midas in reverse -- would actually be able to take the template of a failing first team and manage to fuse it to what has been so far been a pretty successful Under 21 squad, to produce a performance bereft of any fight and imagination. In a single match, the Hammers' youngsters were out-thought, outmaneuvered and tactically torn apart in a display that will surely give many of them doubts as to if they can possibly compete at the top level. And that, believe me, is no criticism of the young players themselves, who were forced to play in a formation that was totally alien to them.

The TV pundits were quick to point out that the problem was that the youth-squad contingent had no leaders on the field, no one to turn to when things started unraveling. But when two of those seniors given an opportunity were the two captains for the day (Stewart Downing handing the armband to Matt Jarvis when he was substituted) and these two players cost a combined total of 16 million pounds, bought to the club by -- yes, you guessed it -- this is just further damnation of the situation.

Worse than any of this, though, was Allardyce's body language and post-match comments.

Sam is criticised by many for appearing arrogant and bombastic to those who question his methods. He appears to be a man with a strong belief in his abilities, and must therefore be angry and disappointed by what is happening to him. Why doesn't he then show it? Why sit, arms crossed on the bench while carnage rages all around him? "Look at this mess," his posture seemed to say, "but what could I do?" Well, perhaps nothing Sam, but you'll forgive us for wondering why you're so highly paid, if you can't at least try. "Perhaps you don't think you have a hope," said no lesser combatant than Roy Keane. "But you never say it."

Worse, though, at the back of my mind, is the sense that the excuses for the injury situation is now actually keeping West Ham under. I wonder about Joe Cole, for example: a multiple trophy winner from his time with Chelsea, playing in the Champions League midweek and against a top Premier League team at the weekend. He's barely played this season -- could he really not have managed to play against Forest and again in midweek? And what does he now think having returned to the club that nurtured him and finding one of the only two possibilities his team have of winning a trophy has just been frittered away? Is he angry or disappointed or, like Sam Allardyce, is he just shrugging his shoulders and saying "Well, what can we do?"

But, of course, that old excuse will be trotted out that "We're down to 14 players." It wasn't us who let the transfer deadline pass with only one injury-prone striker on our books. The situation is now in meltdown as the fans turn on the manager and the owners and ask why this was allowed to happen. In the way of football, of course, there are no answers.

And so the die is cast: Senior players were rested, a tie tossed away, good youngsters hung out to dry, solely to enable those top players to play at their very best in two or perhaps -- depending on the result of the first leg of the cup -- three vital games. Nothing less than a good performance in one and a win in the other is expected now. Anything less and the Forest game becomes not a tactical exercise, but a career suicide.