Allardyce not "up for cup"?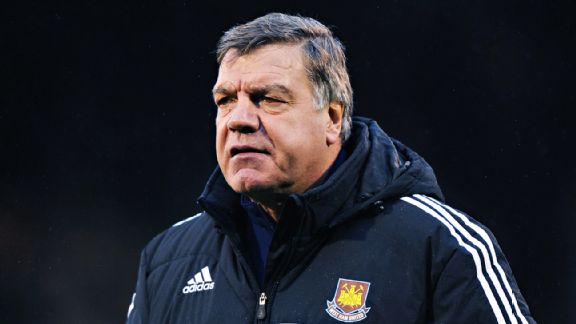 Steve Bardens/Getty ImagesSam Allardyce's West Ham are still alive in both domestic cup competitions.
To an Eastender, Sam Allardyce may be the very epitome of a bluff, no-nonsense Northerner -- the type who, in his youth, would very much be "up for the cup" on a chilly winter's day in January. Someone who might relish his team perhaps taking on someone more glamorous with the opportunity to pull off that shock win that, regardless of any other result that season, would make the whole campaign come alive for the winning side.

- Report: Heitinga rejection backed

Nowadays, sadly, the FA Cup and its less glamorous sister the Capital One Cup, are something of a nuisance to most Premiership managers and Big Sam's recent comments about this weekend's tie against Nottingham Forest and the upcoming Capital One Cup semi-final against Manchester City seem to indicate he would rather concentrate his waning powers and injury-stricken squad on the all-important battle against relegation. In fact, I get the impression if he could just pull out of the competitions all together then he probably would.

It's sad. Certainly when I was a lad, FA Cup Third Round day was a magical time when the league minnows had the chance to take on the big boys and -- particularly if you were playing a team like West Ham -- pull off an upset that would make your season. Set against that, though, were the times when the Cup went your way -- perhaps you might find your own side a minnow against supposedly greater opposition- - the whole season ending with a never-to-be-forgotten day at Wembley in May.

Understandably, the recent comments by Allardyce about the cup opportunities haven't gone down well with supporters. After all, West Ham's whole history has been based on cup results at home or in Europe; take that away and a solitary third place in the old First Division and a few fifth/sixth places in the league are all the club has to show in its 113-year history. Not unreasonably, fans are asking what else can we win if not a cup competition?

However, with John Heitinga eventually deciding not to join the Hammers from Everton -- citing an extremely depressing "It just didn't feel right" reason after initially seeming excited by the move following a three hour chat with the manager on Monday -- and no early sight of a striker joining, West Ham may well be forced into playing a skeleton team against Forest anyway.

It's not certain that new addition 18-year-old Jaanai Gordon -- a young striker signed from Peterborough on the opening day of the transfer window -- will feature in the match, although it's difficult to see what harm would be done to at least give the lad some experience from the bench, while it's likely Modibo Maiga will be given further opportunity to sharpen himself up as he starts to run into a bit of better form than what he had early on in the season. Elsewhere, it would seem players like Matt Taylor will get a run-out while the returning Stewart Downing will surely be given some opportunity to get match-fit after his horrific injury in which he needed 20 stitches. In fact, unusually for the Hammers, Downing's return is something of a coup as he was expected to be out till March.

If some fans find it depressing to see the cups not taken seriously though, there is another factor to be taken into consideration. Although cup upsets are always likely and will continue as long as there are competitions to play, the sad fact is that the widening gulf between even the bottom half of the Premiership and the Championship grows ever wider.

Championship top two side Burnley's solitary home defeat this season has come at the expense of West Ham in the Capital One Cup -- and it's not as if the Hammers have been much of a threat on the road this campaign -- and the east London side didn't really put out what they would regard as their strongest side in that game back in October.

So, while the game against a determined Forest side is not likely to be easy and an 'upset' not even a major shock , I think it's entirely possible that Big Sam may find his exit wishes thwarted -- possibly at the expense of a replay he surely won't want. Quite what he will say about that is anybody's guess.