Boxing Day mess for Hammers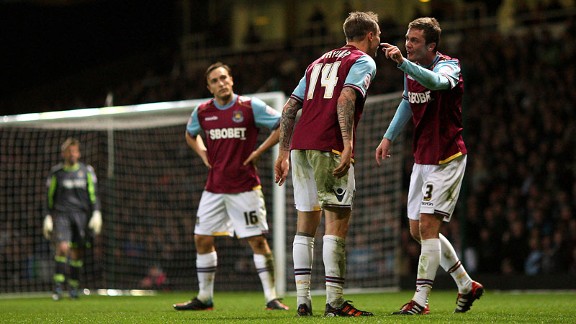 GettyImagesWest Ham could find themselves in complete disarray by the new year.
It's a simple truth that all football supporters will tell you: When the fixture list is released in the close season, one of the first things you check is who and where your team will be playing on Boxing Day.

Unfortunately, if you support a team like West Ham and you're facing a side like Arsenal, the prospect for a gloomy Christmas season is already on the cards before the first leaf falls from the trees.

• Report: West Ham 1-3 Arsenal
• Mangan: Podolski, Walcott step up

It's certain that the vast majority of the Hammers faithful who made their way to the Boleyn traveled more in hope than anything else, and this 3-1 reversal was probably no less than most expected. However, it was results elsewhere that really put a dampener on the festivities for the home side, and the sight of West Ham in the bottom three at Christmas has really underlined the reality that has been creeping ever closer over the past few months.

Like those neighbours and in-laws that you have nothing to do with for most of the year but who you're forced to entertain during the Christmas holidays, Sam Allardyce's men would have hoped for an afternoon of good company, cheer, entertainment and -- just perhaps -- an unexpected gift or three. But, as so often happens, after an initial bit of excitement, those hopes were dashed by those annoying neighbours who seemed content on spoiling the atmosphere, wrecking the home and leaving behind an awful mess to clear up. It's likely this mess may still be around come May though.

And yet … there was undoubtedly a chance this could have all been so different. When Carlton Cole put West Ham ahead immediately after halftime, tapping in after Mark Noble's shot was spilled by Arsenal keeper Wojciech Szczesny, the crowd sensed there may just be an upset on the cards. The Hammers came gloriously close on three occasions. First, Matt Jarvis got in a smart shot that Szczesny had to be alert too, then closer still when an excellent Mo Diame cross found an unmarked Joey O'Brien who headed wide from just a few yards out and, finally, when an even better cross from Razvan Rat was poked wide by Cole under pressure.

Arsenal will undoubtedly point to a dominating first half when they could have been three up without complaint, and a resurgent comeback led by the excellent Theo Walcott, and it would be hard to deny the truth of the matter. But football is a game that turns on a spin of a coin and if -- and here we go once again! -- the Hammers had a striker who was able to turn a half chance into a goal, then who knows how this game may have shifted?

Certainly, during the period they were behind until Walcott's 68th minute equaliser, Arsenal didn't look comfortable. Once the Arsenal and England winger had cut in and watched his strike fly in as Hammers keeper Adrian fumbled, everything changed and within 10 minutes the game was over.

It was Walcott again who scored two minutes after his opener, heading in -- his first ever headed goal apparently -- from a Lukas Podolski cross after 71 minutes, before the Germany international himself took the game away from West Ham with a powerful shot after good work by Olivier Giroud.

Of course, there were the usual realities that West Ham had to deal with. The influential Podolski was only on due to an injury to Aaron Ramsey after 65 minutes, but the sight of a top-quality Germany international (are there any other kind?) coming on while the Hammers huffed and puffed looking for a non-existent opening must put enormous pressure on team morale. It also has to be admitted that the home side's miserly defensive attributes of the early part of the season have now been completely lost. James Collins limped off in this game but he has been a shadow of his former self recently, and although, as against Manchester United last week, Adrian made a couple of impressive saves, the fact remains it was a howler of some proportions for Walcott's opening goal. As so often happens when you're engaged in a relegation dogfight, the whole team now looks a mess.

Captain Kevin Nolan inevitably returned from suspension, although, despite what many fans believed, his absence during the past three games hasn't allowed West Ham to play any more expansively than they do with him in the side. Ravel Morrison was injured and Noble, Diame and Jarvis all worked hard, but it's probably centre-back and, obviously, centre-forward where the Hammers will be hoping to splash some cash come January.

After that, it's tempting to ask where Sam Allardyce takes his team from here but the answer is quite simple: The next game is -- yes, you've guessed it -- a "must win" and, being as a struggling West Brom are the visitors, this really has to be a match that West Ham are up for. Three points before the turn of the year and things will look, if not exactly rosy, at least a tad stronger as the transfer window opens. The unpalatable fact is, though, that West Ham probably can't afford to lose more than one or two games at home for the rest of the season if they want to remain in the Premier league. Even on better days, points from Arsenal are hard to come by but a similar performance against the Baggies and West Ham may enter 2014 in complete disarray.