First home defeat as Arsenal shine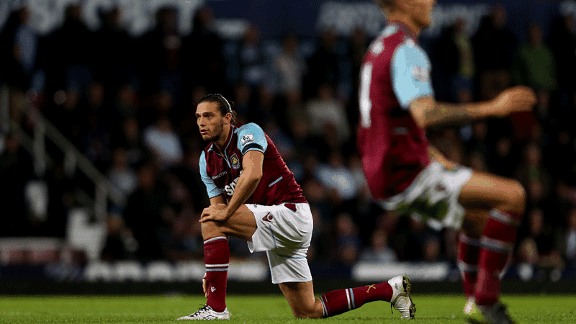 PA PhotosAndy Carroll and Co. couldn't hold on after going 1-0 up
I may have seen a lot of them over the years, but home defeats by Arsenal are always particularly hard for me to stomach. So I think the best option in this instance is to highlight the positives, note the negatives and take a general overview of what, I believe, is likely to be one of the few defeats we're likely to see at Upton Park this camapign.

Certainly for large parts of the first half, West Ham were forced to defend as Arsenal retained possession. It's true, little of that possession posed much of a goal threat and the visitors paid the price when the Hammers went ahead after 21 minutes. The excellent Diame broke free following a ball from McCartney, skipped past a flailing Ramsey and curled a superb shot into the far corner.

Oddly, Phil Dowd booked the Senegalese player for 'over celebrating'. Personally, I think any player who scores against Arsenal should be feted with an open-top bus tour of the country with vestal virgins throwing rose petals in his path, but that aside, it did provide a boost for the side that had looked decidely second-best to that point.

Diame was perhaps lucky to stay on the pitch shortly after when a mistimed tackle saw Arteta crumple in a heap. I feared the worst as I'm pretty sure the foul looked a bookable offence, but Dowd obviously realised the first booking was a nonsense and allowed the midfielder the benefit of the doubt.

Sadly, even though Andy Carroll was winning virtually every ball that was played forward, most of the loan player's efforts were reserved for helping out the defence and there was a general feeling that to get anything from the game the Hammers' needed to hold out until half-time so that BFS could make some changes.

Unfortunately, that didn't happen as, with four minutes to go before half-time, Diame was robbed in midfield, Podolski got down the left and his pin-point cross was turned in by Giroud who slipped ahead of Collins.

But if the home crowd thought the second half would bring more pressure and more deep defending, they were pleasantly surprised as the Hammers took the game to Arsenal from the start. Suddenly, Andy Carroll started bothering the north Londoners at the right end of the pitch - and that is an understatment. By the hour mark, the Arsenal central defenders had stopped trying to win the ball and had resorted to falling back and looking for the runners feeding off Carroll's headers.

Carroll almost put the Hammers ahead with a superb header from a diagonal cross and Nolan should perhaps have done better when he was put through, but the angle was perobably a bit too close to the keeper for him and in attempting to get around Mannone, he lost the opportunity.

Although it would be foolish to doubt Arsenal's ability on the ball and their territorial superiority in the first half, I still felt the game changed when Walcott came on after 61 minutes. Shortly after his introduction, West Ham suffered an injury when Vaz Te dislocated his shoulder in a collision with the Arsenal keeper as he chased a 50/50 ball. He was replaced by Matt Taylor - who made decent contributions and didn't look out of place - but West Ham nevertheless started to tire. Perhaps the chasing of the first half started to tell.

Ten minutes after coming on and with Arsenal looking stronger by the minute, Walcott beat the offside trap thanks to a slow reaction from Collins, latched onto a through ball and sprinted clear of the defence before beating Jaaskelainen low to his left.

There was only going to be one winner now and although Nolan shot just over, it was Cazorla who ended the scoring when he hit home spectacularly a dipping ball from distance. I felt 3-1 was a bit harsh on the Hammers; the second-half was fairly even but I doubt there will be many nuetrals who would deny Arsenal the three points.

So what do we make of West Ham's response to their first real test after their return to the Premier League? First of all, Andy Carroll was immense, winning virtually every ball in the air - the first time he was beaten was after 91 minutes - if he stays fit, he will terrorise most defences and certainly worried Arsenal during the second half. Had he got the goal his play deserved during the second half, the pattern of play may well have changed. Against teams outside of the top five or six, Carroll will surely have a field day.

As someone who has watched many a Gunners side out-passed, only to defend in depth and hit back with a goal and win the match, it was odd to see West Ham chasing shadows for most of the first half before doing exactly that. I don't have as much problem with that as some might think, but the lack of really mobile full-backs will always make it difficult to manage to defend for a full match. It really is an area that the club ignores with regular abandon - decent West Ham full-backs are as rare as a Arsene Wenger smile - and it needs to be addressed.

In general though, I found it hard to be depressed by what I saw. The last time West Ham played Arsenal at home and lost 3-0, relegation beckoned in a gutless performance from which it was difficult to see any positives. Now though, in less than two season, the Hammers have become a more cohesive unit - with weaknesses sure - but by and large better in most positions. With the way the Premier Lague operates it's hard to see any way that we can compete with Arsenal on a level playing field in terms of personnel, so I'm going to look at the several performances in midfield and up front and take solace from the fact that things are heading in a different direction from last time.

That'll do me at the moment.