Hammers comfort and joy at the Lane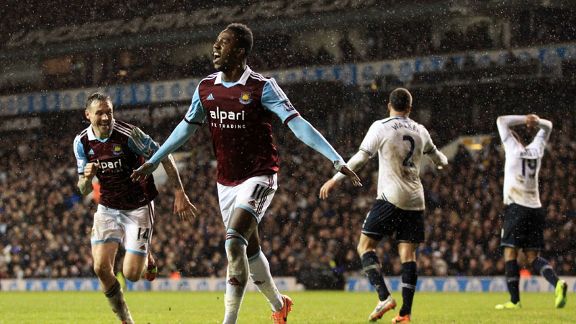 PA PhotosModibo Maiga celebrates his goal for West Ham at Tottenham.
"Can we play you every week?" went up the chant at White Hart Lane as West Ham won on the ground of their deadly rivals -- Tottenham -- for the second time this season, the result allowing them to progress to the semifinal of the Capital One Cup.

This 2-1 win, after going behind to an excellent Emmanuel Adebayor goal after 67 minutes of mainly home-created chances, was testament to a fighting spirit that the Hammers are probably going to need for the rest of the campaign (although a note of caution has to be sounded when you recall that Avram Grant took West Ham to the same stage in his relegation season). In fact, the Irons have rather an unenviable record of doing well in cup competitions but struggling in the league and, despite the unconfined joy of all of the visiting supporters, it has to be remembered where the club's major concerns lie.

• Report: Tottenham 1-2 West Ham
• Fitch: Spurs fail to convince

Nevertheless, this was an excellent result for Sam Allardyce, who played a strong side that he could ill afford to lose either in terms of injury or by suffering another morale-sapping defeat. As it is, the players looked elated when they left the pitch and it can only be hoped that the club take this type of result with them in the difficult games to come.

As for Spurs, this has come on the back of a bad week for them; the sacking of Andre Villas-Boas, following the 5-0 home trouncing by Liverpool, led to former-player Tim Sherwood leading out the club and he must have had high hopes of getting his fledgling managerial career off to a good start as he watched his side power past the Hammers for the best part of an hour. In fact, former Hammer Jermain Defoe had two glorious opportunities in the first two minutes while Aaron Lennon, Andros Townsend and Adebayor all went close in a fairly one-sided first half.

James Collins nearly caused a riot when Spurs keeper Hugo Lloris was forced to tip over a strong back pass following a foul. The Hammers centre-back was trying to return the ball following an injury to a Spurs player but his strongly hit "pass" was lifted on the wind, forcing Lloris to backpedal, just getting his hands to the ball before it crossed the line. It provided a bit of unintentional humour for the visiting fans, but Collins was loudly booed by the home support as he attempted to defend his honour to the opposing team.

Sherwood must have thought his decision to play Adebayor and Defoe up front was vindicated when the former Arsenal striker volleyed his side ahead in the second half after an excellent Defoe cross but oddly, that seemed to be the signal for West Ham to start playing, they hit back 13 minutes later and had enough chances in the closing stages to win several games. Matt Jarvis equalised after good work by Matthew Taylor and Modibo Maiga, the latter coming on as a substitute for the tiring Carlton Cole.

Then, as the away support sang and chanted, West Ham scored their decisive second; Maiga rising to head home after substitutes Ravel Morrison and Mo Diame combined. Maiga was mobbed by his teammates, it was his first goal in a year and could not have come at a better time. The Malian was rampant and could have had a second before the end, striking the post with a powerful shot just before Jack Collison came close.

Hammers reserve keeper Adrian denied Gylfi Sigurdsson in injury time and Joey O'Brien and Razvan Rat all had to be alert to block shots but there was a sense there was going to be only one winner and so it proved. When the whistle went, you'd have thought the visiting fans were celebrating another European trophy success but, then again, this is West Ham we're talking about and you have to take these moments when they come.

We've seen a lot of comment -- not least on this blog -- about Sam Allardyce, his tactics and his persona, and once again Big Sam will claim to come out of this with some credit. His substitution when he put on Morrison for Alou Diarra, after first Andros Townsend had pulled up with an injury after 73 minutes and then Adebayor followed him 5 minutes later, turned the game for West Ham. The introduction of Maiga seemed inspired too, although this was probably more due to the space the striker found as Spurs had to shuffle their pack.

However, Sam's critics will probably point to the smash-and-grab nature of the win and the fact that Allardyce's initial formation seems to have nothing else to do but dig in and defend valiantly before, hopefully, a few substitutions can turn the game late on. It's great when it works but not every side is as brittle and low on confidence as this hapless Tottenham side.

It says much for the history of West Ham over the past 50 years that cup results don't always reflect the league position of the club nor the form of the players and, in fact, there are an alarming number of FA and League cup semifinals in which the Hammers have appeared while fighting -- sometimes failing -- to fend off relegation. However, I spoke in this blog during preseason of hopes that the Hammers could perhaps build on their relative success in the league cup competition they seem to do well in but have never won, so a bit of festive miserly intent seems unfair.

Manchester City, whom West Ham meet in the semifinal, will prove an altogether harder test though and Allardyce needs to make sure he uses the goodwill from two victories over Tottenham to galvanise his underachieving squad.

This is a nice little present for the fans as they enter the main portion of the festive period, but they won't want to be taking this comfort and joy back in the chill of January. This result needs to be a springboard and not a blip in a downward spiral.