Allardyce needs to improve West Ham fast or share Clarke's fate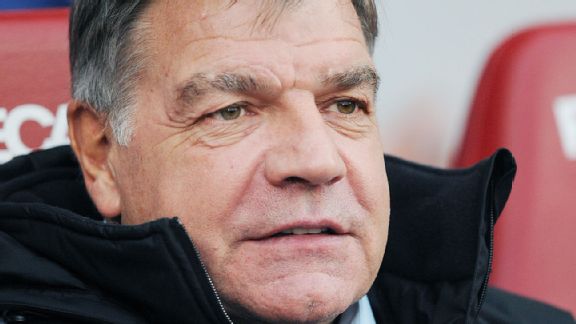 Steve Bardens/Getty ImagesThe pressure is on Sam Allardyce as West Ham hasn't improved in their second season under him.
Expectation is a driving factor throughout Premier League football this season. It is these expectations which are dictating how football supporters see their club and how owners are reacting to these expectations.

Take Manchester United, for instance, who after years of title winning have gone into this season expecting the exact same thing even with a new manager, David Moyes. Chelsea remember winning titles under Jose Mourinho the first time around and with him back at the helm they expect the same thing, and look at West Brom, finishing eighth last season (which I think most would agree was an overachievement), now sacking their promising manager, Steve Clarke, after starting the season poorly.

So what did West Ham fans expect this season? After finishing 10th under Sam Allardyce the club went out and spent more than 20 million pounds in the summer, bringing in England internationals Andy Carroll and Stewart Downing, yet find themselves in mid-December hovering above the relegation zone. I, for one, did not expect this.

If West Brom have seen fit to sack their manager, you have to start considering that Sam Allardyce is perhaps a very fortunate man to still be in his position. After a dire 0-0 draw at home to Sunderland in a game which was deemed by many as a "must-win," the pressure on Sam Allardyce is mounting and if West Ham do not pick up another point between now and the end of the year (a real possibility) then I am not sure just how he is going to survive.

These pages have been full of discussion about the future of Sam Allardyce for quite some time and this has become the main talking point around the club for a number of weeks.

When defending his position, the subject of injury to Andy Carroll is the main defence. The expectation is that with Andy Carroll in the side all the problems with goal scoring would disappear and West Ham would be riding high in the league. The post-match comments from Big Sam after the 0-0 draw with Sunderland suggested the same thing, yet I cannot help but think that this is all a bit of a smoke screen.

If it is a smoke screen then I understand why it is being used, as the injury to Andy Carroll may be one of the few things keeping Allardyce in a job. The pressure on Carroll to score goals when he does finally return was always going to be great, but with the added pressure of being responsible for the future of the manager who signed him this pressure is going to be immense.

If you have seen West Ham play this season then I would suggest you ask yourself if the club's problems are as simple as that.

Last season, West Ham were shocking away from home and goal scoring was a problem throughout the campaign both home and away. Allardyce himself mentioned in the summer that these were two things that needed improving.

I have seen no improvement whatsoever to the away form and the offense still remains a problem. If both these issues are still there a year later then surely this is a management failing?

If you worked in an office and there was a gaping hole in the middle of the floor and the following year it was still there, surely you would think that management have not done enough to fix this issue especially given the time they have had to do so?

Instead of pointing out how poor West Ham were and how Sunderland deserved to win, Allardyce decided to point out to everyone that West Ham have kept eight clean sheets and this is a "brilliant" return.

I cannot say I left Upton Park delighted at another clean sheet. This is the same Sam Allardyce who put a large sign up in the West Ham changing room stating "Winning is what we are here for." Maybe he is looking for a job working for Persil as it has now become "Clean sheets are what we are here for."

Sunderland came to the Boylen with an intent to get something out of the game and they created enough chances which should have seen them leave East London with all three points. Jozy Altidore was guilty of missing an excellent chance in the first half as he dragged his shot wide.

What was disappointing to me was that if any side was going win the game it was Sunderland. This is a Sunderland side who you would have expected to have been shot of confidence but clearly the change of manager has given them a shot in the arm as they looked bright and just lacked that cutting edge in front of goal.

West Ham created very little and forced just two shots on goals with just 42 percent possession. I am not sure how that can be dressed up as anything other than "poor."

I do not expect Sam Allardyce to be sacked anytime soon. Co-owner David Sullivan has said as much in a recent interview. The fact is there are very few candidates out there that you would want to replace him.

If he was dismissed you would be looking to bring in a manager who could keep you in the division. This takes a certain type of manager to fulfill this role. For instance, Crystal Palace have appointed Tony Pulis because they know that he is the type of manager who can provide this service.

The trouble with West Ham is that the supporters in the main would not want this type of manager at the club. If this type of manager kept you up, you would then be obliged to give this man another season, and in the end this type of manager will hit a wall and you would see the club back in a similar position within a few years.

Southampton bucked the trend last season by removing Nigel Adkins and replacing him with Mauricio Pochettino. This was a bold move and one that carried much risk but ultimately the risk paid off and the club have reaped the rewards of being just that bit forward-thinking.

West Ham go into a League Cup quarterfinal on Wednesday away at Tottenham hoping to repeat the early-season feat of winning 3-0 at White Hart Lane. Whilst the League Cup is likely to be low on the list of Sam Allardyce's priorities, he must know that a defeat would just add more negativity especially with games away at Manchester United and a Boxing Day home game against Arsenal to follow.

If by the end of this season Sam Allardyce is still West Ham manager, he will need to be congratulated for turning things around because at this moment in time, things aren't looking too promising heading into January.