Fans ready for relegation nail-biter
West Ham supporters are preparing themselves for one of those days that appear to come to the Boleyn Ground far too frequently; the seemingly perennial 'must-win' game against a relegation rival who themselves will be looking at the opportunity to reverse their own fortunes.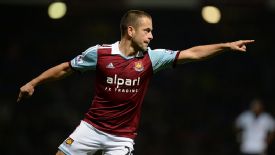 PA PhotosJoe Cole sealed West Ham's 3-0 win over Fulham.
The visit of Sunderland to Upton Park Saturday is likely to be a massive game for both teams. With a Cup visit to Spurs followed by an away game against Manchester United, and then a Boxing Day derby against Arsenal, Hammers supporters are nervous at what position the club could be in by the time West Bromwich Albion visit before New Year, unless three points are picked up against the Black Cats.

Sam Allardyce has stated that he 'expects patience' from the owners as he attempts to unravel the mess that the injury to Andy Carroll has wrought at the club. But even if he is lucky there, he can't expect much from the fans who will surely fully turn on Sam if there isn't a home win by 5 p.m. on Saturday.

-Allardyce cool on Martins link

Allardyce won't be helped by the news that the man who has probably been West Ham's best player this season, Stewart Downing, is now likely to be out for up to 10 weeks following the challenge on the winger by Liverpool's Jon Flanagan up at Anfield last Saturday. The nasty gash required 12 stitches and was deep enough to reveal the calf muscle when Downing took off his sock at half-time in the 4-1 defeat. Incredibly, Downing played the rest of the first half following the incident that didn't even bring about a yellow card.

It's likely that Downing's injury will enable Joe Cole to start, which will please many, while the loss of Kevin Nolan due to suspension following his horror tackle against Jordan Henderson will probably be viewed entirely differently by manager and fans.

Allardyce will obviously bemoan the loss of his captain, but there's many watching who believe that Nolan's poor form has been a hindrance to the Hammers' creativity. His suspension should release Ravel Morrison to influence play from the front of the midfield. It should also ensure Mo Diame isn't forced to play wide.

News that West Ham have decided to cancel the player's Christmas party is the type of story that clubs flirting with the relegation zone seem to announce every year, and makes me wonder whether or not is it really advisable for clubs to even organise these things nowadays. Media scrutiny and supporter expectation is so high that even the loss of two points following a festive bash starts the rumours flying. I can't help but wonder if the Hammers don't now organise a party just so they can cancel it and have a suitable headline!

Of course, as Sunderland winger Adam Johnson has already pointed out this week on Wearside, 'must-win' games aren't usually that at all and win, draw or lose the season doesn't end for either of these clubs on Saturday. This is 21st century football though, these are the pressures that everyone works under and that ensures this weekend's fixture will be a nail-biter for all concerned.