The Allardyce debate continues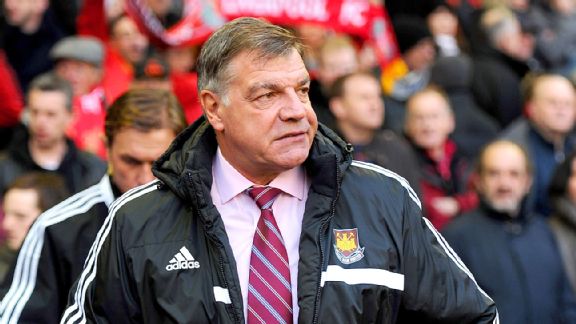 John Powell/Getty ImagesEmbattled manager Sam Allardyce's side were 4-1 losers at Liverpool on Saturday, dropping the Hammers to 17th in the table.
It was interesting to read the comments made by my ESPN blog colleague Vinny Ryan after the game against Liverpool at the weekend, because at their very heart, they lay at the centre of every argument that has ever taken place following decades of frustration at Upton Park.

- Report: Carroll won't be rushed back

Generations have come and gone in the East End, but I'd bet you can pretty much transpose any conversation taking place before the game this coming Saturday and whistle it back 20, 30, 40, 50 years and hear the same thing. The fans may travel in from Essex and beyond rather than walk a few miles through the back streets of Upton Park, Manor Park and East Ham now, but the journey to the heart of West Ham United is still the same, and it's still fraught with disappointment.

Regular readers of this blog will know that Sam Allardyce has always had my general support; this is broadly based on the belief that the manager in charge of my club probably wants to do well and, if he does, then everyone is happy. Unlike many supporters though, I was also of the opinion that because Allardyce offered a football philosophy almost diametrically opposed to the one for which West Ham were usually associated, then it was worth a try simply because -- as Big Sam himself was only too happy to point out -- what had come previously hadn't really offered too much. I, for one, was tired of the mantra that the manager had to be "one of us" and had to "understand the club". It seemed to me that someone who didn't understand the club and was determined to do things his own way might be what was needed at the Boleyn.

As I've mentioned before, this plan was fraught with danger and it's certainly true that many have been waiting for Allardyce to 'fail'. Let's not forget that the season isn't over yet and West Ham aren't in the bottom three, but the nature of how this campaign has panned out so far for the Hammers is just another chapter in a catalog of failure over the years; a growing template of mistakes that seem to mark West Ham down as a club doomed to forever shoot itself in the foot.

The Hammers have both lived and died on the strength of their Academy and the philosophy from the late '50's that decreed that football should be "played in the right way". But you need good players to play that way and be successful and although there have been brief periods when that has been possible, it hasn't happened often enough.

When Vinny, as he did in his blog on Saturday, talks about poor away form, it's hard not to suppress a rueful smile. I'm not suggesting for a moment that West Ham's away form is acceptable. It's not. What I am saying though is that the phrase "West Ham are like fine wine -- they don't travel well" was a phrase doing the rounds of the east London docks back when my Granddad used to build septic tanks in Silvertown on a Saturday morning and then travel over to the Boleyn in the afternoon.

The Hammers' soft underbelly has been as much the stuff of legend as any World Cup trio; as the great Bill Shankly used to say: "West Ham? Lovely club, great football -- two (three) points to Liverpool!"

"On their day, the Hammers can turn you over," people would say, hoping against hope that this was such an afternoon. All too often though, especially away from the cosy confines of the Boleyn Ground, it usually wasn't.

I have to admit that one of my personal disappointments in Allardyce is that despite playing an often uninspiring formation that stifles the opposition and had made the Hammers a less attractive proposition to play against, the manager still hasn't been able to pick up as many wins on the road as you'd have hoped. In West Ham's Championship promotion season, there were strong glimpses that he had managed to found a cure for this long-standing Hammers ailment, but, back in the Premiership, these hopes have been dashed.

You can keep blaming the manager -- and for most of West Ham's recent history that is exactly what has happened -- but sometimes you just have to accept you're not good enough and that usually applies if the players you have at your disposal are: a) worse than those playing at other clubs or b) poorly managed and coached and not playing as a team.

I think West Ham as a club have blamed the manager too often for the latter rather than the former, and if Allardyce is to join this season's Sack Race, then it will undoubtedly be for his failure to get the parts he has working as a whole. But is this right?

Whatever happens for the rest of the season and regardless of the final outcome, unless there is some fluke and the Hammers find themselves in a final somehow, the 2013-14 season will be known as the one in which -- probably alone in Premiership history -- West Ham United attempted to play without a striker. Whose fault was that? Love him or loath him, unless he actually wanted a P45 framed on his wall this year, why would Big Sam have wanted to try and play without a forward? Allardyce is an experienced and astute manager, he claims he tried to sign several strikers but couldn't manage to get one of them to sign. But were the players he was chasing the ones he would have wanted? If, as some rumours have it, Allardyce insisted that money that could have been spent on a forward was instead ploughed into the purchase of Stewart Downing then it's understandable that the Board will view the first half of the season as a testament to bad management. But I'm wondering if Allardyce got all the financial backing he would have wanted.

Now it's true, of course, that every manager wants the best players money can buy and equally true that few clubs have a Chairman or a Board who can bankroll anyone to that degree, but I've long thought that West Ham fall into a strange chasm in-between; big enough to be able to reach for something, but always falling just short in backing it entirely (something I want to discuss further another time). A good example this season would be the expensive capture of Andy Carroll that left the club exposed elsewhere. Excited though as I was by the capture of Carroll, I'm forced to concede that perhaps the money might have been better spent on two or three 'lesser' players who didn't spend most of their lives in a treatment room.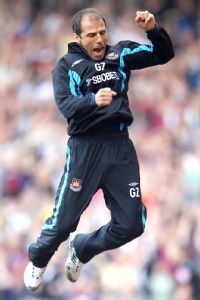 Phil Cole/Getty ImagesGianfranco Zola brought an outside perspective to West Ham but only lasted two seasons as manager.
But if we concede that the cards have been played and we have to move from here, then what is the next step? Because, of course, if Allardyce were to be given his marching orders, the immediate question is who will West Ham find to replace him. A manager who has led his team to within a spot-kick of a Champions League trophy perhaps? You wouldn't normally think a club of the stature of West Ham could find such a person, but they did; his name was Avram Grant and that didn't turn out so well. "A young foreign manager with progressive ideas," say others. Someone like Gianfranco Zola perhaps? Whoops again!

In my opinion, West Ham seem have gone all the way round and ended up exactly where they were a few seasons back when Alan Curbishley walked out (and let's not forget why he left). When Allardyce was appointed I remember saying that he was probably the highest profile manager that West Ham were likely to be able to obtain and I don't see that has changed. There may be an option to do something similar to what Swansea or Southampton have done, but that is still a gamble as any incoming manager will only be able to work with the same toothless formation that Allardyce has been trying to form into a cohesive unit. Perhaps a new man might spend some money in January more wisely; perhaps he would have less faith in favourite players who are out of form or don't sit well with the players around them. But whatever happens, it is a big gamble.

This may be unpopular and I may be unpalatable to many, but perhaps we should wait and see what Allardyce can do in the transfer window and try and brazen this out. It's a difficult one to call and I fear the outcome either way.