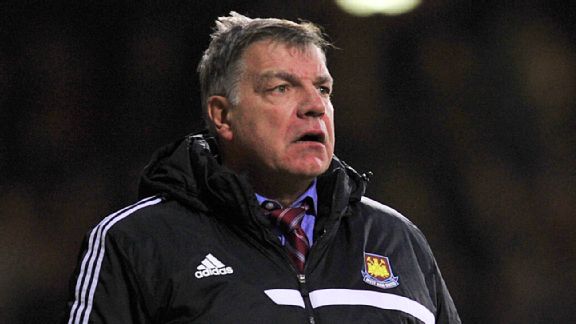 Carl Court/Getty ImagesWest Ham boss Sam Allardyce could use a win at Anfield to quiet down talk of a possible sacking.
I once worked with a Liverpool supporter who joked with me one day that, even if the Anfield mob were to put out a team containing just one player, they would still probably beat West Ham; I pointed out to him that was exactly what had happened in the 2006 Cup Final.

To say that Liverpool are something of a bogey team to West Ham is putting it mildly. Wins against the Scousers are as rare as a stylish mullet, and going to Anfield on the back of an appalling defeat to Crystal Palace and desperately looking for something -- anything -- to raise the gloom, is not what Sam Allardyce would be hoping for.

- Report: Allardyce criticizes AVB "immaturity"

On the other hand, Big Sam has always been dismissive of the Hammers' history so he won't be mindful that the last time that the claret and blue celebrated on the pitch at Anfield, Geoff Hurst was still blowing his cheeks out and referees wore top hats. Perhaps Allardyce can conjure something up out of the morass of mediocrity that he saw at Selhurst Park during the week? Perhaps he can tether the scoring attributes of Luis Suarez by employing a defensive formation to stifle the life out of the game? Perhaps I should duck in case I'm struck by something pink and flying?

Allardyce will undoubtedly point to a sterling performance last season when the Hammers came away with a goalless draw and Joe Cole will probably have something to prove against his old club; one who I'm sure he feels never really gave him a fair crack of the whip, but you'd have to say that, on current form, those outcomes look unlikely. Looking at what Liverpool did to Norwich in mid-week, perhaps this is just a game where keeping the goal difference down is important.

Elsewhere, off-field rumours continue to flow about Allardyce's support in the boardroom and sightings of the lesser-spotted Andy Carroll. I'm always dubious about the veracity of stories from any club in which the Chairman has had a word with the manager "about recent results". I can never imagine exactly what that conversation would be or how it would be given. However, if as rumour suggests, Allardyce has been told that things need to improve before January, it's doubtful the manager will get much consolation from an upcoming fixture list that, after Liverpool, includes matches involving Tottenham, Arsenal and Manchester United. It says much that Big Sam's most fervent hope is that the team from Old Trafford continue their current form and he can drag them into the relegation mire to take the heat off.

Meanwhile, strong rumours insist that Carroll is continuing his training back at the Chadwell Heath training ground where he is still being supervised by physiotherapists from the clinic that is helping him with his continuing heel injury. Allardyce was allegedly concerned that Carroll's fitness was being delayed by not interacting with the first-team and "enjoying the banter", while the physios were understandably concerned that incorrect training might aggravate the injury, so a compromise has been reached to allow the player back. It still seems to be a way off before Carroll is expected back, though and it's fair to say most Hammers fans have given up hope of seeing him this season, let alone in January as some media reports are suggesting.

These are trying times at Upton Park and the party season isn't throwing much of a rosy glow at the Boleyn currently. Any early Christmas gift would be appreciated.