December blues for Hammers?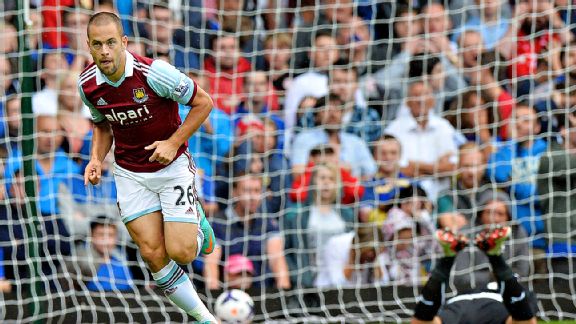 Ben Stansall/AFP/Getty ImagesWhile rumours persist about Joe Cole's West Ham future, the Hammers face a big test versus Fulham this weekend.
Call me an old cynic if you like -- you wouldn't be the first -- but when the media gears itself up for a story in which a player, manager or chairmen denies something is going to happen or has happened, rather than tell you what might or has occurred, then you know the silly season has kicked in and all bets are off.

The Joe Cole is fed up with Sam Allardyce panto story ("Oh, No he's not!") that resulted in Cole going to the press to say how happy he is, is just part of what will become a regular occurrence if West Ham don't start to reverse the current trend and pick up three points against Fulham at Upton Park on Saturday.

- Report: Cole denies West Ham exit

Vultures hover round the car park at the Boleyn currently and any glimpse of someone looking pained at not being able to decide what to buy the WAG for Christmas, or bored by the number of times he's heard 'Mistletoe and Wine' on the radio that day, will result in another plethora of stories about how someone is 'fed up with Allardyce's tactics'.

Now any boss worth his salt will tell you that you can't be relegated in November. However, a cruel twist of fate seems to determine that you can be relegated in December or, more specifically, by the Yuletide holidays, such is the preponderance of media output over being in the drop zone at Christmas. All nonsense of course -- West Ham have their own rather impressive 'Great Escape' (Trademark: Alan Curbishley) when they won seven out of the last ten to stay up -- but it is best not to let statistics and facts get in the way of a good story.

Cruelly though, it's possible the sequence of matches that the fixture list has thrown up may not give the Hammers the breathing space they would want going into the party season. The depressing fact is that West Ham do not have an impressive record in winning consecutive Premiership games -- the last time was in February-March 2011 under Avram Grant -- and the idea the team can cherry-pick three wins against opponents desperate to get themselves out of the bottom three themselves, seems unlikely on current form. In many ways, it may have been better to have those matches in the New Year when- - hopefully, at least -- Allardyce might be able to call on a striker or two.

Still, you have to deal with what the Premier League computer throws at you and, as a minimum, three points against Fulham is the very least of what is expected. Failure in terms of a draw or a -- heaven forbid -- a defeat and Hammers fans will turn on the club from top to bottom and no-one -- particularly Allardyce -- will be able to run for cover.

Is there a tactic that can be utilised against the Cottagers? Well, as this blog has been at pains to point out for months, the team are pretty much hamstrung by the available options, but there seems little point is opening up against any team without Mo Diame occupying one of the midfield places. If captain Kevin Nolan is to start (would Big Sam ever be brave enough drop him?) then he must play behind Carlton Cole -- how is CC going to get match-fit if he never plays any matches? -- even if it's only for an hour or so. With Stewart Downing wide and Mark Noble and Ravel Morrison in the middle, there should be enough to at least give Fulham something to think about, even if it's not likely to cause too much concern elsewhere.

I'm not going to use the term 'must win' -- history determines that these games rarely are -- but Saturday's match is crucial in terms of how the next couple of months will likely pan out. Allardyce is known to work the team hard on the training ground and it's essential that things like free kicks and those other little things that can turn a game are all polished to within an inch of what could be reasonably expected.

If nothing else, it's likely West Ham v Fulham will be a game for the fans to get behind and, if the game is tight, the vocal presence of the Boleyn faithful could be crucial.