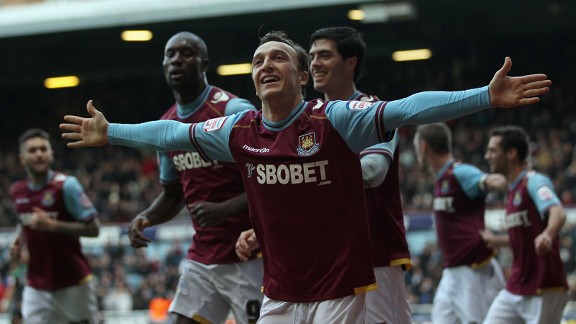 GettyImagesMark Noble's commitment shows West Ham's ambition
It's certainly a boost when a highly-rated player commits to the club, even more so when that player is one that has come up from the academy and - as was witnessed in a Man of the Match performance earlier this week - is in particularly fine form. The cries for an England call-up from some quarters can only sweeten the news that Mark Noble has signed a three-year extension to his contract.

Noble is a West Ham player in every sense of the word. He joined the club as a schoolboy, true but of more relevance is the fact he has suffered and celebrated with the fans. It's not often a player stays around long enough to endure the usual rollercoaster ride that most supporters face over a decade or so. But relegation, one of the Premier League's greatest escapes, a couple of play-off victories, a depressing defeat at the same stage, a cup final and even a short European jaunt are all things he can add to his CV.

And it must be of relevance when a player looks at the team-mates building up around him and thinks he can see something worth committing his future to the club for. Noble made no secret that he was concerned by the club's ambition previously, but the signing of Matt Jarvis and Andy Carroll has convinced the 25-year-old midfielder that the future looks promising and he's decided he wants to be a part of it.

Good stuff, of course, and we fans love a bit of bravado from one of our own. But I can't help but feel slightly uncomfortable when the tub-thumping dies down and reality settles in again.

The bitter fact of life in the Premier League is that, outside of the top four or five, £10m+ punts are a risky affair. Even assuming they come good - and I've already started worrying about this one - how long will it be before someone like the red-nosed one starts seeing the statistics and wondering if a 'double your money' offer might not tempt a player away for the dubious delights of northern England. The usual argument goes that, if he's proving that good for dear old West Ham, what might he do in the Champions League?

We've all seen what happens then, haven't we? Owners look at the money on offer and think perhaps they can get someone in nearly as good but a bit cheaper while clearing the debt off, fans start bemoaning the fact that said player will spend most of his time sitting on a bench on cold nights in Krakow or somewhere, while player eyes nights of glory in Milan and some silverware. Remaining players - like Noble - wave their old team-mate off, get restless and speak of lack of ambition. It's as understandable as it's frustrating.

Some will scoff at my naivety and accuse me of living in a never-never land - I wouldn't blame you, you know, I do it myself all the time - but I do really hunger for the days when someone like Tony Cottee could find himself alongside a Frank McAvennie; someone relatively unknown, bought for a lot - but not too much - someone that can surprise and help forge something special, leading a club onto something of a mission that no-one could foresee.

I know from my years of internet fan forums that many don't see things this way. Whenever West Ham have sold players like Etherington, Zamora, Ferdinand the Younger, McCarthy and Collins there's always been a large number ever keen to wave them off and welcome the next batch of players that will 'push us on'. But often - in fact most of the time - the 'Golden Generation' never arrive and the 'step up' doesn't suit the players leaving either.

It's a sad fact of modern football life that things down at the rough end of the Premier league - and that end start somewhere round about seventh most years - just involve a merry-go-round of very good players who make their mark and are then spirited away. But I always worry about the £1m Championship player who never seems to get an opportunity at the top level while the £5m unknown from France or Cambodia - no names, no pack drill here - seem to be bought and sold, usually at a loss, with impunity.

Make no mistake here: I'm chuffed to bits that Mark Noble thinks West Ham are an ambitious club, prepared to flash the cash to improve the future, a team and club who he thinks are going places. But I'd have much preferred it if he had said: "I love West Ham and don't want to go anywhere else". That would have made me even happier.