Storm clouds gather over Allardyce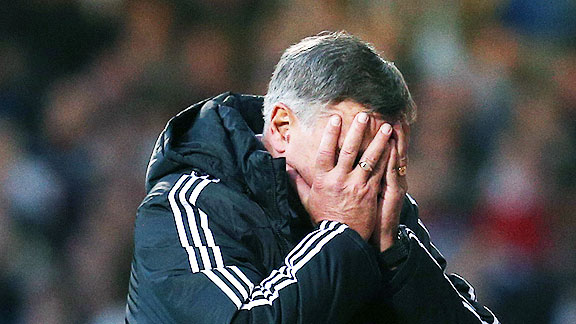 Charlie Crowhurst/Getty ImagesShould he fail to pick up some results in the next few weeks, Sam Allardyce's West Ham future could turn very grim.
The forums on the unofficial blog sites are not the place for a faint-hearted West Ham supporter currently. The vitriolic abuse for Sam Allardyce -- always bubbling below the surface since his appointment -- has emerged with a vengeance, as most knew it would if results started to go against him.

- Report: Allardyce concerned by Carroll injury

Allardyce was never a popular appointment, and the type of football favoured by the ex-Bolton boss has never found favour with the Claret and Blue faithful brought up -- many by memory alone -- on Academy football, the legendary triumvirate and the glowing legacy of the Greenwood and Lyall years. The bemused Allardyce, like many who aren't supporters of the east London side, questioned the validity of this supposed legacy and asked -- not unreasonably, it has to be said -- what success it had brought the club since the mid-80's. Unfortunately, driving a coach and four through the myths and legends of your new club is not really a good starting point for any boss and Allardyce has been walking on thin ice ever since.

In 21st Century football though, results are all and while Allardyce eked out dull draws away from home and smothered opposing sides at home, then fans were prepared to -- if not exactly bite their tongue -- at least wear a rictus smile. Once the wheel turned though, everyone knew the Dudley-born ex-central defender, with his brusque and obdurate manner that sometimes appears to border on the arrogant, would struggle to align himself with the cockney and Essex based fan base. Dudley may only be in the West Midlands, but this is a North v South argument that has been waiting to explode for the past two years.

Inevitably, once the rumbling starts then whispered rumours and internet scaremongering become cast-iron facts. At the weekend, when I was questioning if all the blame for the situation that forces the Hammers to play without a striker can be laid at the door of the manager, I was told quite categorically that the West Ham board had wanted to sign Juventus forward Fabio Quagliarella, but had been persuaded to back Allardyce who wanted to spend the money on winger Stewart Downing instead. I have no idea if that is the case -- I'd read Juventus decided not to release the player and Quagliarella wouldn't have wanted West Ham anyway, but who is to know the truth in the land of liniment and horse oils?

What is without doubt now, though, is that someone who knows someone who knows David Gold's sister-in-law, is stating as a fact that Allardyce will only save his job if he is successful in the three upcoming games against Crystal Palace, Sunderland and Fulham. As these are fenced in with further matches involving Manchester United, Arsenal and Liverpool, Allardyce's options aren't great and not helped when he says things like "we need six points from those games". We know what he means, but supporters are looking for a more bullish response.

Further rumours that state that at least one of the executive board has never been too impressed with Allardyce and is just itching to pull the trigger may be the usual type of gossip you get when Christmas is approaching and the team is staying out of the bottom three only on goal difference.

It's a balancing act and -- scathing though I am about those who run football clubs nowadays -- I don't envy the Board their options. Because for every Nigel Adkins-Mauricio Pochettino scenario, there's a Reading or QPR situation waiting to occur; indeed, Hammers supporters don't even need to look that far, when they recall the patience shown to Avram Grant when Martin O'Neill was an option. Amusingly, Big Sam himself, showing the type of self-confidence that seems to aggravate as much as impress, has often said that every time he has been sacked, the club he left has then gone down.

Perhaps Allardyce could just do himself a big favour though and leave captain Kevin Nolan on the bench for once, and try and play one player up front -- whoever he is. It may not work, but it would at least look as if he could see some of the shortcomings the fans are seeing. Losing at home to a rampant Chelsea side doesn't really mean that much, but confidence looked low on Saturday once the Hammers went behind and the idea of losing points to teams in the bottom three could have a disastrous effect on team morale.

Sam Allardyce is going to have to prove there is some substance to his bombast – although, even then, it might not be enough.