Oscar declares his genius at the Boleyn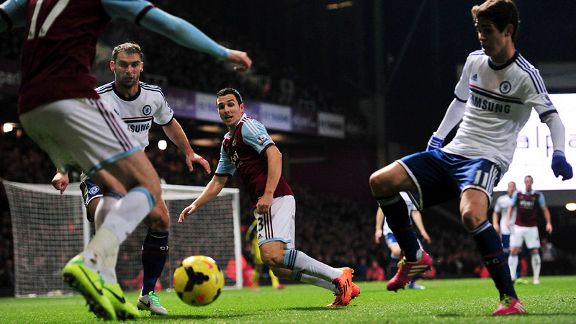 CARL COURT/AFP/Getty ImagesWest Ham were undone by a brilliant performance from Chelsea playmaker Oscar.
I'm not sure you'd have found many Hammers fans expecting to get anything from this game so I suppose, in some sense, not much has changed following this 90 minute capitulation to the Blues. Nevertheless, this was another depressing home defeat for the Irons who now hover dangerously over the relegation line.

So what can be gleaned from Chelsea's convincing 3-0 win at Upton Park, bar the fact that the west London side has a squad full of players Sam Allardyce and his coaching team would give their souls for? Well, again nothing that hasn't been spoken of ad infinitum this season. But let's just underline it all again anyway. No strikers and no shots on target, a forward-less configuration that was 2-0 down inside 35 minutes forcing the manager to make two instant changes to try and stop what was obviously going to be a bit of a pasting, and a side that collectively seemed to lose their way once the first goal went in.

- Delaney: Lampard brace sets up Chelsea win
- Report: West Ham 0-3 Chelsea

Joe Cole and Jack Collison were hauled off to a plethora of boos after 40 minutes but it appeared to be one of those situations where the manager was damned if he acted, damned if he didn't. Substitutes Mo Diame and Modibo Maiga came on and certainly West Ham looked slightly better in the second half -- not that that is saying much! -- and, shorn of any forward, it has to be said that Diame looks better chasing his tail up front than anyone else, but really the image of the boy with his finger in the dike is all most can see when they look at this current set-up.

What is really disappointing though is that if West Ham are just desperate to try and hold on for a goalless draw or a sneaky 1-0, then it is essential that the side don't give ludicrous goals away and, as at Norwich last time out in the league, that is exactly what the Hammers contrived to do against Chelsea.

In the 20th minute, the normally dependable Guy Demel -- often an unsung hero of the defence -- tried a pointless back-pass to his keeper with Jussi Jaaskelainen appearing to be screaming at him to hoof it away. The ball was short, the giant Finn advanced from his goal, spread himself hopelessly and brought down Oscar -- as if the brilliant Brazilian needed any help in an immaculate performance -- resulting in the inevitable Frank Lampard penalty which the former Hammer smashed into the net with some aplomb.

It was disappointing -- although sadly not surprising -- to see Jose Mourinho remonstrating with the third official asking why match referee Chris Foy hadn't sent Jaaskelainen off. Fortunately, Foy himself had seen sense, the keeper had already committed himself to get to the ball and, although undoubtedly a foul, it would have been ludicrous to dismiss Jasskelainen for trying to do something for which is highly paid.

The other oddity of the incident was Lampard's fist clench to the Bobby Moore stand -- the player normally likes to be restrained against West Ham, due to his respect for the club that nurtured him and where he was a fan favourite before he left (before anyone writes in -- that's just irrepressible gallows humour!).

As at Carrow Road, West Ham then completely lost their way as Chelsea simply toyed with the home side, unravelling them in such a way that the second goal was simply inevitable. James Collins tried to challenge Eden Hazard after the Blues had retained possession for what seemed half a season, but the normally dependable centre-half -- not fully fit, it should be mentioned -- was caught out as Hazard's flick enabled Oscar to fire a low shot into the net to effectively end the contest after only 34 minutes.

The 22-year-old Brazilian had been at the heart of all that Chelsea did and his presence really alerted those who'd harboured some forlorn hope that last season's 3-1 home win to the Irons was going to be repeated; that this was a different Chelsea team who were unlikely to be suckered the way they had been in their last visit. And if it seemed incredible to think that this was only the Stamford Bridge outfit's second away win of the season in the Premier League and that Lampard was in the middle of his longest ever run without a goal, then what better way to end a sequence than by playing the Hammers currently?

In the second half, after substitute Maiga shot wide in a superb position after a mazy run from Demel -- probably West Ham's only dangerous move of any note all match -- it was left to the inevitable second goal from Lampard to wrap things up for Chelsea after 82 minutes. Branislav Ivanovic crossed for Hazard in acres of space and as the Belgian tried to flick it in, the blocked ball fell nicely for Lampard to drill in from the edge of the area. There was much badge-kissing but it was missed by many fans who had already left their seats and were on their way home -- the Hammers faithful now virtually resigned to the fact that this will be a regular occurrence until Lampard decides to hang up his boots.

The final whistle sounded to a stadium half-empty. It wasn't just the defeat that galls -- very few teams will take points off of a Chelsea team in this type of form -- but it's the lack of any opportunity to even get back into the match that frustrates. Everybody knows West Ham have injury problems -- when have they not? -- but the tactic of using Cole and Collison simply didn't work and only the excellent Stewart Downing offered up any real threat with a series of excellent crosses to someone who wasn't there. Quite what Downing makes of this all is difficult to fathom; he was surplus to requirements at Liverpool, no-one else seemed to want him, so he joined a club where he is able to put in a high-percentage of crosses for no-one to even get remotely close too. Strange times.

West Ham move on and will be looking at the next few matches where they play the teams below them; sadly though, it's difficult to get much enthusiasm for what everyone now knows is a shot-shy side. Indeed, you'd suspect that those teams in the bottom three will be rubbing their hands at the prospect of meeting this toothless Hammers side on this form. These could be very difficult weeks coming up for Sam Allardyce.