Social media unrest at the Boleyn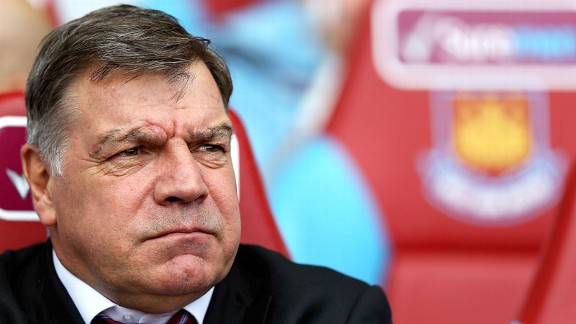 Matthew Lewis/Getty ImagesSam Allardyce has never really been fully embraced by the West Ham fans.
One of the major concerns about the tenure of Sam Allardyce at Upton Park is that the man has never been fully accepted or understood by the West Ham faithful, and there has always been a worry that, if things got rough, the supporters would turn on the former Bolton boss like a pack of ravenous wolves.

That's not quite happened yet -- currently Allardyce is merely having his ankles nipped and scratched -- but the growing sense of disquiet in some areas, in the supposedly mature business-oriented discussions on LinkedIn for example, are more than offset by the usual clamour on the outwardly aggressive unofficial sites.

- Sam Allardyce accepts job pressure

Allardyce would have seen most things in a managerial career that has taken in some fairly chastening experiences at Blackburn, Newcastle and Blackpool -- let's not forget Sam was sacked by the Tangerine's Owen Oyston from the chairman's prison cell! -- so it's unlikely he will be fazed by the gathering storm that is taking place in the social media and the unofficial West Ham forums on the internet. Nevertheless, it's a fool who doesn't realise that the plethora of posts, tweets and blogs puts owners and board members under increasing pressure to act, and it should prove to be an interesting couple of months if things continue as they are currently.

At Upton Park, though, there is a sense that any fallout from the wonders of the World Wide Web should be filed under that cliche that involves the words "petard" and "hoist." After all, David Gold and the son of co-owner David Sullivan are more than happy to scurry away to the place where 140 characters is king when it suits them. But the fact is, while once your frustrations and fury -- perhaps consolidated with a banner or a chant -- could only be demonstrated every couple of weeks at a home game, the pressure can now be applied 24/7/365.

It's sometimes hard to recall a time when there wasn't any outlet for anger and disappointment bar the ground on a match day. Pre-WWW there were the fanzines -- many still available and quite popular today -- being sold outside the ground, which had been instigated and grown as a response to the music-oriented magazines produced during the post and post-punk period of the late '70's. Before that it was the official match-day programme, where no comment or argument was allowed and where you could easily find a sentence such as "The lads put up a sterling performance at St James' Park but were undone by a strong home side who slipped six goals past our unfortunate keeper" without any sense of irony or criticism.

It would be fatuous of someone like me to decry the web -- I've carved myself a fascinating little sub-career out of it over the years -- but I do believe that online media still can't hide the fact that most of us don't really know what is going on at the clubs we follow with such passion. Supporters of all ages, from every country and every background, now have the opportunity to discuss what we think, feel and see, but true facts are still thin on the ground.

Ultimately supporters are as much in the dark as we ever were before tweeting became an acceptable form of conversation. Who pulls the strings at any club? Does the manager have the final say on who he brings in and how much he is paid? To be more specific in terms of West Ham's current plight -- that of playing without a recognised striker -- did West Ham spend all their available money on one player or were there other options that ultimately failed due to the errors of one, or a group of people?

More importantly, in terms of a manager having his job or his abilities questioned, should he be the man with whom the buck stops? How many of us would love to sit down with Allardyce and ask the real questions and get an honest answer? Forget Saturday's result against Norwich; forget the disparity between the two halves and the way the player's heads dropped after the first goal was conceded; what I want to know is did Sam really believe Modibo Maiga could run a forward line on his own while he waited for Andy Carroll to be fit? Did Sam know that we were short up front but was tied by financial constraints? Did he have a list of forwards he wanted but who he was unable to sign due to unavailability, lack of cash, agent involvement, excessive demands or the fact the story had been leaked on Twitter by Sullivan Jnr?

It's hard for non-football fans to see this for the way it is, but there has never been an institution quite like the football club; the fans are its heartbeat and its lifeblood, the ones who survive long after players, chairmen and managers have all left. Without fans the club would not exist, yet so often are they treated with disdain. Is there any other business where the needs of the many are ignored? In what other area would the actions of the aforementioned Oyston or someone like Mike Ashley or Carson Yeung be tolerated?

The Internet is a great place for fans to gather, discuss and argue about their team; it's also a good place to criticise, assimilate and pressurise the people who run the institution that takes up so much a part of our lives. Ultimately, though, for football clubs, just like the old "Pravda" utterings of the pre-90's match-day programme, the Internet is still a one-way street, albeit one with a lot of clout.