Reid injury adds to Hammers' woes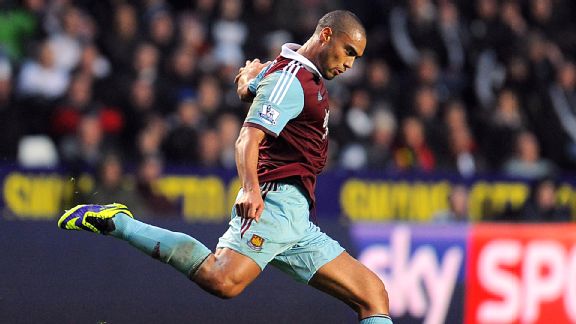 Tom Dulat/Getty ImagesNew Zealand defender Winston Reid injured himself during West Ham's training session on Wednesday.
The unwelcome -- but surely inevitable -- news that Andy Carroll now has a serious stomach virus that is likely to delay his return to the first team has sent most West Ham fans reaching for the tissues. Not though -- as opposition supporters might suspect -- to wipe away the tears of pain but, rather, to stifle the peals of laughter that this saga is now invoking.

- Report: Carroll hit by stomach virus

I mean scurvy, beriberi, athlete's foot, dandruff? Has the lad been checked for any of these? With that pony-tail surely split-ends could cause a further delay until at least Christmas? I think rumours that Sam Allardyce is thinking of making a one million pound bid for Charles Worthington is probably a little wide of the mark, but we shouldn't discount the strong likelihood that BUPA will be replacing the present incumbents on the front of the shirt next season if this continues. If I see another 'Carroll injury shocker' headline this season I might be tempted to lob this screen out of my office window.

It's likely that the bigger news for fans at the moment involves the attempts to get Winston Reid to play in the Premier league game against Norwich at the weekend, while still being able to allow the player the opportunity to represent his native New Zealand in the first-leg of the World Cup play-off decider against Mexico on November 13th. It was being widely reported that the club were prepared to charter a plane just for Reid so that he was able to meet up with the All-Whites squad in the United States without missing the important game at Carrow Road.

The cost of this was rumoured to be in the region of 100,000 pounds and the idea had been accepted by the New Zealand FA in principle. Interestingly though, Mexico coach Miguel Herrera has omitted Manchester United's Javier Hernandez from his squad of home-based players, citing concern about travel fatigue for those forced to fly long distances.

However, in one of those capricious moments that the Great Ref in the Sky likes to throw up occasionally, it seems the outlay won't have David Gold reaching for his cheque book after all, as reports from the training ground confirm that Reid has injured his ankle in training and will be out for two or three weeks, missing not only the weekend trip to Norwich but also, of course, those vital World Cup games.

This is a massive blow to both West Ham and New Zealand as Reid has been as impressive this season as he was last and with James Collins still on the injury list, this leaves the Hammers' defence as short at the back as it is shorn of attacking options at the front. With Big Sam's penchant for defensive organisation though, it's likely that West Ham will be able to compensate better at the back than they have at the other end of the field, but Reid is an imposing figure who will be sorely missed.

It's not often this blog gets involved in transfer tittle-tattle but the Jermaine Defoe rumours refuse to go away, to the extent that one of the unofficial sites held a poll this week to see if Hammers fans would welcome the Tottenham forward back. In a week where the player came out with an odd affirmation that he always 'loved West Ham' and 'made a massive mistake' when he slapped in a transfer request just hours after West Ham had been relegated in 2003, this all seems a little cosy -- even to a hardened football cynic like me.

The attitude to Defoe has always been a little odd. Although considered to be one of the West Ham 'Golden Generation' that also produced the likes of Rio Ferdinand, Frank Lampard, Michael Carrick and Joe Cole, Defoe was less a product of the Academy youth system and more a clever result of the Hammers' ability to poach younger players from other clubs. Defoe was on the books at Charlton when he was 14 but was lured to Upton Park at the age of 16 and the South London club were not at all happy at the way the youngster ended up at the Boleyn. When Defoe slapped in his transfer request that May afternoon in 2003, I know several Charlton fans who couldn't resist a smile.

Nevertheless, if this charm offensive is leading the way to a Hammers bid for the seemingly unwanted Spurs forward then it appears to be going well. A massive 87% of voting fans said they would welcome the player dubbed 'Judas' back to Upton Park and that seems an extraordinary level of support considering the bile handed out to the player whenever he has played against the Irons since his departure.

The fact remains that Defoe was a young player when he was relegated in Glenn Roeder's squad in 2003 and it does seem that he was unwisely counselled to get his transfer request in early when it was clear that there would be a major clear-out following the drop to the Championship.

But then having written that, I'd have to admit there's been a major softening in my own attitude towards a player who incensed me beyond belief when he handed in his request when most of us were still sobbing into our beer. Perhaps we're all getting wiser as we get older? Or, more likely, we're all so concerned about the next announcement of Carroll's serious paper-cut that we'll gladly grab hold of anything!