Stalemate again at Upton Park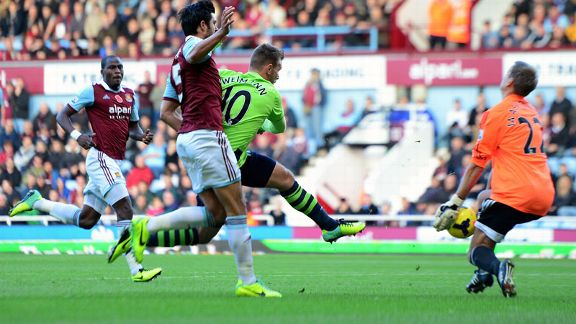 GettyImagesAndreas Wiemann went close for Aston Villa as they drew 0-0 with West Ham.
Another game, another point, another goalless draw, another last billing on Saturday night's Match of the Day. There's no doubt Sam Allardyce has his problems but spare a thought for an honest toiler working on a club football blog; the cut and paste option is starting to look more appealing with every game.

This 0-0 draw shouldn't come as much of a surprise though. Before the kick-off, Aston Villa had failed to score in their previous four games while the Hammers had been beaten in their last three home matches but with an impressive defensive record of five clean sheets in nine league games; add the statistic that half of the Premier League meetings between the teams in claret and blue have ended in draws and you can understand that the air of consolidation and the sense that neither side wanted to lose could only add to the historical inevitability.

Once again, West Ham started the match without a recognised striker but of more surprise was the inclusion of two wingers -- Matt Jarvis and Stewart Downing -- with Jack Collison replacing Mo Diame in midfield. The formation meant that, as in last week's game against Swansea, the Hammers looked bright and fairly fluid but, while they dominated possession and produced the more enterprising football, there was little end product.

Villa's Andreas Weinmann did well to get in front of James Tomkins early on forcing Jussi Jaaskelainen to block the shot with his chest while a similar situation arose at the other end as Jarvis was unlucky that a good through pass from Kevin Nolan just wouldn't run for him, the winger getting around the keeper but unable to get a clear shot in allowing Brad Guzan to get back and block the eventual fierce effort.

Collison saw a good shot fly just wide and there was a bit of concern when Ravel Morrison tangled with Weinmann again as the Villa player bore down on goal after a fast break. Had referee Howard Webb determined that there was a foul then Morrison would have had to go off, but the official decided that the general melee of arms and legs ended with Weinmann going down a little unconvincingly and the replays seemed to confirm that.

Villa fans will undoubtedly point to Christian Benteke's powerful second half header that struck the bar with Jaaskelainen beaten as the game's one true golden opportunity and it would be difficult to argue the point but, as the match wore on and with Carlton Cole replacing Collison and Joe Cole coming on for Jarvis just after the hour, it was certainly the home side who chased the game and put Villa under strong pressure.

Captain Kevin Nolan had a glorious chance from some neat interplay from Downing, but the skipper went for the near post when he would have been better to try for the wide option, while Joe Cole went close with a hard shot that Guzan stopped. Again though, Jaaskelainen's low finger tip save from Benteke's shot was probably just as close.

It all added up to another frustrating afternoon although the point moves West Ham to 14th. Carlton Cole is not likely to be able to compete in a full 90 minute stretch so, although he troubled Villa's defenders when he came on, it's a tough call as to if he should start and try and gain something early before being subbed later or, as in this match, the player should come on to try and pick up some pieces as the opposition tire.

The introduction of Diame just before the four minutes injury time started, just seemed to underline the fact that the Hammers were relatively happy with the point while his initial omission just suggests that Sam is trying to outfox the opposition by shuffling the few cards that he has at his disposal.

It's an annoying fact of life for Hammers fans at the moment that excellent defensive displays away from home aren't being followed up by good results at Upton Park to keep things ticking over. Allardyce is obviously as frustrated as anyone and, although he's keeping things close to his chest currently, I think it's fair to suspect that the club's scouts will be compiling dossiers and putting in the hours before the end of the year.

As it is though, fans will have to accept it as another point and move on; there's always the still fascinating sight of a defensively sound Hammers rear-guard to wonder over and talk about. And for the moment that will have to do.