Hammers win "On the Road"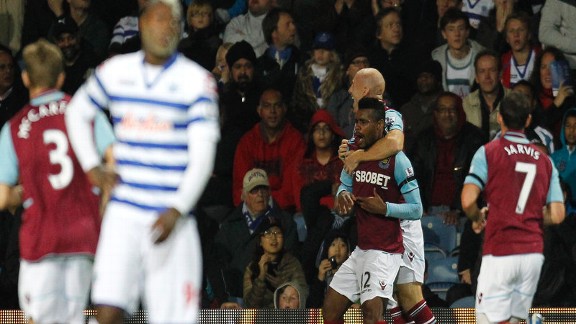 GettyImagesWest Ham's Ricardo Vaz Te celebrates his goal
You know I've always fancied myself as a kind of Dean Moriarty / Neal Cassady sort of bloke. Travelling the highways and byways of Britain and burning, burning like a fabulous roman candle, and as long as ESPN FC don't hold true to their promise of having us correspondents put up pictures of ourselves on our blogs, I might even be able to carry it off.

Of course, if the day arrives when we have to post a profile, that romantic notion will be snuffed out like a dud firework on a wet Bonfire Night as you view my unsightly visage. But, until that time arrives, and I'm able to carry the myth on for a while longer, I feel duty bound to tell you that rolling into High Wycombe like some latter-day Knight of the Road, I was able to find scampi, chips and peas, a bottle of eminently quaffable red wine and - best of all - a West Ham away win on TV, all for the princely sum of one penny short of one of your eight Earth pounds. Now that, my friends, is what I call a good night out!

The Hammer's fully deserved their first away win of the season. Q.P.R's second-half fight-back couldn't really disguise the fact that the home side were second-best for most of the night and were flattered by the eventual score-line. The visitors were first to every ball - particularly in the first half - and were dominating in midfield were Kevin Nolan, Mo Diame and particularly, Mark Noble, shone.

In fact, statistically, it was an odd game. West Ham had eight men booked in a clean game with no nasty fouls and little niggle, Q.P.R had a substitute sent off, just shaded possession and almost had as many shots - Jaaskelainen proving vital late in the game - but it never seemed like that as Rangers struggled and looked short of inspiration.

West Ham went ahead after only three minutes, Ricardo Vaz Te got down the right - he and Jarvis had the run of the flanks all night - and pulled the ball back for Kevin Nolan to loop a ball goalwards, it could have gone off but Matt Jarvis, unmarked at the back post, put in a cushioned header that went into the far corner. Talk was if the £12m man meant it as a shot or a cross for Cole, but I think the winger fancied his chances and his gamble paid off.

The men in claret and blue looked totally in control from then on, strong in defence, resolute in midfield and sharp on the wings and up front. Carlton Cole - obviously aware that Andy Carroll had been pronounced fit and was ready on the bench - had one of his better games. Even when defender Winston Reid was helped off - looking concussed following a collision with Jaaskelainen - the equally impressive Tomkins came on and was involved in the second goal.

It came after 35 minutes, as the Hammers' continued to mount pressure following a goal-mouth scramble and the ball ran wide. Tomkins' lofted ball was met at the far post by Vaz Te who struck it home in the narrow gap between post and keeper.

It looked a bad goal to concede at first and TV replays hovered gleefully over Rob Green on the bench as he suppressed a rueful smile, but slow motion replays showed the shot had taken a deflection and Cesar really hadn't had much chance.

West Ham continued to press, Q.P.R. continued to flounder and by half time - so inspired was I by Ray Winstone - I nearly had a punt on a 0-4 score-line. Fortunately lethargy and experience got the better of me, as Rangers clawed their way back into the game thanks to a double substitution. With West Ham looking as comfortable as they had in the first half, Diakite and Taarabt came on as substitutes just before the hour .

The direct running and enthusiasm of the pair acted as an inspiration to both team and supporters immediately, and Taarabt struck home a superb goal within a minute of coming on, hitting home from all of 30 yards. The player was then booked for lifting his shirt above his head to reveal a message professing his love for someone. I'm not about to get involved in the debate here - the football web sites are buzzing with it - but as soon as it happened, I turned to a fellow supporter in the pub and said "Someone is going to get sent off here"

I was to be proved right although not in the way I imagined as it was Diakite, not the goal-scorer as I had thought, who got his marching orders with a mistimed but hardly malicious tackle on Vaz Te, twenty minutes later. It took the steam out of the Rangers side although they continued to press and will probably point to two superb Jaaskelainen stops, one from Cisse and the other from Granola, to stop them from equalising

However, that hides the fact that Cole really should have put the game beyond doubt at that point, when he poked wide after Nolan had played him in beautifully with a split pass. When Carroll then came on, West Ham continued to look dangerous with Jarvis continually getting in crosses that Q.P.R. could barely cope with. As it stands I'm struggling to think of another recent English winger who can get as many effective balls in as Jarvis.

Carroll came close late on as Rangers wilted and even referee Mark Clattenburg's bizarre decision to add six minutes - what for? - could do little to dent the feeling that this was West Ham's night.

Mark Noble who had earlier signed a new contract keeping him at the club for another five years, was named Man of the Match in front of what can only be an impressed England manager who had probably come to watch Andy Carroll. West Ham fans can only purr at the thought of what this midfield can achieve if they keep up this level of performance.

Of course, there will be sterner tests but those can be viewed with excitement and confidence rather than trepidation and Saturday's match with Arsenal will do much to show how far West Ham have come in a short space of time.