West Ham set up another White Hart Lane battle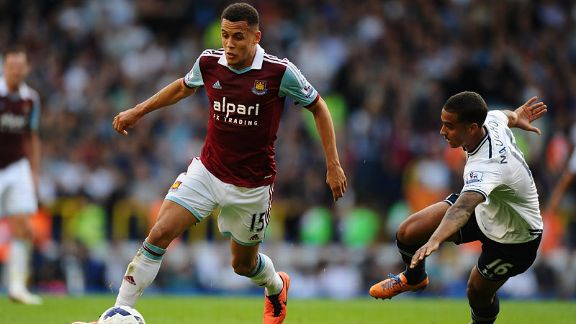 GettyImagesWest Ham and Tottenham will again do battle, but this time in the Capital One Cup.
West Ham's 2-0 victory over Burnley on Tuesday night saw the Hammers progress into the quarter finals of the League Cup where the draw served up a mouth-watering encounter against Tottenham Hotspur at White Hart Lane.

As the draw was being made, I could sense that this would be the game West Ham would end up playing given the excitement just a few weeks ago as a Ravel Morrison inspired performance saw West Ham come away with their first victory on Tottenham soil since 1999.

Spurs will no doubt be looking for revenge and I would be very surprised if the much talked about 4-6-0 formation would work for a second time against the same opponents. I think Mr "Alladichi" will need to delve deep into his box of tactical treats to get through what will be a very tough game.

With this being a cup game, West Ham should see their allocation increased from a normal League game, but with passions running high amongst both sets of supporters, I will be surprised if the club are given the 5-6,000 tickets that has been rumoured.

Tottenham beat Hull City on penalties to progress to the next round whilst West Ham faced a Burnley side who were much fancied considering they are currently top of the Championship, coming into the game having won their previous eight games.

Like many, when I saw the West Ham line-up I was concerned, and in all honesty, a little miffed that such a weak side had been put out. I am all for introducing youngsters but to have three starting players who are nowhere near the first team squad (in terms Premiership experience) was a little annoying. This is a competition a club like West Ham should want to do well in as it represents one of only two realistic chances of winning a trophy.

The first half saw Burnley take the game to their Premiership opposition, but apart from a couple of chances, there was not much to say about the first period other than Burnley had looked the better side in possession.

The team talk from Sam Allardyce clearly did the trick as the second half saw a much more competitive West Ham side, and whilst chances were not exactly being created in abundance, the game was being dictated by the away side and luck was on the side of the boys from East London -- Kevin Nolan winning a soft penalty which Matthew Taylor converted.

If this was the best side in the Championship, then there is reason to believe that the gap between the first and second tier of English football is as great as it has ever been as the side West Ham started with can certainly be described as 'weak'.

Allardyce will feel a sense of vindication of course, and rightly so, as he has shown that even when he digs deep into his young squad he can produce a side that can compete and win a spot in the League Cup quarter finals.

The manager will now turn his attention to what he considers far and away the most important thing -- the Premier League -- and Aston Villa are up next on Saturday.

West Ham have lost their last three home games and it was the home form which served the club so well last season, the club finishing in a credible 10th position.

It is vital that West Ham start to pick up points at home or there is no doubt in my mind that a relegation battle will be on the cards.

Defensively the club have done well, but everyone is aware that in the striking positions there is much to be concerned about. The conversation about Andy Carroll has been done to death and it is now a case of conceding that he will not be an option for a while yet.

Carlton Cole is back in contention and started against Burnley, but he looked extremely rusty and his already questionable control and touch looked as bad as it has ever done.

Will Allardyce revert to the 4-6-0 formation at home to a side such as Aston Villa? Does Allardyce have a plan if his side goes 1-0 down? This formation was fine to use for certain games against sides you may not think you can compete with in terms of quality, but it can surely not be a tactic he desires to employ on a regular basis.

I was content with the 0-0 draw away at Swansea City last weekend but picking up a point away from home is only a good thing if you follow it up with a victory at home.

So far this season when West Ham have drawn away they have gone into the game at Upton Park and produced a poor performance and a defeat. For me this negates any positives you take from the away game (Newcastle and Southampton spring to mind).

The season hasn't really got going for West Ham in the league and a win on Saturday would go some way to kick starting the campaign.