No substitute for class as Hammers suffer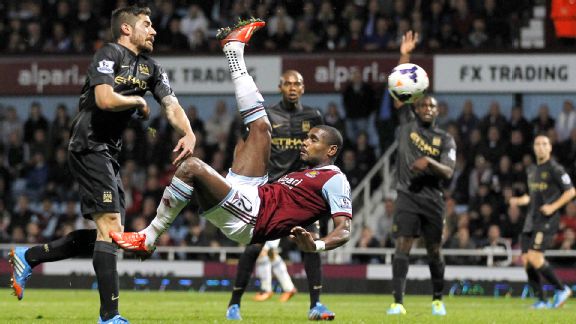 Ian Kington/Getty ImagesRicardo Vaz Te's second half overhead kick for a goal sparked the Upton Park crowd to life.
The team with an abundance of attacking options took all the points against the team playing without a recognised striker as West Ham suffered their third home defeat of the season in an entertaining match.

The 3-1 score-line was probably a fair reflection of the game, but the Hammers can take some positives from a match in which they pushed title-favourites City to play probably their best football of the season. However, Sam Allardyce will be concerned about the way his team keep giving away goals from set positions; in this case Sergio Aguero scoring City's second from a wide free-kick with an excellent header. The way the Argentine striker powered the ball in from David Silva's free-kick was impressive, but he was unchallenged and Aguero is such a good striker that he really doesn't need defenders to allow him a free shot.

- Match report: West Ham 1-3 Man City

That goal in the 51st minute meant the Hammers were 2-0 down and had to chase the game -- something they did so superbly that when Ricardo Vaz Te scored seven minutes later, there was a real possibility that the home side might go on to get something from the match.

The likes of Manchester City though are separated from strugglers like West Ham by the strength of their squad. And when Aleksandar Kolarov came on for Alvaro Negredo and City's 'go-to' winger James Milner replaced Sami Nasri, Manchester were able to gain control of a game that looked, bizarrely, as if it might slip from their grasp.

In a fairly one-sided first half, Manuel Pellegrini's men had looked what they actually are -- a different class -- and West Ham were left chasing shadows as City produced some superb passing movements. It was no surprise when Aguero scored after 16 minutes, running clear of the defence and slotting past Jussi Jaaskelainen after the equally impressive Negrado had produced a deft touch by simply leaving the ball alone and fooling Winston Reid and James Tomkins who had their work cut out at the heart of the Hammers' defence.

But as they were to do in the second half, going behind spurred the home side on and the Hammers, without inevitably much of a cutting edge, managed to produce some positive football themselves with Stewart Downing, Mo Diame and Ravel Morrison all looking to get behind the City defence. Inevitably though, there was little end product and most Hammers fans probably expected to see either Carlton Cole or Mladen Petric introduced after half-time.

Big Sam obviously thought there was enough in the latter stages of the first half to see his side through though, and while the score was 1-0, that might have been the case, but once Aguero had scored his second it seemed like the match had definitely slipped away only for West Ham to raise the crowd with a stirring bombardment of City's defence.

Vaz Te's nifty overhead kick past Joe Hart from Razvan Rat's cross ignited the crowd and City were rocking as the Hammers powered forward. The fact of the matter is though, although it's unlikely Vaz Te would be first on anyone's fantasy football team, once the Portugese forward went off, West Ham were in the odd position of having substitute Matt Jarvis and Stewart Downing chasing down the wing with little chance of seeing anyone get on the end of anything they might produce.

Petric eventually came on for Kevin Nolan but it was too late to make an impact and the hugely impressive Silva had already ended the contest by powering home three minutes earlier to make it 3-1 to City. Silva's strike -- gutting though it was to the home fans -- really only served to underline what everyone knows but few people seem to openly say.

The gap between the top teams and those below eighth or ninth is vast and getting larger every season. The truth is for West Ham or any team in their position to beat Manchester City or any of the teams currently playing on a Wednesday night in the Champions League, it is that the 'bigger' team will need to play way below par while the 'lesser' raise their game to an almost unprecedented level. The nature of the Premier League means that if a team in the lower half of the table takes four or five points against the top five or six, both home and away, then that will be viewed as a good return at season's end.

Otherwise, it's all about the little things; making the opponents work for their victory -- something the Hammers might have claimed but for the messy second goal -- and giving the fans something to shout about by at least giving it a go and producing some enterprising and entertaining football. Despite his critics, Allardyce's current set-up seems to be producing a bit of that and City will not have viewed this as an easy game for them.

After that, though, there's little to be said as both sides move on to what is important to them: Manchester City to a vital Champions League match-day and West Ham to the next game to try and pick up some points. For what it's worth at this stage of the season, I think the Hammers will struggle but have enough to survive over the long run.

Of course, it goes without saying that the Irons desperately need a fit Andy Carroll back, but a second striker has to be a priority in the winter transfer window and there may need to be some uncomfortable decisions made as captain Nolan's lack of pace simply can't produce enough in this formation to warrant his inevitable inclusion every week.