Cole boost for everyone at Upton Park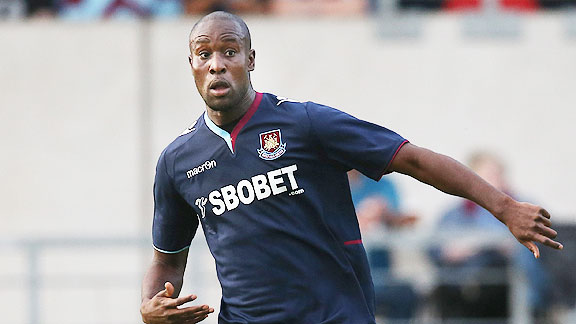 David Rogers/Getty ImagesCarlton Cole has rejoined West Ham after signing a short-term deal.
The announcement that West Ham United have completed the re-signing of Carlton Cole on a short-term deal is only part of the exciting news currently emanating from Upton Park. Because -- as exclusively revealed in this blog back in August -- Doris the 'Martin Peters Bar' tea-lady has confirmed that she has found the 'J' and the 'C' from the back of Joe and Carlton's shirts in a locked cupboard in Sam Allardyce's office. And, setting aside a weekend with her grandchildren, she has managed to sew both letters back on to the respective shirts so there is no chance of either getting confused down at the training ground.

- Report: West Ham snap up Carlton Cole

This is a great relief to all concerned and will further encourage Cole who has impressed everyone with his desire to get match-fit and re-join his old team mates at the Boleyn, hopefully pushing for a starting spot against Manchester City after the international break. With further encouraging news coming from the training ground where Mladen Petric is said to be impressing everyone with his general play and sharpness in front of two jumpers and a youth keeper, it's expected that the self-proclaimed 'Allardici' will almost certainly confound his critics and revert to playing with a big lump up front against the 2011-12 Premier League champions. Quite how City will cope with this is anyone's guess.

Cole's return was also greeted with some excitement by the unofficial t-shirt vendors on Green Street. One such entrepreneur, who asked not to be named and who I strenuously deny is actually my Uncle Stan, despite rumours to the contrary, was quoted as saying: "We thought we were stuck with 10 unopened boxes of 'Sex and drugs and Carlton Cole' T-shirts -- now we can simply re-introduce them."

Sadly, it's not good news for everyone though. There had been suggestions that the word 'Carlton' could be white-washed out and replaced by a black stencil of 'Joey' on the quality garments and the local DIY Superstore had ordered in extra quantities of paint for the expected rush, however that is no longer necessary and the manager of the store in Barking is said to be 'deeply disappointed'.

All that aside though, Cole will probably notice a couple of major changes since his initial release from the Hammers' roster at the end of last summer, and that is the not insignificance presence of both Stewart Downing and Ravel Morrison. It's likely that CFC -- as he affectionately known by the fans -- is likely to find he has a larger number of crosses and through balls to contend with, although surely even the most pessimistic supporter is expecting a higher shot per game ratio than that seen by the hapless Modibo Maiga, who will now surely find himself up for sale in the next transfer window. After all, if the striker now sits behind two panic free agent signings, it doesn't really say much for his prospects, does it?

In a rather gloomy assessment though, Big Sam seems to suggest it's likely that Morrison may be leaving the ranks before anyone else, according to a statement he made at the weekend. I've never really understood why managers and owners seem so keen to add to the usual unfounded rumour and speculation already started by the media, but it's a depressing fact that one game and one wonder goal is enough for hacks everywhere to start expressing the desire of a player to move elsewhere, and the dutiful desire of every club to instantly make contrary statements to add to the tittle-tattle.

Quite why Allardyce feels the need to say that he fears Manchester United may be back in for Morrison or, of more importance, why he would alert everyone else to this anyway, is simply beyond explanation. If, as the manager suggests, there "may be a buy-back clause" but "he doesn't know", or "if it exists what that figure might be", then why doesn't he find out first?

Even assuming there is such a clause and Manchester are thinking of invoking it -- and in view of the recent comment by the assistant manager Mike Phelan that Sir Alex Ferguson was right to allow the player to move away from Manchester, that seems a little unlikely at this early juncture -- why mention it?

After all, it may be that West Ham are going to offer an improved contract to the England prospect and there's even a chance he may accept in the short-term, but no one is under the illusion that Morrison is going to be plying his trade at the Boleyn if he keeps up his current rate of progress. Why get involved in pointless speculation that just hastens the inevitable? Bizarre.

Still, before we get involved in all that, the immediate concerns are that West Ham follow up their success against Spurs with another good result. The Boleyn hasn't appeared to be the fortress the coaching staff would like, for the first part of the season at least, but success at White Hart Lane has given everyone a boost and -- difficult though it will be to get a win against City -- there should hopefully be enough in the squad to get something from the game.