Ravel Morrison and English expectations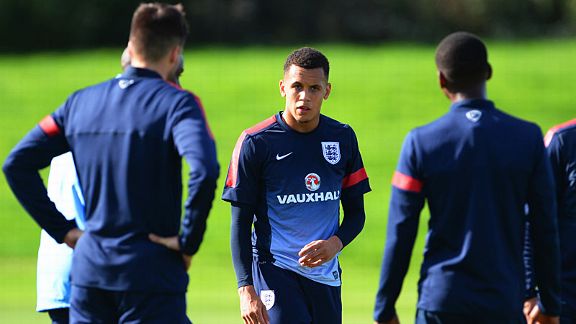 GettyImagesRavel Morrison is set to make his England Under-21 debut this week.
The British are a strange race in many ways; an island people whose historical seafaring strengths gave them the opportunity to directly control or influence large swathes of the world, creating a legacy -- both good and bad -- that far exceeds what might be expected from the inhabitants of such a relatively small piece of land. Colonial past far behind, we're now a 21st century anachronism with -- as Jack Wilshere has lamentably shown just this week -- insular ideas, wary of outside influence, convinced our ways are best and resistant to the pressures from those outside who seek to change what we believe to be the 'right way' of doing things.

In sport, we've suffered for many years from lack of investment both financially and creatively; laboured under tired bureaucracy, top heavy with crusty establishments full of 'old boys' keen to maintain the status quo and reluctant to seek out new ideas -- particularly if they have been introduced and practised beyond these shores.

- Ball: Rebuilding England, the Euro blueprint

Little by little though, with Lottery funding and with the introduction of younger administrators -- many born outside the UK -- in some areas at least (Cricket, Athletics and Rugby spring to mind) change has come and has been enormously beneficial. Even so, there are still areas where the old ways cling on, with the resulting tendency to fall back on political in-fighting when things turn sour -- something tennis manages perennially and now UK Swimming is currently undergoing.

In football though -- our national sport apparently -- a sort of largesse seems to have entered the collective consciousness. The Scots, Welsh and Northern Irish seem to have completely lost all interest in competing in the major tournaments while, later this week, the England team attempts to reach the 2014 World Cup with little real hope of doing much in Brazil next year even if they get there. When I was growing up, the national side went from travelling with confidence to travelling with hope; now England travels for the sake of increased summer beer and Barbecue sales at Tesco and Sainsbury's.

As Harry Redknapp has confirmed just this week, English football is struggling with outmoded ideas both at the top level and at its root. The FA School of Excellence is welcomed, of course, but its years too late and it's hard to watch the likes of Spain, Belgium and France and not feel envious. All three have all shown what can be achieved by some serious self-reflection and a complete overhaul of the national training and academy methods -- all in a relatively short time span when you consider the English nation's moribund performances since the 1970's. However, in its usual ironic fashion, only the English could have created a monster like the Premier League and watched it become overrun with average imported players at the expense of its own home-grown ones.

So, when the self-titled Sam Allardisi (who said the old curmudgeon had no sense of humour?) claims that West Ham have an English player of genius and that Ravel Morrison can "do something no-one else can" then both supporters of West Ham and England should get excited. But it's difficult not to greet the enthusiasm over the 20 year-old's arrival in the Premier League with a dose of typical British scepticism.
For any description of Ravel Morrison is usually accompanied with those blood-curdling epithets "rough diamond", "troubled genius" or "wayward star".

Ravel only broke into the team this season, he has barely played a handful of games and yet already he has the weighty expectation of English football hovering over him. I understand Big Sam is keen to do his best for West Ham and by praising Morrison publicly he is helping the player's confidence and letting him know he approves of his attitude and -- let's be honest -- Hammers fans can't be so picky they can afford to not get the best out of Ravel while he's with us.

But mindful of players like Paul Gascoigne and George Best along with many lesser but not insignificant others, we must all be aware that the UK produces more than its fair share of tortured genii in all forms of sport and the arts. There's something about the British mentality that seems to demand that pressure and criticism has to go hand-in-hand with admiration and adoration.

Allardyce has been honest enough to quickly distance himself from praise of his managerial skills after Morrison returned to the fold after a season-long loan at Birmingham last year. "He's really done it himself," said the Hammers boss at the weekend. However, it seems it might be the lesser known talents of Brum manager Lee Clark who England and West Ham might need to thanks for Ravel's turnaround.

Clark has admitted that he was warned off taking the player on loan last season, describing it as "the ultimate test of my capabilities" but after a few stormy scenes and some serious conversations, it seems Clark managed to convince the player there was more to football than what he did on the pitch and things started to change in October 2012. By season's end, Clark knew there was no chance that he would have the opportunity to take Morrison back on loan again.

But of course, even if Morrison has turned his life around -- and thankfully at the moment there is no reason to suppose he hasn't -- the pressures are still there. At West Ham supporters have already seen most of the English Golden Generation that included "model professionals" (albeit with their own indiscretions at times) like Rio Ferdinand, Frank Lampard, Michael Carrick, Joe Cole and others move on, not just from Upton Park -- that much was inevitable -- but also from the international scene, without any sight of a European Championship or a World Cup. However, virtually every World Cup winning team has at least one player with genuine world class skills, someone who does things others can't and if Ravel is shown to be that player then the pressures will become enormous.

But there's the rub: barely a few months into his Premier league debut and already I'm worried about the demands of a World Cup expectation. That's the problem with England; you're damned if you, damned if you don't. Allardyce and the club can keep him under wraps for the moment, don't allow the post-match interview, groom him slowly as Sir Alex Ferguson did with Ryan Giggs at Old Trafford but, rest assured, too many 55 yard mazy runs and dinked goals and the pressure for him to be sponsoring boots and opening restaurants will become irresistible.

So there's much demanded of Morrison and I'm worried if the lad can cope when a manager of the stature of Sir Alex Ferguson had so much trouble with him in Manchester that he decided the risks outweighed the benefits. I know residents and supporters of the North-west club think the streets there are paved with gold, but I'm highly amused by suggestions that moving from Manchester to the apparent back waters of London are the reason that the midfielder has managed to put his problems behind him.

Don't kid yourself: the capital is the ultimate test of the price of fame -- ask Geordie Gascoigne or Belfast Best -- and it's going to take a conversion of Damascene proportions if Morrison isn't to be lured by the bright lights of Faces and its attendant associations in Ilford.

Hopefully of course, my doubts will be swept aside and Ferdinand will be correct in his assessment of Morrison as having "skills good enough for Barcelona" -- not only that perhaps the Spanish giants themselves may want the player because of his model professional attitude (although it would be nice to think West Ham might be able to offer him a home at Stratford I'm under no illusions). Let's hope so. Whatever the national sides' failings both on and the pitch and off -- and they are many -- it has to be said they've not be blessed with much luck either and it would be nice to think that the Hammers will be associated with another golden period of English football.

But with great talent comes great expectation and, as Horatio Nelson noted, no one expects like the English.