Great afternoon at the Lane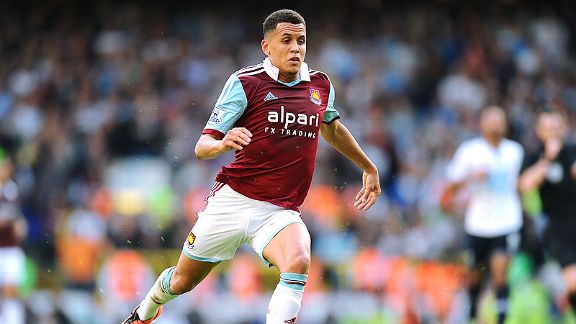 Mike Hewitt/Getty ImagesRavel Morrison starred in West Ham's 3-0 win at Tottenham.
The resounding 3-0 demolition of Spurs at White Hart Lane on Sunday will come as something of a shock to all bar the lowly 16% who decided, on an online fans poll, that West Ham would get a victory in North London. As it is though, there will be no mention of the Y word here; all we have is R for rout or running riot.

- Delaney: Three things: Tottenham-West Ham
- Report: Spurs shocked by Hammers

Sadly, many Hammers fans are labouring under the impression that the season starts in August, ends in October and consists of just a dozen games; this is a reminder that the season is nine hard months long, and although sometimes things might not go your way, you need to knuckle down, not panic, stick to a plan and things might just turn for you. There is a long way to go and much football to be played, and although this match will not determine this season any more than the rather depressing away defeat to Hull did last week, it at least shows that there is more to this Hammers side than some pessimists are currently claiming.

Similarly, for those of us who believe that -- despite his apparent shortcomings -- Sam Allardyce is probably the best man West Ham can have at the helm at the moment, this was an affirmation that not all his tactics are rooted in the era when footballs had laces and all players wore Brylcreem in their hair. Virtually playing without a striker, Allardyce's game plan frustrated Tottenham to such an extent that a neutral at White Hart Lane would surely have assumed it was the team in claret and blue that was supposed to be the one jostling in line for the Champions League places this season.

Nor was this a dull strangulation of a match -- quite the opposite, in fact- - as West Ham dominated the game defensively, sprung forward with some aplomb, pulled Spurs apart from wide positions and created an exceptional amount of chances for an away side. The match also provided some positives for those with West Ham's long-term future at heart.

James Collins is an exceptional and dependable defender, but it has sometimes looked as if his form might force the excellent James Tomkins away from Upton Park in order to gain a regular place elsewhere. In this match, though, the 24-year-old was back to the type of display that made Stuart Pearce pick him for his Olympic squad in 2012. His partnership with Winston Reid -- scorer of the first goal at White Hart Lane -- was sublime and these two could form a defensive tandem for the foreseeable future if things go right. What's more the defender gets in an impressive number of headers from corners and could have had a goal in this match but for a save by Spurs keeper Hugo Lloris.

Elsewhere Ricardo Vaz Te's goal -- West Ham's second -- was fortuitous indeed as it bounced back to him after Lloris saved his initially tame shot after Kevin Nolan played the Portuguese player in superbly. However, the fact remains that Vaz Te has a habit of seizing on opportunities like this and you have to wonder what would have happened had the benched Modibo Maiga got the opportunity. There's a nagging feeling that somehow the ball would have zipped off in another direction, or the initial shot would have been saved. Not exactly Quantum Physics in terms of accessing tactics and a player's abilities I know, but there are millions of football fans out there who know exactly what I'm talking about.

West Ham do have an obvious problem up front if Andy Carroll is not available, but the general squad strength has improved immensely over the past season so that even players like Jussi Jaaskelainen have to ensure they are the top of their game to keep themselves in the side. The Finnish keeper was on hand just after halftime to stop ex-Hammer Jermain Defoe from putting Spurs ahead with one of the few chances that came his way.

Best of all though is the continuing rise of Ravel Morrison. If Vaz Te's strike was tinged with fortune, the same cannot be said of the third goal scored by the former Manchester United player. Collecting Mo Diame's sublime flick, Morrison ran 55 yards, beating Michael Dawson on the way, before calmly lifting the ball over the Spurs keeper and into the net. If Sir Alex Ferguson rates a player but is not sure if he can handle him, you have to give some credit to Allardyce for, first of all, taking a chance on the youngster and then nurturing him carefully before giving him his chance. West Ham surely have a gem of a player here.

The Hammers' three goals came in a blistering 13 minutes in the second half, Reid's opener coming from Stewart Downing's corner, initially a header blocked by his own teammate Nolan standing just on the goal-line. Fortunately, the ball rebounded to the Kiwi who poked home instinctively. The odd thing about the goal was not that it was justly merited, but it seemed to be coming for some time and there was an air about it that suggested it would have been the decider even had Vaz Te and Morrison not added to the score a short time after.

And what of Spurs? Well, Tottenham fans are deluding themselves if they think they are half the side they were with Gareth Bale. The Welshman was a World Class player who -- as he proved at Upton Park last season -- could completely turn a game in an instant. Without him, the North London side are more predictable and more easily contained and I'd say Spurs are probably about three league places further from a Champions League spot than they were last season.

So not only an excellent afternoon but -- this being Spurs and considered deadly rivals by a large proportion of Hammer supporters -- a match and a score-line that will linger long in the memory. Oh yes, and before you ask, I was one of the 16% who predicted a victory.