Class tells as Hammers slump at home again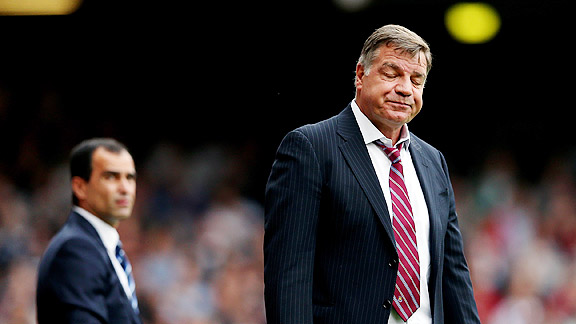 Ian Walton/Getty ImagesEverton's late charge proved to be too much for Big Sam and West Ham.
Last week there was a blog waiting to be written, hanging round the edges of my keyboard like a surreptitious stranger on a dark night in Mile End. I ignored the temptation to let it out because I knew, in that direction, madness lay. For it would bring me into the hazy netherworld inhabited by all types of footpads and ne'er do wells; the type who lurk around talk radio with a mobile in their hand waiting, like harbingers of doom, for the first sight that their football club isn't going in the right direction.

- Match report: West Ham 2-3 Everton

"Robbie, the Manager's gotta go", they cry. "Sack the board, Gary." "Spend more money." "RELEGATION!" they scream and although, occasionally they are right, for the most, it's a knee-jerk reaction to a solitary spot in what is a long, hard season. I try to avoid going down that route and, just five games into the new campaign, how can you tell exactly what way things are going to go?

So, the unwritten blog: the one that suggested that "I know it's very early BUT the home game against Everton looks as if it could be a crucial pointer towards the rest of the season" -- never saw the light of day. Were it to have ever been released onto an unsuspecting world, I think it might have argued that West Ham's ability to kill a game stone dead will only work on an opponent's territory for a limited amount of time, and the Hammers do not possess the personnel required to dismantle a home defence with regular abandon. Therefore, when the away points dry up, it's crucial the home games show a side difficult to beat and with a good smattering of points on the board.

However, in one of those odd instances that life -- and football in particular -- throw up, the Hammers have an appalling record against both Merseyside clubs and a visit from Everton, a team that have a habit of coming away from Upton Park with all three points, was a match fraught with danger. Should the Irons lose, it would mean two home defeats in three games. With so little created offensively away, it would make the fans nervous and talk would begin of the dreaded 'long hard winter'.

So, after Romelu Lukaku was introduced after the break and Everton twice come from behind to snatch a winner in a 3-2 victory five minutes from the end, what is to be said? Well, first off you have to say that Chelsea must be some club if they can afford to keep letting Lukaku go on loan season after season. Against West Ham, the Belgian was simply inspirational after he came on and you can see why Sam Allardyce tried hard to get him on loan at Upton Park before the transfer deadline.

Secondly, you have to say there is no substitute for quality and Leighton Baines' two goals from free-kicks at almost the same spot were simply sublime. However, the Hammers created more than of late and the continued presence of Ravel Morrison is starting to have some effect. It was the ex-Manchester United man who put the home side ahead after excellent work from Matt Jarvis and, although the first half was a little short on quality, it did look as if the Everton hoodoo may well be due for a bit of a battering as Morrison's shot took a decisive touch from Everton's Phil Jagielka.

But Lukaku's introduction after half-time meant the Irons were pushed deeper and deeper and their play become more desperate. There was an air of inevitability when James Collins fouled Ross Barkley and Baines scored a glorious goal from the resulting free-kick. The Hammers hit back though and if there is any encouragement to take from the defeat, it will be how Allardyce chased the game by introducing Mladen Petric and Ricardo Vaz Te, the former instrumental in the move that ended with Kevin Nolan getting untidily clattered by James McCarthy in the penalty area, allowing Mark Noble to score from the spot after 76 minutes.

However, shortly thereafter, the game swung on Noble's second booking after the midfielder had already seen yellow for a minor pull-back; it was a double whammy for Allardyce's men too, considering as Noble trooped off after being the shown the red, Baines then curled in another superb free-kick from almost the same spot, this time, though, into the opposite corner. Against ten men, Everton sensed blood and duly got it when Lakuku scored from Kevin Mirallas' centre; the player apparently knew nothing about the goal as he collided heavily with Joey O'Brien while rising to head home and afterward lay concussed on the pitch for several minutes.

That goal came on 85 minutes and if it was too late for ten-man West Ham to get back into the match, it has to be said that their second half display didn't really merit anything else.

So what of those ultimately unwritten fears? Well, they are still there. Encouraging defeats are often part of the warp and weave of a team that hasn't quite got enough. It's still too early to panic though, surely? The substitution of Modibo Maiga -- another nothing performance -- led to the introduction of Mladen Petric and there was enough to suggest that the Croatian might be able to do a job for the Hammers when he was instrumental in the build-up to the Noble penalty. Also, the team had a bit more about them going forward, although pushed back by a superior Everton side in the second half.

So it's not all bad. Just time to check on-line at the fan forum comments then -- and there it is! "It's going to be a long hard winter." Ah well...