Like or dislike, it's just business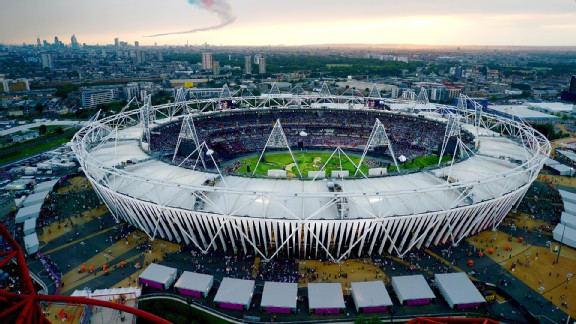 Alberto Pizzoli/AFP/GettyImagesIt appears that West Ham United will be the sole tenant in London's Olympic Stadium.
News of the decision by Mr Justice Lewis to not allow Leyton Orient to pursue a judicial review of the awarding of sole tenancy of the Olympic Stadium to West Ham United arrived in the form of a post to the Blagger's Facebook account. Someone had commented underneath "Press 'Like' one million times", and I couldn't help thinking this was a rather sad indictment of a process that has been flawed from the outset.

- Report: Leyton Orient Olympic Stadium bid fails

The unfortunate fact is that the shambles that arose out of the LLDC bidding process had made villains and innocents of both parties, with Barry Hearn very much playing the pantomime evil Uncle in a manner that has upset Hammers fans in their droves. The Leyton club itself has similarly been tarnished in some sections, while West Ham United has been portrayed as a giddying giant laying waste to local sports areas around them.

The truth is this is one of those long, smouldering inevitabilities that was destined to arise from the day that London was awarded the 2012 Olympic Games and the protagonists sitting in the red and blue corner are simply following the accepted rules of engagement.

Stratford is a West Ham borough and one which is very much in keeping with the local community. Orient may be a Central Line tube stop away but Leyton isn't the local club in the way that Barry Hearn likes to portray it. I've often walked to Stratford from Upton Park post-match to escape the local traffic around the Boleyn and it's a journey many Hammers fans make on a regular basis; it's really not that far.

West Ham council offices are just a Usain Bolt sprint away from the Queen Elizabeth Olympic Park, and back when West Ham used to get the opportunity to do an open-topped bus ride brandishing some silver cup or other, the parade always started on Stratford Broadway and finished at East Ham Town Hall. Of course, that's a long while ago now -- a similar bus ride today may well take in huge swathes of Essex! -- but that route was supposed to take in the accepted catchment area of the local West Ham fan and it's not really something either West Ham or Orient fans would dispute.

In fact, when I was a young street urchin pinging me braces and clicking me heels in a salute to Dick Van Dyke -- the Cockney's Cockney -- Orient were considered a bit of a sister club; one to which you might even go if the Hammers were away and you fancied a game. There was no animosity, players often moved between the clubs and O's fans tended to be made up of young kids, elder gentleman from the local community and floating supporters from the Docklands area.

I can actually well understand why the O's might want to share the stadium and I think there were even some early thought of mine that suggested this might even be a reasonable idea and, although I don't particularly like shared stadiums, I really don't blame Hearn or the Orient Management for trying to get a piece of the action.

Similarly, still smarting from the ridiculous £25m awarded to Sheffield United through the courts for the flawed belied that one man makes a team; I wouldn't like to comment on the legal process that decided that Hearn's attempt to get a judicial review was incorrect. Nor do I like the idea that Leyton Orient may well now need to consider moving from Brisbane Road to somewhere in Essex to escape the crunching jaws of the monster down the road.

However, you can't argue with history and the proximity of West Ham United to Leyton Orient is something that occurred long before smart-suited lawyers argued such things in court. West Ham can hardly be blamed for the set of circumstances that dictate they move and the most obvious place to move is a goal-kick away from Leyton station. Nor can you blame Orient for feeling that they are likely to get crushed as the removal vans roll in.

So all I'd like to say is that I'm glad the whole sorry mess is over and I hope the two sides can continue to live side by side amicably.

But, no! I won't be 'Liking it' and -- if there were such a button -- I wouldn't 'Dislike it' either. It's the inevitable process that arises from the necessity of 21st century football and I can see no cause for celebration either way.