Another dour day at St Mary's for Hammers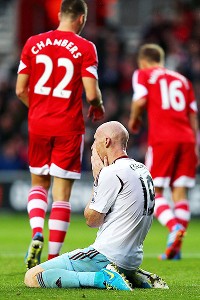 Clive Rose/Getty ImagesJames Collins rues missing a golden opportunity to score in the late stages of West Ham's scoreless draw at Southampton.
ESPN FC have given us club correspondents a bit more time to think about the game this season, hopefully providing some more insightful commentary on the match just played and able to see some angle that may have eluded us in a pure knee-jerk post-match report.

That opportunity is welcomed, of course, but for the third league match running, I'm thinking that I could sit here all week and not find anything worthwhile to add to what was a pretty turgid scoreless draw between West Ham and Southampton Sunday for anyone not supporting either side.

A bit of fanaticism for the Saints or Hammers may have provided a small amount of tension I guess, but that's about the only thing you can say about an insipid draw on a miserable afternoon that provided little entertainment for any neutral watching at home on TV.

Man-of-the-Match was justifiably Jussi Jaaskelainen for three excellent saves, but West Ham may well point to the late opportunity that fell to an unmarked James Collins in the penalty area as the opportunity most likely to lead to a goal.

Saints' Rickie Lambert hit the post, Hammers' Kevin Nolan had a goal ruled out after an offside flag was raised against Matthew Jarvis -- probably incorrectly -- and there were a few enterprising moments from Mohamed Diame and the home side's Pablo Osvaldo, but really there was little to raise the spirits on a gloomy, wet afternoon that made a mockery of the usual English Indian summer.

It was good to see young Ravel Morrison make a start for the Hammers though. He showed some nice touches on a difficult surface before being substituted 20 minutes before the end as he ran a little out of steam.

Other than that, the story is as it has been since the end of the opening-day win against Cardiff. The Hammers are resolute in defence -- two towering performances by Winston Reid and Collins -- well-organised to within a inch of their lives and able to generate a 'they shall not pass' mentality that I've never before seen with any West Ham side.

In fact, for any of the Upton Park faithful it's likely that any garnered pleasure from watching the team currently derives from the lone fact that -- against the likes of Southampton, at least -- the team look as if they could play all today and still be hoofing balls away into the stand by midnight.

Up front though, it is a different story. It is encouraging that manager Sam Allardyce and chairman David Gold are praising Modibo Maiga's efforts in training and telling us how sharp he looks. But sadly, out where it tells most, the Malian looks totally lost. On the few occasions Southampton's centre-back pairing let him out of their pockets, Maiga just chased the ball like a 10-year-old over Wanstead Flats, desperately hoping the full-back would slip or the goal-keeper miskick so he could hone in on goal.

Neither obliged so the afternoon was wasted, until Ricardo Vaz Te came on for the Miaga just after the hour. Not that Vaz Te added much himself, it's just that it's gut-wrenching watching Maiga at the moment.

It's difficult to blame Modibo for this performance -- although it has to be said many West Ham fans are doing just this -- but such is the manner of Allardyce's tactics. No one is really sure if the 26-year-old has anything to offer or not.

Sadly, in an effort to drum up some enthusiasm for the poor fare on offer, much was made about a bad tackle by Southampton's Morgan Schneiderlin, who was lucky not to be booked in the first half for a poor tackle on Mohamed Diame. Sam's efforts to suggest that Schneiderlin should have been sent off and then West Ham would have done better against a 10-man Saints side were rather unworthy.

The tackle, which referee Andre Marriner did not penalize, was certainly a yellow-card offence and a free kick, but a red card would have been nonsense as the Saints man was clearly sliding with only one leg raised and even got a bit of the ball first.

In truth, Joey O'Brien's out-of-characterlunge on Adam Lallana in the second half was probably as bad, although the Hammers' full-back did get a yellow card.

So, in another case of half-full/half-empty, I salute another defensive performance of some merit but despair at the lack of opportunities to score. I guess if the latter is ever solved without being at the expense of the former, then West Ham will be quite a team to beat. Sadly, I think the man who possibly offer a way for that to happen is some months away from proving it.