Petric looks to fill the gap
The confirmed signing of former Fulham striker Mladen Petric has gone a slight way to allaying the fears over West Ham's forward options following the Andy Carroll setback.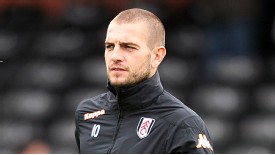 PA PhotosMladen Petric spent just one season at Fulham.
Nevertheless, there is still a lot of concern and anger over the club's transfer window dealings, with a few of the Hammers' more high-profile journalistic supporters going into print to suggest that the failure of Sam Allardyce and the Board to secure a forward earlier may still lead the club into relegation trouble before the season's end.

It has to be said that even the most optimistic fan has downgraded their expectations this season and few expect to finish further up the table than last May. There are few brown leaves from the abundant number of Plane trees lying in the gutters of the streets around Upton Park yet, but already most supporters believe a mid-table finish this campaign will be something of a triumph.

Looking to find some positives in what looks like a panic signing, I came across some encouraging information on a couple of Fulham sites. In one, where the discussion was "What has gone wrong with Petric's Fulham career" there was an ironic echo in the assessment of the Croatian's Craven Cottage experience.

It seems it was genuinely thought Petric was going to make quite an impact in the Premiership judging by the player's early 2012 form. The former Borussia Dortmund forward scored five goals in five games preseason, showing confidence and a deft touch into the bargain. Petric wasn't fazed by his opening Premier League campaign for the Cottagers either; scoring twice and creating another in a devastating performances against a poor Norwich side on opening day.

Where it went wrong for Petric though was -- and you have to suppress a rueful smile here! -- was the pasting handed out to Fulham when they visited Upton Park just a few weeks into last season. The man who did the damage was one Andy Carroll who, although he didn't score on his debut, ran the Cottagers defence so ragged that Fulham went in at half-time 3-0 down and looking as if they could concede as many in the second half.

In a desperate attempt to make his team more competitive after the break, Martin Jol took off Petric and bought on a Bulgarian by the name of Dimitar Berbatov and, while it didn't change the course of the game or, indeed the score, it did give the Hammers more to think about at the other end of the pitch.

Berbatov had an excellent second half and Jol decided -- not unreasonably -- to leave the player in the team and try to work Petric either from the bench or in tandem with the Bulgarian. However, the pair failed to gel and it soon became apparent Petric was more adept at playing up front on his own and -- perhaps of even more interest to West Ham -- was happier being the main man and shouldering the bulk of the play.

Petric eventually become something of a lone figure on the bench for Fulham and his confidence suffered accordingly. While we shouldn't be surprised that Petric wasn't able to oust Berbatov from a forward line, there is much to suggest that the situation at Upton Park will suit the 6-foot-1 striker perfectly.

What will be interesting the next few weeks will be to see if Big Sam puts his new signing straight into the team and leaves him there -- assuming he doesn't get injured, of course! -- or bides his time to see how other options work out.

Considering the manager made it clear he was happy with his squad, the demotion of Modibo Maiga to the bench -- however justified -- would look to weaken Sam's arguments considerably, although it's doubtful it would shake Allardyce's seemingly bullet-proof confidence in his own tactical ability.

If, as some are suggesting, Sam may even turn to transfer-requesting Ricardo Vaz Te to provide some play from wide areas, it will cause even more questions to be asked.

Although maddeningly inconsistent, Vaz Te has a knack of laying on opportunities and popping up and scoring the odd goal here and there and -- apart from the usual quota from Kevin Nolan -- that's not something that Allardyce can really claim he has managed to integrate into this team yet.

If Vaz Te managed to get a few on the score sheet, then it would be difficult to argue against the Portuguese player's assessment that he has been marginalised by more expensive wingers who don't really produce any more than he does.

Shot-shy they may be, but there is no doubting that defensively West Ham are a difficult bunch to breach, so the next few weeks could give a good indication of what we can expect from the team over rest of the season. I doubt it will be pretty, though!