Capital? No, just another nail in the heart
You know, some people dream of seeing their team in the Champions League final, watching that winning goal ten minutes from the end, perhaps accompanied by a glamorous woman and the promise of a night of passion after.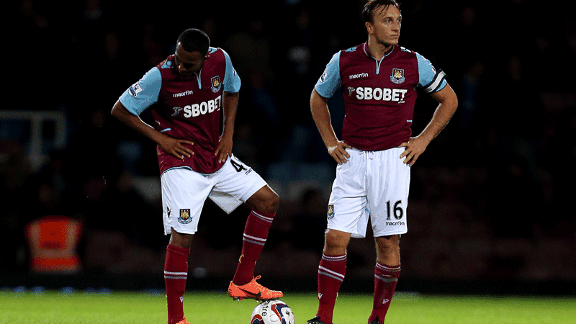 Some conjure up thoughts of World Cup glory, imagining their heroes celebrating in one of Europe's most iconic grounds, the light shimmering from the trophy, while all the while fingering in their pocket a lottery ticket that earlier revealed the winning six numbers and a bonus ball.

Others see a long-awaited Premier League trophy, the winning goal snatched in dramatic fashion in the dying seconds, the pain on the faces of the vanquished foes made even more glorious by the fact that it is the most deadliest of rivals.

And still, back in the 5-star hotel, there is that woman….

But me? I want for no such glory. I don't care who the sponsor is, all I want is a League Cup final victory and then I can die happy.

My life can be marked out in terms of dismal League Cup defeats. From a two-legged aggregate final loss against West Bromwich Albion back in 1966 – sometimes I claim I wasn't born, others that months later I ran on the pitch at Wembley in the World Cup final and was eulogised by Kenneth Wolstenholme – to bitter home defeats by teams that don't even grace the Football League anymore.

I mean; two consecutive semi-final defeats to Luton Town in the late eighties. Luton?! Another semi-final defeat: this time a 6-0 thrashing by Oldham – Oldham?! - on a plastic pitch, on one of the worst nights of my life. I still, quite literally, have the scar from that one! (I'll tell you - perhaps show you too - another time OK?).

Of course, we were robbed by referee Clive Thomas at Wembley in 1981, and then again in the replay at Villa Park. It's not as if Liverpool even had a good team then. According to my stats I see the goals were scored by someone called Alan Hansen and Kenny Dalglish. Who they?

And after that? Just two years ago another semi-final defeat to Birmingham when we were 3-1 up and looking comfortable, and worst of all – still so painful I can barely write about it, so badly did it etch on my formulative years - the sight of Gordon Banks tipping over a Geoff Hurst penalty in front of a packed North Bank in 1972. Geoff Hurst never missed from the spot.

That is not even to mention the 3rd and 4th round defeats to minnows so small there is barely mesh enough to hold them in. Miserable, horrible, depressing, life-destroying defeats that I can hardly summon up the wherewithal to even Google. There is a book of West Ham's League Cup defeats - I know it because I am still writing it.

Yet surely, now of all times, a cup win should not be beyond the claret and blue? Is the Hammers' reserve team really that much worse than Wigan's? I mean what are we saving ourselves for? So we can trounce Arsenal and kick the backsides of Manchester United when they roll into town?

The League Cup – whatever they call it – is a trophy the likes of West Ham should be looking to win. It's a bit of glory, a name on a trophy, a route into Europe. Please, can someone explain to me why we don't play a full first team and thumb our noses at those who don't take it seriously? We can always worry about the semi-final against Liverpool or Manchester City when it arrives. What is there to lose? Did James Tomkins learn anything from the trouncing by Wigan? Did Sam Allardyce? (Other than his reserves are pretty poor).

OK I know I'm asking a lot of questions and I should be providing answers, so let's be clear. If there is a competitive game then West Ham should put out their strongest side and attempt to win it. If it is a cup game they should try even harder. There! I've said it; the great truth that dare not speak its name. Fans want to see their club try to win every match. Shocking, huh?

As it is though, we have to pretend. We're concentrating on the league; it's not important, chance to rest a few players, opportunity to re-group. Move on, nothing to see here.

West Ham 1 Wigan Athletic 4 – just file under 'Grim League Cup games'. There's quite a litany of poor cup results for some poor sap to read. Just remember though, for me it's my life in microcosm.