Fresh Carroll injury worry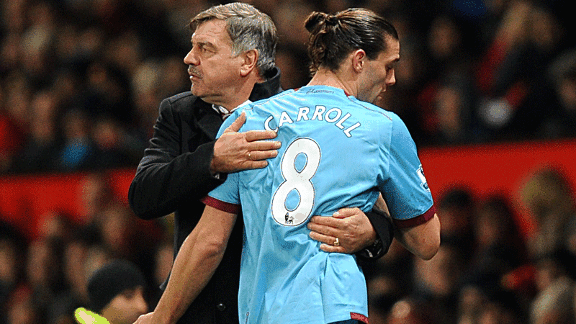 PA PhotosSam Allardyce will be without Andy Carroll for the foreseeable future.
The first mention appeared on the unofficial sites by mid-afternoon, tweets and Facebook messages passed the story on; some of those spreading the rumours suffered severe abuse from those not yet up to speed on the facts although, to be fair, the "My mate Brian was passing Chadwell Heath and..." merchants were out in full. Rumours were rife, actual facts were thin on the ground.

By 5pm, the mobile texts were flying everywhere: "He's limped off, he's been carried off, he was seen leaving on crutches/in an ambulance/the Priest has been called". It was that type of afternoon.

It took some time for the basic facts to be confirmed -- not helped by a denial from the club itself at one point -- but by 7pm, and although nothing had appeared on any of the news sites, it was pretty much common knowledge for all West Ham fans. £16 million striker Andy Carroll had broken down in training, suffering an injury to his right foot which - although not exactly a re-occurrence of the heel injury that had kept the striker out since May -- was said to be in the "same part of the foot". For the layman, that sounds like a heel injury.

- Carroll suffers fresh setback

The extent of the problem is unknown as I write this but, by any standards, this is awful news for Sam Allardyce, the club and fans. The Hammers have invested a lot of time and money on the Geordie striker to the extent that £6m former Liverpool and England winger Stewart Downing was purchased to supply Carroll with crosses. As I've suggested before, Plan A is fine but there appears to be no Plan B.

Sam's bullish comment that the squad was good enough even if West Ham failed to sign another striker in the transfer window -- something the club spectacularly failed to do despite attempts to bring in Demba Ba, Nicklas Bendtner and Romelu Lukaku according to Vice-Chairmain Karren Brady -- appeared to be undermined with the efforts to re-sign released forward Carlton Cole.

The fact that Cole subsequently failed a medical -- fitness being a requisite for a player looking for another club, you would have thought -- left Allardyce with nowhere to go. Rumours suggest that former Fulham forward and Croatian International Mladen Petric, an unregistered player and therefore still able to sign outside the transfer window, may have passed a medical is the only bit of encouraging news to come out of Upton Park on a bleak day.

It was earlier confirmed that Stewart Downing was joining Joe Cole on the injury list and it was likely that a recall for want-away winger Ricardo Vaz Te was on the cards for the weekend's game at St Mary's. It's very hard to be upbeat at the situation currently and there needs to be some severe questioning at the way the transfer window was used - particularly galling as the re-signing of Joe Cole last December and the early capture of Carroll seemed to suggest that the club had a policy in place that was going to minimise previous transfer failings.

At the moment though, all Hammers supporters are hoping for better news on Carroll. With memories of the truncated career of Dean Ashton in mind, fans are desperately trying to avoid any type of comparison.