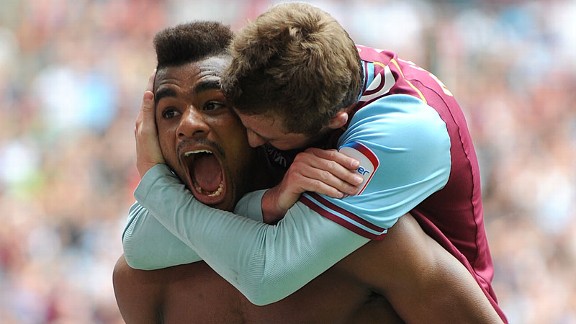 AssociatedRicardo Vaz Te appears to have a change of heart, much to the benefit of West Ham.
Let's take the positive view, shall we? West Ham United -- alone out of the mighty of the Premier league -- was the only club well-organised enough to make sure they carried out their transfer activity away from the mayhem of the last day, thus ensuring they didn't pay over the odds for anyone. The squad at Upton Park is plenty big enough to cover for any unforeseen injuries, suspensions or general flouncing out and Sam Allardyce is astute enough to have several plans in place should things not work exactly as he planned last July.

Want-away striker/winger Ricardo Vaz Te looked as if he would be moving to Norwich City on loan at one point on Monday but the apparent collapse of that move is surely down to the Portuguese player deciding that he was probably too hasty in slapping in a transfer request last week and he has now had second thoughts and will fight for his place.

The manager -- realising that perhaps Ricardo had his head turned by the warmer climes in East Anglia -- has almost certainly forgiven the man whose goal brought West Ham back to the Premier League and will undoubtedly consider him for the lone striking role, if Andy Carroll isn't considered quite match fit after the international break.

When Chairman David Gold tweeted after the window closed that "We did our best. It didn't work out the way we hoped", he was just referring to a minor bit of tweaking the club were endeavouring to do by helping out some of those players who were unlikely to get a game and may have benefited from going out on loan elsewhere.

What's more, the Chairman knows only too well that the transfer window isn't the be all of acquiring players and there are enough out-of-contract nomads to choose from, should Andy Carroll not return from his long-standing heel injury to play against Southampton in the next league game or -- heaven forbid -- he should get injured and be out again for another four months. Why, I hear ex-Chelsea player Carlton Cole is looking for a club -- not sure why he was released from his previous club and he's a good player with plenty of experience and I'm sure he'd do a job from the bench.

The surprise signing of Stewart Downing earlier in the season provided West Ham with more than enough wingers to cross the ball for Andy Carroll and, in fact, one of the intentions of signing the former Liverpool star was to ensure that the Hammers have every England winger available for selection so that no-one else can have them. It is likely that the rumour that Sam approached Blackpool over the possibility of signing Stanley Matthews was probably just scurrilous tittle-tattle though.

However, it is the unenviable lot of this blog to bring you news of every facet of life at Upton Park, so it has to be sadly noted that not every West Ham fan is viewing transfer deadline day as a roaring success. Some supporters -- who couldn't see the sense of spending £6 million on Stewart Downing to cross for a non-existent forward -- are questioning whether the club didn't put one very fragile egg into one rather expensive basket; the fact said egg appears to have a weakness not seen since Achilles last slipped on a pair of flip-flops, turned to the city of Troy and shouted "Come on lads, let's show 'em a clean pair of heels" is a matter of concern for them.

It does seem that Modibo Maiga does have a little trouble finding the net sometimes and I suppose it would have been more sensible to have tried to get some type of big lump to knock the crosses too, but the Hammers are on the up nowadays, and you can understand the marked reluctance to aim for the type of £5 million ne'er do well who might do for the likes of West Brom, Sunderland or Everton. In any case, with the amount of balls flying in from the wings, the opposing centre-half is almost certain to accidentally knock one or two into the net. Add that to the two Maiga will bury into the onion bag by New Years Day and everything looks pretty good.

So, I'm not sure why everyone looks so worried. In any case, the nights are drawing in, there is that reassuring sound of distant traffic that you only hear on Autumnal mornings, the crab apples are falling from the tree in the grounds of Blagg Acres and the good Lady wife has started asking what end of the loft the Christmas decorations are in. This can only mean one thing; the January transfer window will be opening soon.

Now if you excuse me I have to get on, I have some calls to make to track down some bloke called Carlton -- and does anyone know where they put the 'J' from the back of Joe Cole's shirt?