Vaz Te transfer request puts crimp in early season optimism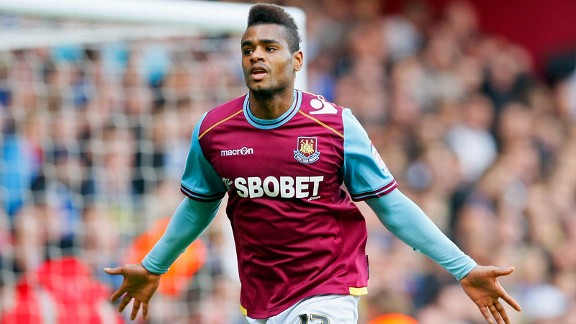 Tom Dulat/Getty ImagesThe days of Ricardo Vaz Te goal celebrations appear to be over at West Ham.
I doubt Ricardo Vaz Te looks at this blog before deciding what he is going to do with the rest of his career so this information probably won't amount to much for him, but I was in the process of penning some thoughts on the Portuguese player when I learned of his transfer request and, while I wouldn't say that the 26-year-old hasn't 'been appreciated' -- at least by the fans -- I can certainly understand his frustration at the way his involvement at West Ham United has been handled.

It was particularly noticeable in the Capital Cup match against Cheltenham just how much more dangerous the Hammers look when Vaz Te is playing up front. Compare that to the output when the man he replaced -- Modibi Maiga -- is starting and it's hard to deny that the former Barnsley player appears to be one of those players who manages to pull a goal out from somewhere, even if his general play doesn't seem to warrant it.

- Report: Vaz Te hands in transfer request

Much though there is too admire in the stewardship of Sam Allardyce, the phrase "I don't figure in the manager's plans" seems to be evident for some players, if not in actual words then certainly in the on-the-pitch action. This was the very point made by Marouane Chamakh recently, the Arsenal striker complaining that he was 'treated unfairly' by the club after being brought in on loan last December.

In the case of Chamakh -- although there didn't seem too much in evidence in the few times he did play -- there was a sense that it was difficult to judge his worth on the few chances he had. Fans have puzzled over Allardyce's jettisoning of some signings and have taken to assuming there is something on the training field or in the dressing room that is alerting the manager to possible shortcomings; things that fans won't be too much aware of.

In the case of Vaz Te, it's difficult to see what the issue is though, and it's terribly ironic that the player has handed in a request that will almost certainly lead to him spending his Saturday at the Bluewater Shopping Centre or somewhere as, based on his performance against Cheltenham Town, I thought there was a very real chance he may have been given the nod over Maiga against Stoke City.

Doubtless there will be fans -- I've seen them already on some of the sites -- waving Vaz Te off with a 'if he doesn't want to play for WHU then let him go, we can get someone else in who's better', but this type of muddled thinking has caused the Hammers much heartache in the past and I can see it happening again. I recall the same said about Bobby Zamora when he left for Fulham, Europe and an England call-up; his superior replacement never arrived and relegation came calling.

Vaz Te's assertion that his performances through goals scored and assists made should have brought him more into first-team contention are difficult to refute -- from the stands, at least. However, following David Gold's statement that the new Financial Fair Play rules determined that the Hammers probably wouldn't be able to fund another striker with the money already spent on increasing the wage bill this summer, it would seem Vaz Te's transfer request is likely to see him moving on, especially as Allardyce has hinted that he believes the player has been 'tapped up'. The chance to bring a more out-and-out striker in would appear to be too good to miss.

It's a pity the financial constraints aren't relaxed for players who are part of the payroll but unlikely to play any further part in the season's proceedings as, following the news that Alou Diarra's knee injury in the Cup win is likely to keep him out for the season, the Hammers have found themselves with an heavy wage-earner who has can't play and has barely had a sniff of any first team action since he joined the club.

I citied the pre-season performances of Diarra as a huge positive for the club as they entered the new season but, once again, the West Ham injury hoodoo has struck -- did we ever think it wouldn't? -- and this news, added to Vaz Te's request, have put a crimp on the Hammer's early season optimism.