The gloves are on in dull draw for Hammers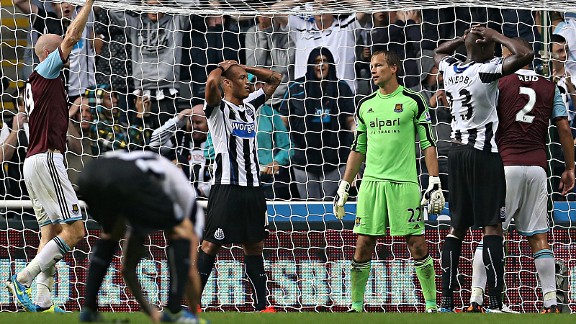 GettyImagesNewcastle's Gouffran reacts after a missed chance against West Ham.
Over at one of the unofficial West Ham sites there is a regular 'Positive and Negative' thread in which supporters post their views on the last match, finding good or bad regardless of the result.

In the spirit of that post, and in what was otherwise a fairly dull 0-0 draw that almost certainly meant those wishing to see the 'highlights' needed to stay up very late on Saturday night and wait until the end of Match of the Day, but it's worth remembering that the Premier League is a wonderfully visual spectacle that is always worth watching even when - incredibly - there is only a single shot on target all game. At least, that's what it says here.

- Ryder: Magpies too light in attack

So here are the positives: West Ham garnered an away point, looked the likelier to score and had the game's outstanding player in Matt Jarvis. The defence looked solid and the midfield tidy and supportive of both the back four and the front one. The one shot on target came from the visiting side although everyone had dozed off and couldn't remember what it was. Being able to bring on Joe Cole for Stewart Downing and Ravel Morrison for Mo Diame makes the Hammers bench a more worrying prospect for the opposition. The Hammers' haven't conceded a goal in two games and Sam Allardyce had a nice pie at half-time. Andy Carroll is back in full training and should return soon.

The negatives? It rained. Newcastle probably had the best chance in the dying seconds when Shola Ameobi hit the post and the rebound was ballooned over by Yoan Gouffran. Despite the lack of actual direct attempts, Kevin Nolan should have scored. Modibo Maiga still doesn't convince. The captain still looks a desolate figure away from home where the tactics don't seem to suit him. The manager continues to talk about lack of creativity and Newcastle is a long way to go for zero entertainment. Ravel Morrison has cold hands.

Point to argue either way: Neither player - Diame or Downing - looked particularly happy at being substituted. This could indicate frustration at being taken off when there appears to be players who are contributing less and probably deserve a chance for first dibs at the shower a little more or, it could show a frustration that things didn't quite come off for them today and they will try even harder in the next game.

It's early days and West Ham are amusingly tucked in nicely behind leaders Chelsea and Liverpool, proof, were it needed, that it's much too soon in the game to guess what might happen from here but, even at this stage, I'd have to say another striker could make all the difference to watching further afternoon's like this unravel.

There was little else of discussion barring the not inconsiderable impact of Morrison's hands. Some years back, your honest blogger took an enormous amount of stick when visiting the in-laws in the North-east, wearing about six thermal vests and four layers of sock over a great coat to manage a bitterly cold trip down Grey Street one Saturday night in December. I was surrounded by men wearing little more than a T-shirt and jeans and women wearing considerably less. The appearance of Morrison sporting gloves in the last week of August has at last released me from the stigma of being the epitome of 'southern softie' and, considering Morrison hails from a suburb of Manchester, it is a sterling attempt to substantiate the legend that, to a Geordie, 'everywhere is south'.

I was reminded of the time when Ron Greenwood sent his players out wearing gloves on a freezing day back when West Ham were said to travel poorly like 'fine wine'. Greenwood - who said: "You can't play football if you're extremities are frozen" - so incensed the Geordies that they tore into the West Ham team like hungry Wolves, pulling them apart in a 4-0 thrashing. Bobby Moore said afterwards it was a tactical error; 'like a red rag to a bull' and the incident marked one of the many disagreements the England captain had with his manager during the latter years.

It would be interesting to consider what both men might think of Ravel Morrison and the Hammers display of 2013. I think both might suppress a rueful smile at the gloves, Greenwood would shift uncomfortably at the lack of enterprise by both sides but Moore - always ahead of the game - would surely be the happier for this defensive performance. At the moment, we'll take that.