Injury jinx strikes again as Collison's future in doubt
Injuries to key players are always a concern to supporters, but when those injuries occur to someone who has come through the junior ranks - 'one of our own' - and the problems are sustained in helping the club through a bad period or, even better, bringing some success to the side, then those concerns are even more prevalent.

News that Welsh midfielder Jack Collison is suffering the same debilitating knee injury as that sustained by Paul McGrath and Ledley King, is really upsetting news for everyone at Upton Park. Confirmation that the knee injury may have been made worse by Collison's sterling efforts in the Play-off campaign last season is particularly distressing for all concerned.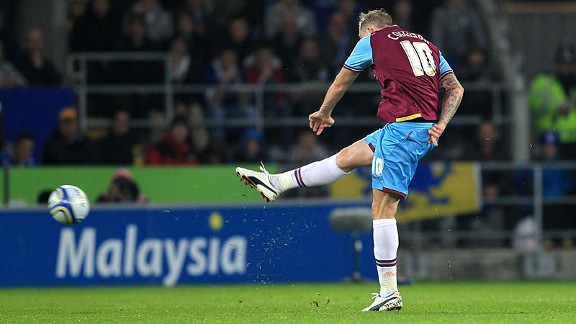 PA PhotosJack Collison: Has a knee injury that may never fully clear up


It was obvious from the off that Jack Collison was going to be another international player from the Academy, and the fact that there is a dearth of top quality players in Welsh football at the moment shouldn't detract from Collison's rapid progress after he broke into the West Ham first team at the age of 19.

I'm not a great subscriber to the Henry Winter school of 'one man making a team' but there is no doubt that the appearances - and lack of - from some players, always seem to correlate with improved performances and results from a side. Jack Collision is a shining example of this.

Collison was superb in the Championship run-in last season and his contribution - particularly in the semi-final Play-off victory over Cardiff - was immeasurable. Jack isn't the type of player who supporters of other clubs might recognise as a danger - it's fair to say that some Hammers' fans still weren't fully convinced up until last April / May - but you can pretty much measure West Ham's recent good or bad runs of form with the availability of Collison.

Superb in his breakthrough season under Zola in 2008/09 and after being voted BBC London Young Sport Personality of the Year in 2009 for his performances in 09/10 - a season curtailed by the knee injury that now threatens his career - Collison spent virtually the whole of the following season on the sidelines and was not available to Avram Grant until the very end of the campaign. The fact that West Ham was relegated in fairly ignominious circumstances at the end of that season is not without significance.

After finishing the Play-off's on such a high, we were all hoping to see Jack push on further from here but the news of the injury has certainly blighted those hopes and also explains why the player has looked sluggish when returning to match fitness in other seasons.

We all wish Jack well as he attempts a full recovery and if, as Sam Allardyce has been quoted as saying, the club medical team are nearing the point at which they may need to seek advice elsewhere, I'm sure all West Ham fans will urge the club to do it sooner rather than later.

Described by Allardyce as 'a forgotten man', we understand that Jack is finding it hard to cope with the constant lonely battle at the medical centre away from the training ground and match atmosphere and, for what it's worth, we hope he's found some comfort in the online support from fans.

We can just keep our fingers crossed and hope that Jack is able to make the same type of contribution to West Ham that McGrath and King did to their respective clubs, but we all saw the agonies that Dean Ashton had to go through and Jack Collison's long-term welfare is the most important thing in the long run.