Hammers warming up nicely, Downing still to come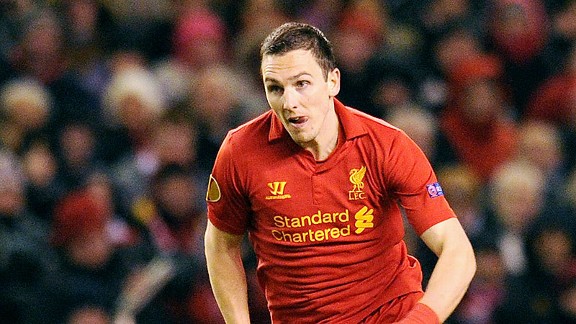 Andrew Powell/Liverpool FC via Getty ImagesStewart Downing cost Liverpool £20m just two years ago.
West Ham's competitive pre-season ended on Saturday with another win, this time against Portuguese side Pacos de Ferreira in the annual Bobby Moore Trophy match.

The Hammers went ahead after only 16 seconds through Ravel Morrison and Modibo Maiga scored a second to put the home side firmly in control by half-time. However, the Porto side - who surprisingly reached the qualifying stages of this year's Champions League after finishing third in the Portuguese First Division last season - pulled one back after the break, but it wasn't enough to stop the Irons running out winners and completing a successful warm-up to the new season.

- Downing set for West Ham medical

This was West Ham's second win over Portuguese opposition, having beaten Sporting Lisbon 3-2 in the Torneio do Guadiana at the beginning of the month and, although they then lost 1-0 to Braga in the same competition, this can be considered a good return for a team still finding their way without injured striker Andy Carroll.

In fact, the form of Morrison and Maiga is starting to make it feel like two new players have been drafted in and it is highly likely both will start in the Premier league opener against Cardiff next Saturday. It's also probable that the squad will be further boosted by the signing of Liverpool and England winger Stewart Downing. The former Aston Villa and Middlesbrough player who signed for the Anfield club in July 2011 for an eye-watering £20 million, is reported to be trying to agree personal terms at Upton Park before following the same path as Andy Carroll - the player it was originally intended he would form a partnership with back when Kenny Dalglish was in charge at Liverpool.

That plan never materialised at Anfield but Sam Allardyce is obviously intending on making it work in London. With rumours that the fee is likely to be in the region of £5-£6 million, Dalglish must be casting an envious eye at the cheques being written out by David's Gold and Sullivan currently; if Downing signs the combined fees for him and Carroll are likely to be less than a third than that paid by Liverpool barely two years ago.

It has to be remembered though that Dalglish's plans didn't amount to much and, despite the smaller fee for the 29-year-old Downing, it still represents a big gamble for a club of West Ham's size. It's likely though that the Hammer's boss is intent on moving Matt Jarvis to the opposite wing and using Joe Cole - perhaps sparingly - in the midfield hole behind Carroll or Maiga. With Morrison coming into the count now though, it also has to be reckoned that the Hammers ability to cover for injury and lack of form has improved considerably since last season.

The Hammers are still being linked with strikers of every shape, size and nationality in the media, but there's a feeling from fans that the form of the midfield players is starting to make a signing less of a necessity than it looked a few weeks back. With tentative report's that England is likely to be basking in a mid-August heatwave by the weekend, supporters can only hope that the Hammers pre-season warm-up - no pun intended - will reap dividends in the crucial opening weeks.

West Ham's fixture list features a difficult period late in the year and Big Sam will be looking at the early season games as a chance to get some cushion for when the scarves come out for more than decorative purposes.