West Ham United season preview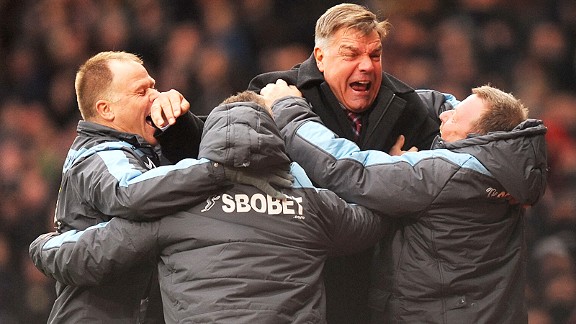 AllsportSam Allardyce and his staff have instilled fitness and desire in the squad.
What's changed since last season?
Not a great deal - there's not yet been any poaching of players the Hammers would rather have kept - but oddly, a couple of people who seemed to be on their way out have been welcomed back into the fold like returning prodigals. Better still, they are not just those making up the squad numbers but rather both have been influential in the pre-season build-up and have come through as star players likely to start in the first team.

First up is the returning Alou Diarra, who flounced out in January after complaining he hadn't been able to get a game; considering he'd been injured from August to December this seemed a bit rich and when Sam Allardyce sent the former French captain out on loan to Rennes, we all thought that was the last we'd see of him - not that we'd seen much - in a claret and blue shirt. But No, he's back and looking pretty good. As a defensive midfielder who can also play in the centre of a back-four, to add a player of Diarra's quality and experience is like getting another £10 million transfer in, so this is very encouraging.

Not quite the same, but Ravel Morrison is also being highly touted for a place. Morrison was the player - highly-rated by Sir Alex Ferguson - who the former Manchester United boss decided would be better continuing his career elsewhere, allowing the midfielder to move to the Hammers in January 2012. The words 'problem' and 'rough diamond' are usually found in any description of Morrison and when Allardyce sent the 20-year-old out on loan to Birmingham last season, it was again assumed the manager had seen enough and wanted nothing more to do with the player.

Morrison impressed at Birmingham though - making 27 appearances and scoring three goals and many rave reviews - and returned desperate to make a mark this campaign, something he has done spectacularly well in pre-season. It seems very likely that Morrison will start the season in the first team, even if from the bench, and with growing maturity, his career could be taking the turn Sir Alex hoped when he suggested the player to Big Sam.


Key to this campaign?
The same key as it's been at Upton Park since virtually anyone can remember; that is the ability to turn performances into results, hope that players' reputations on the team sheet transform themselves into performances on the pitch and - most importantly - keep everyone fit. No-one holds their breath on any count.

Predicted finish/realistic goal
A mid-table finish with no involvement - however small - in the relegation dogfight will do just nicely. Realistically, the Hammers could really look to occupy that top space just outside the 'big' six or seven and it's also about time they won the League Cup - they surely have the best record of any club that has failed to win it - but mainly this campaign is about the ubiquitous 'pushing on'.

Make or break season for...
I can genuinely say - perhaps for the first time in many decades - that no-one is really drinking in the last-chance saloon of the Boleyn for a change. The owners continue to build for the future while making funds available for the manager. The coaching staff seem to be advancing the club's notoriously lackadaisical attitude to fitness - West Ham's pre-season has been tight and competitive - while Sam Allardyce tries to buy players who will take the club forward without recourse to the type of funds available to the sides likely to occupy the top eight places or so. Everything is geared to the move to the Olympic Stadium and the whole club, including the fans, are aware of that. In fact, the sheer lack of moans, groans and dissention is actually starting to worry...

One to watch
It seems like shooting fish in a barrel to suggest Andy Carroll needs to be watched - most likely the media, fans and board will be doing that anyway - but there is a genuine hope that if Andy can reproduce the best of his form from last season when he was, at times, almost unplayable, then he could become one of the major players in the Premier League. Let's not forget, England could do with a high quality calibre forward to call on in what will hopefully be a World Cup season.

Of course, fitness is an issue with Carroll and with the player missing virtually the whole pre-season because of a mysterious heel injury suffered last May, there will be questions over his ability to play an active part in a full fixture list but, as one to watch, you'd have to say the big Geordie ticks all the boxes. Hammers fans can only hope we're not watching him endlessly practicing in the gym.