Summertime claret and blues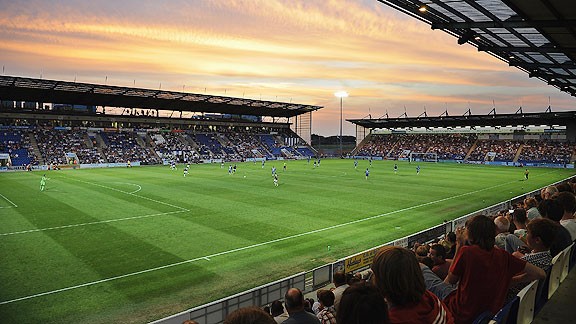 Christopher Lee/Getty ImagesPart of West Ham's preseason friendly schedule included a visit to Colchester's Community Stadium.
Perhaps alone out of all the ESPN FC correspondents, I'm the only one not looking forward to the new season. Not, I should stress, due to some foreboding at what type of season West Ham are likely to have -- I'm confident of another mid-table finish -- but rather, I've always been a fan of the English summer game and I just can't find it in my heart to get enthused over a friendly win at Colchester when the heavy roller is still being used between innings at Lord's.

I've only been able to feel really involved in football come October, although begrudgingly accepting in September. But August? It's never felt right to me. Ironically though, a weekend in the Grand Stand watching England trounce Australia at the home of Cricket did give me an opportunity to review the coming season in a slightly askance way.

Chatting to a few of the many Aussies inside Lord's (it's very hard to avoid them!) made me realise -- if it was ever in any doubt -- just how supporters of the modern winter game are now made up. All of the visiting Australian fans on walkabout I spoke to, as well as those who now reside in the U.K., had adopted an English club to support. Having no local affiliation and no need for any historical perspective, the usual names of Manchester's United and City, Chelsea, Arsenal, and Liverpool were trotted out. Alarmingly for me, it seemed they were matched by the English supporters living in the south but supporting sides in the north. There was an older fan who had plumped for Everton and he was -- unfairly it seemed to me -- singled out to be the butt of some jokes, but I failed to chat to a single supporter of Newcastle, Villa or West Ham. I suspect I would have been searching a long time to find one whose loyalties lie with Leicester, Nottingham Forest or Middlesbrough. Hartlepool, Bury or Southend? Let's not even go there.

Further proof that TV exposure, on-field success and retail opportunities are more important than a local fan base; it's all just part of the 21st Century's Planet Football and it happens the world over. But how to make that step up the ladder? How to become one of those 'Go To' club's for someone visiting the capital?

Well, becoming a 'brand' is an ad man's marketing dream and that is what West Ham are currently trying to become. Of course, it will mean nothing without success on the pitch and that is going to take more than a lot of energetic men in suits. But as some clubs have shown in recent decades, it's now a case of cart before horse.

As Manchester City have proven, whatever your tradition and history, success doesn't come without heavy investment, but equally the money for players doesn't come without something for investors to buy into. City took that leap when they moved into the City of Manchester Stadium; Chelsea when they invested in their 'village' concept -- and that's what the Hammers Board are targeting at the moment.

West Ham are not there yet by any stretch of the imagination, but they are moving in the right direction. The plans for the Olympic Stadium are ambitious and will help escalate the profile of the club, while there is no doubt the increased capacity will help raise revenue. Rumours are starting to circulate of a change to the club image, including a slight change of colour to the kit and the replacement of the old Boleyn Castle turret on the badge -- I must stress these are completely unfounded currently -- and though the traditionalists may bristle with indignation, this does show a club looking to profit from retail opportunities, if nothing else. Getting Adidas on board for the new kit may seem small-fry to some of those clubs that my Aussie friends warmed too, but it is a step towards something else when one of the leading manufacturing brands think they can see an opportunity in a club operating below the radar.

Of course, the Hammers may never get to that promised land of riches and Wednesday night football; they have had opportunities before -- most famously, when the Icelandics took over -- and when the world's richest bank came crumbling down after a collapse of the international banking system and Upton Park became little more than an empty vault, you'd have to question if Lady Luck wasn't trying to tell us something. But it would be foolish if not to try to make something of the move to Stratford, and there's no doubt the hierarchy currently in control at the Boleyn do have a good deal of business nous to make that happen.

Now I'd be lying if I didn't say I'm acutely uncomfortable about a lot of this; I've got a good deal of sympathy for that Everton supporter, after all. But football in August reminds me that it's not about what I like or what I am comfortable with. So, come August 17th, it will be roll up the trousers, place a knotted hankie on the head and off to see the Bluebirds who now play in red -- see? Nothing is forever!

I wonder if the marketing department have considered Claret and Blue styled sun-hats and visors? Someone get me a telephone!