Tomkins rumours spoil positive vibe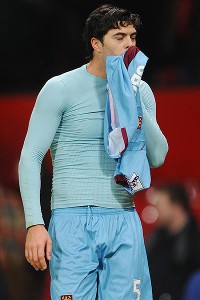 Chris Brunskill/Getty ImagesWest Ham could be making a mistake if they are entertaining offers for James Tomkins.
Supporters of West Ham United have long known that relative success for the club depends on the number of steps taken back whenever one is taken forward; for rest assured, no matter how claret-and-blue tinted your spectacles are, the faithful know that there has always been a 'crunchy with the smooth' element to contend with, and that distant light at the end of the tunnel will surely involve a thundering train. The only good times -- and they never seem to last for long -- are those when, at best, a nifty sidestep is involved.

You can understand then the disquieting murmurs emanating from the East End at rumours that an enquiry from Newcastle United about defender James Tomkins was met -- not with a full rebuff as it was last season and should have been this -- but reputedly with the suggestion of 6-million-pound price tag.

It's true that those same rumours also surmise that the asking fee has caused the North-Eastern side to consider whether they want to pursue the matter further or not, but that is scant consolation. These worrying stories have gained further credence because former Newcastle and Sunderland centre-back Titus Bramble has been training with the Hammers, featured in a notable 6-2 friendly win over Cork City and has been tagged as 'good enough for the Premiership' by manager Sam Allardyce just last week. Please, say it ain't so, Joe!

-Allardyce: Hammers close to next level

Tomkins is a popular local lad and most fans were seeing him possibly bracketed with Alvin Martin and even Rio Ferdinand after West Ham's play-off final success at the end of the 2011-12 season ensured a short stay in the Championship. Tomkins was even thought good enough to join the GB squad for last summer's Olympics but -- as further proof that things don't always go as they should at the Boleyn -- Tomkins suffered from the football squad's appalling performances in what was otherwise a Team GB triumph in virtually every other sport.

Joining the West Ham squad late for preseason training following the Olympics, Tomkins never seemed to capture his form. When he did play due to injuries to James Collins, he struggled to strike up the partnership with Winston Reid he had the previous season. Nevertheless, there were few fans who didn't think the Basildon-born 24-year-old would find his form again sooner rather than later and, at very worst, the player could provide excellent cover in what is a fairly thin roster.

Considering West Ham were so keen to get Tomkins to extend his contract back in early 2012, it's difficult to see what the player has done to even allow a suggestion that he might be surplus to requirements -- particularly at the price being quoted.

Hopefully, these rumours are just the result of some scurrilous tittle-tattle because few fans would see the advantage of losing Tomkins and gaining Bramble, even if the fee would plug a few holes in the bank balance.

Fingers crossed then for more positive suggestions the club have been seriously considering making a bid for Stewart Downing. The winger looks surplus to requirements at Liverpool and Big Sam apparently likes the idea of two wingers supplying Andy Carroll with crosses. It does seem a Plan A that is likely to cost in the region of another £15m -- money that may be better spent holding onto a local defender and trying to strategise a Plan B -- but the fact the Hammers are even involved in this type of rumour is encouraging.

Also on the plus side is the news that the notoriously difficult Ravel Morrison -- loaned to last season to Birmingham City, where he was highly thought of by the fans and the local media -- has returned to the Hammers fold a new and highly motivated young man.

Morrison was the man who was tagged by Sir Alex Ferguson as "Manchester United's most technically gifted player since Paul Scholes" when he first broke into the ranks at Old Trafford, but Fergie tired of Morrison's antics and allowed the player to join West Ham where he hoped -- without much faith, we suspect -- that Allardyce might be able to achieve what the famously volatile Scot couldn't.

There wasn't much suggestion of any Road-to-Damascus type revelation early on when the midfielder signed for West Ham in January of 2012, but Morrison's inclusion in this preseason's games and, more important, the favourable quotes coming from the coaching staff are suggesting that the Hammers may have effectively gained a potent option.

Perhaps I'm being unnecessarily pessimistic, but I do sense Morrison will always be hard work and West Ham supporters would do well to not get overly excited by the promise of a 20-year-old with a delicate past and no Premiership history to speak of. But it would undoubtedly be a feather in the cap of Big Sam if he could succeed with Morrison where Sir Alex couldn't.

So, some preseason positives that we don't want spoilt by silly-season transfer speculation. Let's hope Tomkins benefits from a proper preseason and shows the manager and board why the Hammers don't want to take a step back as the club -- encouragingly for early July -- continue to push forward.