Tweeting the odds & tracking Carroll, Adrian
There was a time when you got your transfer rumours from the insider gossip of the sports pages, tucked away at the back just over the baseball results and the crossword.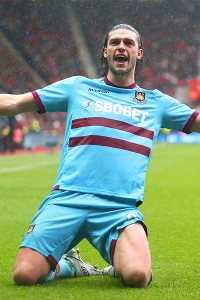 Ian Walton/Getty ImagesAndy Carroll could be on the verge of becoming West Ham property.
Now, thanks to the wonders of Twitter, we get them straight from the mouths of the men likely to broker the deals. This month, West Ham's very own genial Chairman Mr. David Gold has been expressing the stories that later found themselves on the back pages in a stunning example of how, in the second decade of the 21st century, the tail most certainly now wags the dog.

Mr Gold is - quite rightly! - extremely proud of his East End roots and you can only but admire his attempts to emulate Ronnie Dubious at Romford Dog track on a Saturday night; calling out the falling odds in a brazen attempt to lure in the punters as West Ham attempt to convince Andy Carroll that his future really does lie on the golden banks of the Thames rather than the Tyne.

-Carroll set for West Ham medical
-Allardyce: Carroll to decide future

You sensed there should have been a pile of tickets from disgruntled gamblers around his feet as Gold expressed his dismay two weeks ago that it was "only 50/50" that Carroll was likely to sign. Then the media twitched last week when the Chairman dramatically changed his odds to "70/30". Now, if other rumours are to be believed, it must be getting to about "90/10". The medical team are reputedly waiting ready to welcome the Geordie back from his holiday and you sense it will only take a decent selection of hairclips and the board and manager will have probably got their man.

No sooner had the sound of tweets died on that subject though than Gold got the wires buzzing again by admitting in answer to a tweeted question that "We're looking to bring in two strikers". Of course, this is where the media comes into its own. Unable to suggest names, David Gold falls silent while the press conjure up all manner of names of people who are, if the rumours are to be believed, hovering just outside the gates of the Boleyn desperately hoping to get the curled beckoning finger.

One such player really granted an opportunity though is 26-year-old Adrian from Real Betis. the highly-rated Spanish goalkeeper has signed a three-year deal and was positively gushing in his enthusiasm for his new club. When describing his excitement at finding himself outside the Martin Peters Hot Dog stand, words such as "honoured", "historical" and "legendary" were touted about and these will always go down well with the fans.

What's more this seems to have been an excellent move to plug what had always been a slightly worrying gap last season and, when when you consider that Jussi Jaaskelainen is now 38y, Adrian San Miguel del Castillo -- can't wait to hear that in a song -- is likely to get his opportunity sooner than later. Not that it seemed to bother 'our Ade' who appeared unable to contain himself as he described what it would be like to learn from the Finnish master.

If the lad can muster as much dexterity, enthusiasm and excitement on the field, this could be a masterstroke by Sam Allardyce.

If the club really can afford another striker. then I would probably consider that the Hammers are likely to be only a midfield creator away from being a fairly decent side -- on paper at least. Like a cat sitting in a tree, we await the next tweet with growing expectation.