West Ham review: Part 3 - Midfielders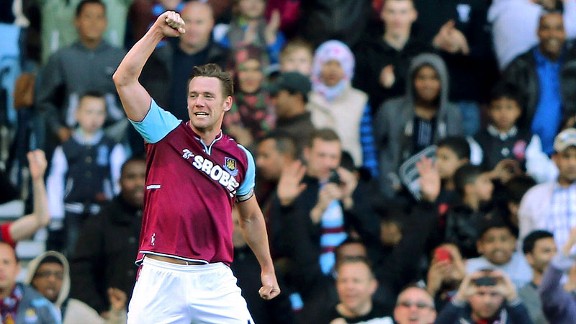 Ian Walton/Getty ImagesKevin Nolan: A bone of contention in the West Ham midfield
Here at ESPN FC, I'm acutely aware that many Hammers fans who write on the forum or email me are overseas supporters who don't always get to see the claret and blue as often as they would like.

That being the case, there is probably some confusion over the constant and conflicting assessments of the merits - or otherwise - of Sam Allardyce's team by someone who is not able to see the subtle nuances played out every week over a full season.

- Season Review: Part 1 - Goalkeepers
- Season Review: Part 2 - Defenders

Nowhere is this more relevant than the Hammers' midfield area; members, season ticket holders and regular visitors to Upton Park are constantly arguing over the right mix, and I know from experience that supporters of other clubs are somewhat perplexed over criticism metered out to someone like Kevin Nolan, for example, whose status in the side to someone outside the club appears to be a given.

In this midfield review, we've tried to focus on the individual merits of each player while quietly acknowledging that there is a good argument for suggesting - as many supporters are actively doing - that a midfield consisting of Noble and Nolan simply doesn't possess enough pace to worry most of the top sides. And as I've seen on the England forum though, where the Lampard - Gerrard conundrum has raged for over a decade now, some of these debates are doomed to go round in circles.

With that in mind, here's a look at the midfield minefield.

Ricardo Vaz Te
Having scored the goal that ensured West Ham United were promoted back to the Premier League, Ricardo Vaz Te was always going to be held in some regard. As others have discovered before him, Hammers' supporters are passionate about their team, and that 88th minute winner at Wembley will forever keep the name of Ricardo Vaz Te in the memories of just about every West Ham fan.

But it wasn't just that goal which impressed last season, Ricardo's goal scoring ability marked him out as perhaps the only real flair player in the squad. He looked a player who could make things happen, but would he be able to cut it at Premier League level?

The answer is both yes and no, although it's likely that many fans reading this would have answered that question with a resounding 'no'. It's true Vaz Te hasn't had the same impact this season as last, but it's also the case that the Lisbon born player has continued to make things happen. If not at the frequency that he did in the Championship, there were still significant moments during the season when he offered an outlet.

Before getting injured against Arsenal at Upton Park, Vaz Te was having a decent season. In the very first game at home to Aston Villa, he was the one who squared the ball for Kevin Nolan to finish. Whilst he was dropped for the following game at Swansea, he came back into the side for a dominant performance against Fulham where his display was overshadowed by many of the other great performances that day.

Solid outings in the next couple of games saw the team travel to West London where the Hammers defeated Queens Park Rangers with Vaz Te putting in an excellent display. The winger played a major part in the opening goal, before opening his account for the season with a volley at the back post. He later hit the post in the second half. The next game against Arsenal saw Vaz Te pull up with injury and he would never get back to this early season form.

Fans did not see Ricardo again until December when he returned against Reading, coming on as a late sub in a game that was eventually lost 1-0.

With the signing of Joe Cole in January, Vaz Te had real competition for his place and he was in and out of the side. But with Cole unable to keep up regular fitness, Ricardo was able to get a few games.

His languid lethargic style is not always popular with supporters and some of his decision making was very poor. There would be periods in games where he would continue to give the ball away and he was being taken off by Sam Allardyce on a regular basis.

Ricardo's best attacking play came when he was in the side with Matt Jarvis on the other flank. It gave the team two real attacking wingers who had the ability to make things happen in and around the area. Vaz Te would go on to score two further goals with a neat header against Manchester United and a tidy finish in the final game of the season against Reading.

Lies, damn lies and statistics; Stats do not always mean much but Sam Allardyce seems to put some store by them so here's one anyway: With Ricardo Vaz Te starting, the Hammers took 34 points from 18 games; Without Vaz Te it was 12 points from 20 games.

There will undoubtedly be claims from some supporters that West Ham can attract better players than Vaz Te, however it's difficult to argue with facts and it would be foolish to start discarding players who have manifestly done so well. Unless West Ham are able to sign someone of much better quality - and David's Gold and Sullivan are still some way from owning old fields and countries - fans should still expect Ricardo to get a few games next season. With concentration and determination, Vaz Te can still make an impact.


---
Appearances: League 18 (+6 Sub) Cup: 4
Goals: 3
Bookings: 3
Verdict: Still a player who will pop up with an assist or a goal. But consistency is the key to whether he will be able to make a major impact next season.

Yossi Benayoun
It was exciting times when it was announced that West Ham were bringing in both Andy Carroll and Yossi Benayoun. Having felt that the side lacked creativity in midfield, it was welcome news that Yossi would be returning to the club as fans knew what to expect.

The popular Israeli was still lauded for his magnificent performances in the 2006 season which led to an FA Cup Final performance. Unfortunately, as it transpired, Yossi was injured for most of his stay and with Joe Cole joining, Benayoun's loan deal was terminated.

Yossi's return began with a late substitute appearance at Norwich, but in the following game against Sunderland, he came on much earlier (57th minute) to help push the Hammers' forward for a deserved equaliser.

An unused sub for the following two games, he made his first start of the season in the home game against Southampton. His exceptional performance an example to every player. He also assisted Kevin Nolan for the second goal in a thumping win.

Away at Wigan in the following game, the Chelsea loanee was not as effective and was taken off at half time. Yossi retained his place for the tough visit of Manchester City though, and again his work rate was superb and his tackling a particular highlight.

But another long away trip, this time to Newcastle, saw Yossi make little impact and he was taken off just after half time. This would be the abrupt end to his West Ham career as injury hit and Benayoun was not involved again; his loan was terminated and he returned to his parent club Chelsea. It says much about the affection in which he was held that many fans were sorry to see him go.

Appearances: League 4 (+2 Sub)
Bookings: 1
Verdict: An injury hit spell was a blow for all concerned.


---
Joe Cole
When 'our own' Joe Cole, then Hammer of the Year and following an inspiring season in which he had stood head and shoulders over everyone, left West Ham for Chelsea following relegation under Glenn Roeder in 2003, it was always going to be interesting to see what would happen if - as then chairman Terence Brown had predicted - the opportunity ever came for the player to return.

But it's fair to say that, although many supporters didn't quite see Cole as the returning prodigal portrayed by the popular press, most fans approved of his signing, representing as it did, another great coup for the club to bring in a player of his experience and ability.

Joe's career has taken a dip in the last 3-4 years, his move to Liverpool being a bit of a failure, but he knew he had the chance to kick-start it with a move to a club that has supported his earlier years.

And support he has received. Whenever his name is read out, you will always get a bigger cheer than most, and there is still an excitement surrounding him as there was back in his first spell at the club.

Cole made his second debut for the club in the FA Cup third round tie against Manchester United at Upton Park where he put in a brilliant display and provided the assist for the two goals.

His first goal on his return came against QPR on 19th January when he scored from close range and his celebrations showed how much it meant to him.

Despite an excellent performance against QPR, he was dropped for the next game against Arsenal despite being praised by Sam Allardyce.

He was again the Hammers' most inventive player against Spurs at Upton Park in the 3-2 defeat, scoring the second goal with a neat finish and celebrating in a fashion that showed he still has a passion for playing football and for West Ham. Nevertheless, his goal did come a little too early to risk the 'shirt off, pumped chest' routine, leaving Joe a little red-faced when Bale Hotspurs produced an astonishing finish.

Something that has been noticeable about him since his return is the injuries. He has been in and out of the side and has only managed to play two consecutive games in a row before being benched or out injured. There is a major concern that Cole is unlikely to be a consistent force throughout an entire season and that would be disappointing. Fit and in-form, Joe Cole certainly still has the ability and desire, but there has to be a question make over if he can make a significant impact on a whole season.

Appearances: League: 7 (+4 Sub) Cup: 1
Goals: 2
Bookings: 2
Verdict: Still a player who can inspire a team but can he avoid injury and do it on a regular basis?


---
Gary O'Neil
It is still unclear whether Gary O'Neil will be retained when his contract expires later this summer. It sounds - judging by recent quotes coming from the club - as if manager Sam Allardyce was leaving negotiations up to the player and his agent. This might be seen as a bit of a surprise because - for reasons not really understood by many - Sam seems to favour the ex-Middlesbrough man.

I doubt that any supporter could have envisaged that Gary O'Neil would play as many games as he did this season. With Jack Collison, Mark Noble, Alou Diarra, Kevin Nolan and Mohamed Diame vying for midfield places, it was difficult to see him getting a look in, yet through an array of circumstances, he started 17 Premier League games.

O'Neil isn't a bad player, he is just one of those distinctly average ones who will do a job but rarely catch the eye with his invention or technical ability. When a team has to actually rely on players such as O'Neil, they will run into problems, as at the very highest level they will never be able to consistently perform to a sufficient standard.

With injuries to Yossi Benayoun and Ricardo Vaz Te, Gary made his first start of the season in the home game against Stoke in mid November, playing on the right wing. One unofficial Hammers website actually nominated him as Man of the Match for that game. Understandably, the Beckenham-born midfielder retained his place for the following game at White Hart Lane against Spurs, but against better players, he was anonymous and was taken off after 55 minutes.

O'Neill started against Chelsea but in a poor performance, was taken off at half time. He would next start again in December away at West Brom but again was generally poor when in possession. He would continue in midfield due to mounting injury problems in the defeats against Everton and away at Reading while, with Mark Noble suffering injury in February, O'Neil would be used in the centre of midfield for the next eleven games - his best run of games.

Through this run, whilst never exactly shining, he was solid and form gradually picked up as West Ham pulled away from any potential relegation trouble. It was during this period that Gary scored a terrific goal against West Bromwich Albion with a wonderful finish from outside the area.

Gary O'Neil is a good honest pro who will always give a hardworking display whenever called upon, but supporters won't exactly be up in arms at the prospect of him signing a new contract - there is a nagging feeling that Sam relies too much on players like O'Neill.

Appearances: League 17 (+7 Sub) Cup: 3
Goals: 1
Bookings: 2
Verdict: Did his best when called upon, but to move forward, better quality in depth is required.


---
Alou Diarra
Bringing a player with the experience of Alou Diarra, the French captain, into a newly promoted club seemed something of a coup - particularly when looking at the Hammers' defensive midfield options.

Strange then to see what happened in the West Ham career of Diarra. Injured for most of the first part of the campaign, Diarra then apparently expressed his unhappiness about not playing, but when he broke back into the side, he lacked match fitness and Sam needed to leave the player out. The decision was justified but the Frenchman threw a strop, muttered a few Gaelic obscenities and demanded to go home to his mother.

It is hard to believe that a player who has played for massive clubs, won league titles, and played at the highest level, could be that stupid. Something somewhere didn't quite add up. But he ended up leaving the club on loan to play for Rennes.

Clearly Diarra wasn't happy, but if he really wanted to play so badly, he only had to wait a few more weeks for his chance. If you think of all the games Gary O'Neil ended up starting, then that really should have been Alou Diarra.

True that in the games he did play he didn't offer much - away at Sunderland he was terrible but then so were the entire team - but against Manchester United in the FA Cup, he did reasonably well at centre half, and the fact of the matter is nobody - and certainly not the manager - really got to see much of him.

Until Sam produces his autobiography, it's unlikely supporters will ever really know what happened, and although it's almost certain that Diarra won't be at the Boleyn next season, it's difficult to miss someone who complains they aren't playing when they are injured.

This one may well go down alongside the story of Marco Boogers!

Appearances: League 1 (+2 sub) Cup 3
Bookings: 1
Verdict: One who DID bang the door on his way out. Perhaps he didn't like Pie 'n' Mash?


---
Mark Noble
Last season's Hammer of the Year was always going to be an integral part of the midfield and this is exactly what transpired. Noble continues to be the mainstay of the side and it's quite remarkable to think that next year, it would have been 10 years since he made his debut. And he's only just turned 26!

Whilst Noble lacks the pace to be a top Premier League midfielder, he has again shown his qualities - an excellent passing and all round game - throughout the season.

The thing with Noble is that you won't often see him have a really terrible game, but what you will see is him occasionally lose his position when up against a better calibre of player. This will see the game pass him by and rush him into making a silly foul, some highlighted as they lead to goals from the resulting free kicks or penalties.

Mark has taken three penalties this season and converted them all. He hasn't missed a penalty since April 2009. The only other goal he scored came in the game against Southampton, when his free kick floated into the area, evaded everyone and found its way past the keeper.

Noble has been deployed as the holding midfielder throughout the season, with Diame pushing forward and Kevin Nolan in almost a free role behind the striker. A lot of the play will go through Noble (if we are not knocking it long of course!) and he has the important job of getting moves started by finding the wide man or knocking it into the feet of the striker.

One of his best displays came at home to Norwich on New Year's day when he scored from the penalty spot and superbly created the second goal which Joey O'Brien converted.

When it comes to Mark Noble, there is always going to be a bit more leeway when describing how good or bad he is due to the fact that he is a 'West Ham boy'. Hammers fans have been brought up on the legends of the Academy, and it's hard to criticise a player who has lived the dream that just about all local fans would have craved.

Has Mark Noble had a good season? Yes, he has. Noble does an important job in West Ham's midfield and he has again shown examples of what a solid Premier League player he is.

Appearances: League 28 (+3 sub) Cup 1 (+1 Sub)
Goals: 4
Bookings: 7
Verdict: Like the season in many ways - good in parts, excellent in others, and an odd spell of simply being average. But there will always be better days.


---
George Moncur
Nineteen-year-old George Moncur, who won Young Hammer of the year at the end of season awards, was on loan at AFC Wimbledon during the 2011/12 season where he played 20 games for the Dons. When he returned to West Ham in the summer he was involved in a few of the pre-season games. He began the second pre-season game away at Borehamwood and came on as sub in many of the other games.

With many players looking to make an impact in the centre of midfield it was always going to be difficult for him to get a game. His only involvement of the season came in the League Cup tie at home to Crewe Alexandra when he came on as an 84th minute substitute for Kevin Nolan. Moncs was on the bench for games against Spurs (a), Chelsea (h), Liverpool (h), and Everton (h) but failed to get on in any of these.

George played more games than any other player in the Development Squad starting 27 games and scoring two goals and in March he was given a two-year contract, which can only lead to the assumption that Sam Allardyce is an admirer and we may see a little more of him over the next year. We hope so, his dad was popular with the fans and we could do with another 'Moncs' around the place.

Appearances: Cup (+1 sub)
Verdict: One for the future - hopefully!


---
Mohamed Diame
Signed on a free transfer from Wigan Athletic, it's doubtful even the most enthusiastic supporter could have expected such an impact. Diame's early season form was fantastic and he was the only player in the side capable of getting the ball in midfield and moving forward with it at speed.

This was an essential dimension needed in the Hammers' midfield, given that Nolan and Noble have little pace and back up players like O'Neil and Taylor offer about the same.

Diame's style is always going to excite as he is a player who will win the ball and then burst forward with purpose, much like Scott Parker did when he was at the club.

He scored his first goal in the 3-1 home defeat against Arsenal, opening the scoring with a fantastic goal as he beat the defender and curled a wonderful shot into the top corner. Mohamed was showing a tremendous amount of ability in those early games especially at Upton Park where he was at the forefront of the team's attacking play.

The game that he will most be remembered for from this season though will be the home game against Chelsea; in ESPN FC's season review, I cited this as possibly West Ham's pivotal moment of the campaign. It is easy to forget that Diame's form has trailed off a little - Sam citing 'tiredness' - and he was actually dropped for this game and came on at half time with the Irons a goal down.

His impact against Chelsea was extraordinary as he changed the game and put in one of the best individual performances of the season, scoring the second goal and putting in a memorable display.

In the following game against Liverpool, Mo was again playing superbly before pulling up with a hamstring injury, you could hear the loud groan from the West Ham fans when this occurred as they knew that he would be out for a while and the team would be losing a player who made them tick.

Diame was out for a month and returned in January, a crucial month that would see much speculation about his departure due to a £3.5 million release clause in his contract. It was Arsenal who seemed to be the frontrunners for his acquisition and as he came off the bench, ironically at Arsenal in the 5-1 defeat, it did seem that this may be his last appearance in a West Ham shirt.

But Diame didn't go anywhere and although a new contract was not signed he remained at the club. It wasn't clear if this was a disappointment to him, but there was a clear decrease in the intensity of his displays from then to the end of the season. This is not to say he was performing badly, but he was anonymous for larger periods of games than previously.

Something that was noticeable all season long was his problem playing well in both halves; his second half performances being a lot poorer than the first. It was almost as if he really did run out of steam. Nevertheless, he still would show glimpses of class and scored the official goal of the season against Manchester United at Upton Park with a stunning left-foot strike.

Mohamed Diame is an extremely talented footballer, who with the right desire can be a very good one. Whether he is consistent enough is another thing, but he is vital to West Ham's midfield and is the only player currently at the club who can carry the ball forward with pace.

There can be no doubt that for a free transfer Diame has been a phenomenal signing and whilst there are still questions over his commitment to the club due to his release clause, West Ham would be a lesser team without him.

Appearances: League 31 (+2 Sub)
Goals: 3
Bookings: 3
Verdict: When he is good, he is quite brilliant.


---
Kevin Nolan
When talking about West Ham players there are few who will evoke such debate than the West Ham captain Kevin Nolan.

The facts are there to see, and the best stat to bring out when talking about the skipper is that he has scored 10 goals from midfield this season and ends the campaign as the top goal scorer.

The presence of Nolan at the club has been nothing but a positive thing as he has been a constant threat in the two seasons since he joined and has lead the team to promotion and a solid Premiers League finish. Whenever visiting fans are asked who they fear most when approaching a game at Upton Park, nearly all cite the Liverpudlian as a key man.

He started the season brilliantly, in terms of his impact, as he scored the winning goal against Aston Villa on the opening day and scored a goal within the first minute in the next home game against Fulham, while a dramatic late equaliser at home to Sunderland showed yet again how vital he was, especially with West Ham's goal-shy strikers.

Without the goals from Nolan the Hammers' may well have been in big trouble, or indeed relegated. His impact can be debated, it can even be ridiculed but the fact is, it cannot be denied.

In today's game though, Nolan seems a bit of an oddity with a style of play which isn't seen much in the Premier League, where he sometimes looks so off the pace he can be an easy target of frustration for fans.

The role Nolan plays means that playing two up front is going to be very difficult. His position is an advanced midfield player who gets into the area behind the striker and, whilst his goals are obviously welcome, they are part of the position and not really a 'bonus'. Conversely though, his lack of pace suggests that this isn't a role he would be ideally suited too and - difficult though it is to prove for anyone who isn't a professional coach - Kevin's successful contribution to the team in terms of leadership and goals could also be the reason why the ball is seen to be hit long.

If, as many prefer, West Ham were to play with two strikers, it is difficult to see where exactly Nolan would fit in. He doesn't have the legs to play as one of a two man midfield and it would be likely that the team would be overrun if they were to do this, so this means sacrificing a player providing some width which in turn... well, you can see how this goes!.

In home games Nolan really shines, but the concern with him is away from the Boleyn where his impact is usually a lot more subdued. Of his ten goals, just two have come away from home (Newcastle and Fulham) and this could be one of the many reasons that the Hammers have struggled on the road this season.

Supporters have criticised Nolan's displays all term, but it is very difficult to substantiate the complaints because he has proved how vital he is for the team and the club in general. It seems perverse to start debates about Kevin with phrases like "I know he scores goals but...", yet that is often how the argument goes.

In conclusion though, any debate about the captain is likely to be muted as long as Sam Allardyce is in charge. The Gaffer obviously puts Kevin's name up first on any team sheet and there are probably few within the club who would argue. Long may the debate continue!

Appearances: League 35 Cup two (+1 sub)
Goals: 10
Bookings: 7
Verdict: Top goal scorer and a good leader. Nolan has had a very good season again.


---
Jack Collison
The word 'injury' is generally used when there is a discussion regarding Jack Collison. His injury problems over the last few years have been well documented and he doesn't seem to have ever fully recovered from the injury sustained at Wigan back in 2009.

At the back end of last season he came back into the side and hit some form with goals against Leicester City and Cardiff City in the play-off semi-final away leg.

This end of season form did have many fans thinking that he would be in and around the team this season, but whilst he did get games, you never felt that he was going to be a regular first team choice. This is particularly galling with Collison as he has proved in previous seasons that after a run of games he can become vital to the team; at times the Hammers have looked at their best when he has been in the side.

Unfortunately though, Jack started just five games this season and made a further 12 from the bench. Despite the lack of starts, he did manage to score two goals and they were two excellent finishes with a stunning strike away at Arsenal and another neat finish at Stoke.

He didn't actually start a game until New Year's Day against Norwich where he played quite well and he stayed in the side for the next two games before a poor display away at Sunderland saw him dropped again. His last start of the season came away at Chelsea - a difficult place to shine - and Jack struggled as the team never got going.

It has been a few years since Collison made his debut and the early promise does seem to be evaporating with every season. Make no mistake though, this is not due to a poor attitude or lack of skill, it is simply that the injuries have taken their toll and he is clearly unable to play a number of games in a short space of time which, for a 24-year-old looking to make his mark on the game is not a great sign.

Collison - like Noble - is immensely popular and has something about him which would see him make an impact in games, especially in the area where he always seemed to pop up in a position to shoot and score.

But ultimately the question is: will Jack Collison ever be able to sustain regular first team Premier League football? And unfortunately at this point it seems unlikely.

Appearances: League 5 (+12 sub) Cup 1 (+1 sub)
Goals: 2
Bookings: 3
Verdict: Will he ever be injury free?


---
Matthew Taylor
Matthew Taylor is another honest pro who has unfortunately provoked the ire of a large section of the West Ham crowd. This may be a harsh assessment on a player who did reasonably well last season in the Championship and even this season has completed any job required of him, but unfortunately this left-sided midfielder is one of those players that Allardyce seems to see so much in and his opinion isn't shared by others.

With the signing of Matt Jarvis, it looked as if Taylor wouldn't be required any longer other than as a bench player, but the manager seemed to find countless ways to include him, even by deploying him as a central midfielder. There was an opinion from certain sections of fans that they would rather see a young midfielder such as Ravel Morrison or even George Moncur get a game ahead of him in that role.

Taylor did score one goal, which came in the 3-0 win over Fulham when his finish completed the scoring, and he had a good game in the home win over Norwich. Too often though Taylor would be brought on as a substitute with little or no impact to kill a game off, or even stranger when the Hammers' were chasing a game, he would be introduced to produce something special - something he has manifestly been unable to do for a good while.

Like Gary O'Neil, Matt Taylor is the type of player who will do a job now and again but to actually rely on him and give him as many games as he has ended up playing is to denigrate the team as a whole and give opponents an opportunity to relax.

To get promoted you need to have players like Matthew Taylor, but things will be much tougher next season and it's difficult to see what extra he can bring to the party.

Appearances: League 14 (+14 sub) Cup two (+2 sub)
Goals: 1
Bookings: 2
Verdict: Gives his all but would like to see others given an opportunity ahead of him.


---
Matthias Fanimo
Matthais Fanimo is a left-sided midfielder who can also play at full-back. The 19-year-old made two appearances from the bench, both in the League Cup against Crewe and Wigan respectively.

He was given a substantial amount of time on the pitch against Crewe as he came on as a 60th minute substitute, replacing Matthew Taylor, and he impressed with a lively display. Against Wigan he received a similar amount of time on the pitch, but with the team losing he never really got into the game.

He suffered injury and was not included in another squad all season but was given a two-year contract in January 2013 so the club must see something in him. Fanimo made 15 starts for the Development squad and scored three goals.

Appearances: Cup (+2 sub)
Verdict: Too early to say but perhaps another who could benefit from a loan deal..


---
Matt Jarvis
Jarvis became West Ham's record signing when he joined from Wolverhampton Wanderers for £10.25 million in August.

With such a transfer fee there was always going to be pressure on Jarvis to succeed, but signs were positive when he made his debut at Swansea. Despite a 3-0 loss he was West Ham's best player. Jarvis then scored his first goal for the club away at QPR with a cushioned header and it seemed goals would not be an issue for a very attacking left winger.

But this proved to be something of a false dawn for Matt as further goals were not forthcoming and he would only score one more all season - a cross that evaded everyone and went in. It is clear that Jarvis needs to work on getting a few more goals next season as well as continue to make things happen with his crossing.

In many ways though, any criticism of goal-scoring largesse is unfair, the Middlesbrough-born wide man is more of an old-fashioned type winger with the quality to beat his opponent and cross with either foot, and you're more likely to see him whipping in a ball from wide than bearing down on goal

In games against Chelsea and Liverpool at home he was dangerous throughout and really made things happen. He didn't do this enough though and was taken off by Allardyce on a number of occasions; a shame as it has become obvious that Matt is a player who gets better with the more games he is given. Given the opportunity, most fans would like to see Jarvis start and finish as he is the type of player who can turn a game.

With Andy Carroll in the side Jarvis had something to aim at and whilst there were few clear cut assists, his approach play would often lead to something positive and no opposing team can afford to let him run free.

Matt he is the type of player who can only get better and give West Ham a substantial edge over the other teams at the same level in the league. Given the right opportunity, Jarvis could become a very big player for West Ham.

Appearances: League 29 (+3 sub) Cup 1 (+1 subs)
Goals: 2
Verdict: Needs to be more consistent but has the ability to be a big player for us.

Finally, we'll look at the forwards next time.