Season Review Part 2: Defenders
This is the second installment of a close look at West Ham's 2012-13 season, and the players who played an important part in getting the Hammers into the top half of the Premiership (We looked at the goalkeepers in Part 1).

Compiled with a considerable amount of input from my blog colleague, Vinny Ryan, we are looking at how the players performed over the campaign and highlight what we hope we can expect to see at the Boleyn next season. As ever, we look forward to input from West Ham fans around the globe on who you want to see at Upton Park and where you think things can be improved.

Looking at the Hammers' 2012-13 defenders:

Guy Demel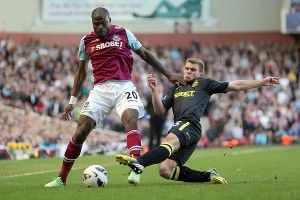 Ian Walton/Getty ImagesWest Ham's Guy Demel, left, held his own against players such as Wigan's Callum McManaman.
Having suffered an injury-ravaged season in 2011-12, Demel was an important member of the West Ham defence throughout the season. He played 32 games in all competitions, 31 in the Premiership.

At the back end of the previous season, the Ivorian full-back had done well enough, but a couple of mistakes in the promotion playoff final did have some questioning whether he could step up and compete in the top division.

In fact, Demel was sort of unsung hero throughout the campaign and is probably one of the least talked about players in the Hammers' squad despite being a mainstay at right back for much of it.

Arguably, Demel was the most consistent player of the entire season. While he isn't a player you come away from the game saying "Wasn't he great?", you can surmise that the lack of opinion on his performance can usually be seen as a positive, and it was a rare occasion when you would think he had been really poor or was given a roasting by the winger.

In fact, most fans recognise Demel and his ilk for what he is, the type of player required by every club -- perhaps even every business! -- someone who, without fuss or favour, just gets on with doing the job in hand. Dependable and honest, you could even be charged with damning him with faint praise, as at times when going forward he offered great support and showed quite a bit of skill. Even through the Hammers' poor run of form after New Year, he wasn't a player anyone looked to as a weak link or a problem.

His contract was extended to 2015, so we can expect Guy Demel to be one of the first names on the team sheet again next season.

Appearances: League 31 (3 as sub); Cup 1.
Bookings: 2

Verdict: Solid throughout the season; it is testament to Demel's performances that right back is not a position Sam Allardyce needs to urgently look at.

Jordan Spence

Having made his debut in the penultimate game of the 2010-11 season which saw West Ham relegated at Wigan, many fans believed Spence would get a chance to play the following season in the Championship. Instead he was sent out on loan to Bristol City, where he didn't always even play.

With Allardyce not using him at all, it seemed unlikely he would make an impact following the club's promotion but during preseason, he found himself playing quite a bit. In fact, he started the first six preseason games.

Spence was not included in any of the squads for the first few Premiership games, but made his full West Ham debut in the League Cup game at home to Crewe and also started in the 4-1 home defeat in the same competition to Wigan.

These two displays were average and Spence found himself dropped from the next two squads. But he was recalled due to injuries and was on the bench against Southampton at Upton Park, where he was brought on in the 86th minute and played on the right wing where he looked impressive, despite not being on for long.

He found himself on the bench a few more times. But as injuries mounted in defence, Allardyce showed no faith in him, preferring to move other players from their normal positions.

Then, inexplicably, Spence was handed a place in the starting eleven against Manchester United at Old Trafford in the Cup replay, where he acquitted himself well enough but was unfortunate to give away a penalty (missed by Wayne Rooney).

After that game, rather than think that Spence had clearly caught the eye of Allardyce in training, it was clear that the reason Spence was starting was more for Allardyce's contempt for cup competitions and, given that this was a replay at Old Trafford and the chance to get through to the next round had probably ended when the Irons conceded a last-minute goal in the first game, Sam thought he'd give the player a run-out.

After that game, Spence was not included in one squad. It seems clear Allardyce is not convinced by the 22-year-old and it is likely Jordan will be moved on in the summer.

Appearances: League 4 (all as sub); Cup 3.
Bookings: 2

Verdict: For reasons best known to Sam, it doesn't look as if Spence figures in his plans. The defender may resurrect his career with a Championship move.

Winston Reid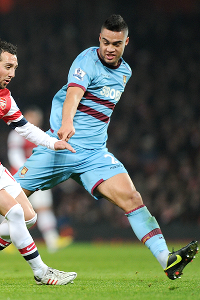 Stuart MacFarlane/Getty ImagesWinston Reid was Hammer of the Year, and for good reason.
When Reid made his debut as a right back against Aston Villa in 2010, he had a nightmare. Cut to three years later, and he has just been named Hammer of the Year and there are few who would disagree with the accolade.

Having cemented his place in the side last season, it seems the chance to play in the Championship did nothing but good for Reid as he has become a stronger and more aware centre half. Credit has to go to Allardyce for his improvement, because under his guidance Reid has turned into an excellent defender.

The 24-year-old scored his only goal of the season in the 3-0 home win against Fulham, where he met a Matthew Taylor corner with a thumping header. The only criticism that could possibly be made is Reid doesn't get on the end of a few more corners as he generally attacks headers well (something it seems he has learned from James Collins).

His distribution of the ball has gotten better and is improving all the time, but his greatest attribute is probably the last-ditch recovery tackle which he seems to make on a number of occasions. He seems to always be there to make that decisive challenge or interception and supporters can feel confident with him at the back.

Reid is the epitome of someone who can go through tough times at a club, but under the right management and guidance can knuckle down, improve and go on to be one of the best players. A credit to youngsters everywhere.

Appearances: League 36; Cup 1
Goals: 1 Bookings: 8

Verdict: Hammer of the Year. 'Nuff said.

James Tomkins

It was a very odd season for Tomkins and one not he nor most of the fans would have expected given his wonderful season in 2011-12.

Tomkins was immaculate during the Championship campaign and the talk of the central defender becoming another Alvin Martin didn't seem so wide of the mark. It was expected Tomkins would be one of the first names on the team sheet coming into the Premier League season with the returning Collins vying with Reid for the partnership nod.

But Tomkins began on the bench and he was always third-choice throughout the entire season, although with injuries and suspensions, he still took part in a number of games, starting 18 Premiership matches and coming off the bench eight times.

Having been picked for the Great Britain Olympic team in the summer, everything seemed to be on the up for this West Ham boy. But his displays at the Olympics were criticised and he did not get a full preseason with the rest of the Hammers' squad, which did him no favours.

His first start came in the second match against Swansea where Tomkins was deployed in the centre midfield role. But when things were going badly, he was taken off at half time. He would have to wait until the League Cup game at home to Wigan for another start and he had a bit of a nightmare, looking extremely rusty and lacking match fitness.

Tomkins would get another chance when Reid was taken off after 22 minutes away at QPR where he slotted in well and settled as the game progressed. Tomkins was again in the team for the home match against Southampton, but this time at right back as West Ham battled injury problems.

This was really the story of his season in that he was there just to fill in. West Ham do not have many centre halves in the squad (just three), so while he was never able to displace Collins and Reid without one of them being injured or suspended, he was still required to play a role.

As the season moved into December, Tomkins began to get more games and played a few at right back and then moved into the centre. Unfortunately though, his inclusion coincided with the club's poor run of form as injury to Collins at Sunderland meant Tomkins was going to be needed during the next month.

Looking back on it, the moment he began to play regularly West Ham began to concede goals. Although you cannot blame Tomkins entirely, it is clear that Reid and Collins formed a defensive partnership that worked, while the player who has come through the Academy never got to grips with the quality the Premiership has to offer. This was odd as Tomkins was one of the few players who hadn't looked poor during the 2010-11 relegation season.

There were rumours Newcastle were keen to take Tomkins during the winter transfer window. But a new four-year deal was signed so fans can only hope that Sam is able to weave the same magic on Tomkins as he has on Reid. I firmly believe that not only is he an excellent defender but, with the right opportunities, the Basildon-born player can go right to the very top. 2013-14 is a very important season for James Tomkins.

Appearances: League 26 (8 as a sub); Cup 3
Goals: 1 Bookings: 5

Verdict: Needs to recapture the form he produced in the Championship.

James Collins

A popular figure in his first spell at the club, James Collins was signed in the summer to boost the Hammers' defensive options having been surplus to requirements at Aston Villa.

While his debut against his former club was solid enough the next game away at Swansea saw him make a catastrophic error as his back pass was intercepted and Swansea scored. The concerns about his ability were vehemently talked about amongst the supporters especially as he was keeping out Tomkins.

Collins has a certain style of defending which took a bit of getting used to due to its rugged nature, and composure is not a word that you would use when describing him.

The early-season form was a little concerning with another mistake at home to Sunderland leading to a goal being conceded. But he got better and the form improved. There was another blip against Reading at the Madjeski when his back pass again led to a goal. But after that mistake, I doubt Collins made another all season. If Reid had not been consistent for the majority of the season Collins could well have been voted Hammer of the Year as he saved the team countless times in the second half of the campaign.

He scored two goals in the FA Cup third-round game against Manchester United as Joe Cole supplied the crosses for two almost identical headers and Collins went on strongly from there.

Surely his best display came away at Anfield in the 0-0 draw against Liverpool. With Luis Suarez up front for the Scousers, it had been believed that it would be a long day for Collins. But the Welsh defender completely won the battle in a Man of the Match performance.

Collins received a lot of criticism early in the season but recovered well and he can look back on the season with pride.

Appearances: League 29; Cup 1
Goals: 2 Bookings: 9

Verdict: A few mistakes early on were more than offset by some superb defensive displays later.

George McCartney

It was an injury-hit season for McCartney, who came into the season as West Ham's first-choice left back. A pre-season injury saw him miss one game and then struggle to reclaim his place back in the side as Joey O'Brien performed well.

With O'Brien getting injured, McCartney was recalled for the home game against Arsenal and started the following six league games, with the away defeat at Tottenham in November being the last time he started. Injury kept him out for most of the rest of the season, although he did come on as a 78th-minute substitute against West Brom in March before getting hurt again.

McCartney has served the club well in both spells there. Although he signed a two-year contract last summer, the signing of Razvan Rat and Joey O'Brien proving more than capable in that position, there's a feeling that George's future probably now lies away from Upton Park.

Appearances: League 12 (3 as sub); Cup 1
Bookings: 2

Verdict: A popular player, but George has probably reached the end of his career at Upton Park.

Daniel Potts

Having not signed another natural left back in the summer and with only McCartney as the senior player in that position, many fans thought that Potts would see more time than he actually did.

Potts was in the starting lineup for half the preseason games, but it was Joey O'Brien who got the nod all season long. Potts was shipped out on loan in November to League One side Colchester United, where he looked quietly impressive in a struggling side. He was recalled back to the Boleyn in January.

Potts did have a three-game stint which saw him start against Manchester United in the FA Cup twice and Sunderland in the league, but it was clear after those games that Allardyce thought Potts was not yet ready to be thrown in on a permanent basis.

Potts suffered a heavy collision away at Arsenal in a 5-1 defeat, which Allardyce used as a smokescreen to take the heat off a big loss. With this injury, Allardyce brought in Emanuel Pogatetz on loan as cover and Potts was not included in another squad the rest of the season.

In the FA Cup home tie with Manchester United, many fans were happy with his display yet, inevitably with limited experience, Danny was targeted as a weak link in the side despite putting in a brave performance. But in a shocking away performance by the whole team at Sunderland, Potts looked poor and was badly at fault for the second goal.

Having just turned 19 in April, it is too early to write him off. Under other circumstances, it's likely that Potts could have a future at the club. However, Allardyce has shown himself to be quite unforgiving with younger players -- something even the strongest Sam supporter sometimes finds difficult to defend - and the best bet would seem to be a loan move to a Championship club, where he could grow in confidence and, hopefully, provide West Ham with another home-grown star to applaud. If Danny was to become half as solid, dependable and popular at the club as his father Steve, then it is surely worth trying.

Appearances: League 2 (1 as sub); Cup 4

Verdict: A promising youngster who needs some vital experience.

Emanuel Pogatetz

At the end of January, Pogatetz was signed on loan from German side Wolfsburg for the rest of the season as cover due to defensive injuries.

He made his debut against Swansea City at Upton Park, when he came on as a substitute in the 90th minute. He made his first and only start in the following game away at Aston Villa, where West Ham put in a horrible performance. But Pogatetz, despite looking a bit nervy, was far from the worst of the Hammers that day.

It was the next game in which Pogatetz defined his brief West Ham career, coming on at home to Tottenham as a 72nd minute sub, replacing Demel. The moment the Austrian came on, West Ham fell apart and the formerly anonymous Aaron Lennon became a main part of the Spurs revival as they just focused on Pogatetz and, frankly, tore him apart.

It was such a noticeable performance against dreaded local rivals the defender instantly became disliked and a subject of much abuse every other time supporters saw he was about to come on. Thankfully, it was only as a substitute on three more occasions.

Pogatetz's loan was terminated before the season was ended and the only footnote the player is likely to provide to the West Ham history books is when supporters gather together on internet forums and laugh about joke signings. Nevertheless, the appearances do indicate a disturbing trait of Sam's as it's difficult to imagine -- apart from ill-advised 'experience' -- what Pog was likely to bring to the party that someone such as Spence or Potts couldn't.

Appearances: League 6 (5 as sub)
Bookings: 2

Verdict: At least he didn't slam the door on the way out.

Joey O'Brien
O'Brien had a remarkable campaign, playing a big part in West Ham's season and starting a remarkable 32 league games. Most fans would have been very surprised had they been told that not only would O'Brien figure as often as he did, but it would be from a relatively comfortable position at left-back.

It is difficult to dislike O'Brien, who puts everything into his performances. Although common sense suggests the Irish defender isn't anything particularly special, the fact remains that he is seldom left wanting, not only filling in where required but also doing it supremely well.

For a player who was a centre midfielder in his early career before being used at right back for most of last season, O'Brien has adapted well to the left back position he filled for the majority of the campaign. He likes to get forward too, and scored two goals against Stoke and Norwich at Upton Park.

To move forward as a club, supporters will always want better players than the likes of O'Brien. But it is also important to have players such as him in the squad who can play in a number of positions and very rarely let you down when he is called upon.

For a team that has based most of their success on defence, O'Brien can look back and know that he was part of a unit that did very well this season.

Appearances: League 33 (1 as sub); Cup 1
Goals: 2 Bookings: 6

Verdict: Solid and dependable all season long, a player who will surely be in or around the first team next season.