Hammers transfer target Ratified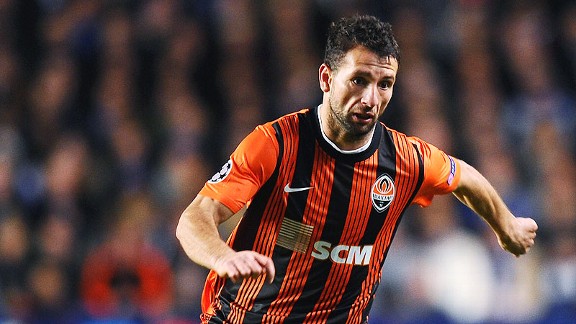 Mike Hewitt/Getty ImagesRomanian Razvan Rat joins West Ham after several Champions League-filled seasons with Shakhtar Donetsk.
West Ham have acted with almost indecent haste to strengthen the squad for next season by signing the wonderfully named Romanian Captain Razvan Rat on a free transfer from Shakhtar Donetsk.

- West Ham win Rat race, close on Carroll

The Hammers have been in desperate need of a left-back for several seasons and the 31-year-old should provide an excellent option having had several years of Champions League and title-winning experience. In fact, the Ukrainian club were keen to retain Rat and offered him a lucrative new contract, but the Romanian wanted to try his hand in the Premiership and, in an encouraging development for the Hammers, the player held out after hearing of interest from Sam Allardyce.

Speaking after news of the transfer broke, the glamorous Lady Blagg wittily retorted, "If he's signing for West Ham, wouldn't you be better with Mickey Mouse?" I've contacted my solicitor...

Not to be outdone, the unofficial sites are buzzing with freshly composed songs for Rats -- one of the better one's sung to the tune of 'Postman Pat' (I'll let you imagine the words) -- and you can't help but wonder just how long it will be before he is nicknamed 'Roland' in the dressing room. This has the makings of an inspired signing for all sorts of reasons, not least the one that it gives me a host of poor Rat puns to use on the blog next season! I've started already...

Elsewhere, the 'word on the streets' is that Liverpool have agreed to a fee of £15m for the signature of Andy Carroll. It's obvious that the board have both identified the need to retain the services of Carroll and are keen to discover quickly if he is happy to make his move to London permanent, knowing that if the Geordie seems to be baulking at a move then it gives the club the rest of the summer to identify and try and sign a replacement.

Opinions on the chances of Carroll agreeing personal terms are varied depending on what sources you like to refer too. Certainly the weekend tweet that the player had 'enjoyed his season in the East End', had the feel of a man saying 'Thanks, but I've had it with the Pie 'n' Mash now', but there were earlier unofficial reports that Carroll had instructed his agent to make the move permanent as soon as he could. It was generally expected that the fee would be the problem, but that seems to have been solved quickly and amicably by, I expect, the Hammers offering a little more than expected and Liverpool dropping their expectation accordingly.

Rumours abound as to why West Ham have moved so quickly on the transfer front but there are suggestions it could have something to do with the UEFA Financial Fair Play rules due to be implemented this summer. Of all people, I'd expect Karren Brady at least to be aware of the financial implications for West Ham United should -- and let's not forget there are now serious doubts now as to if these rules are even legal -- the proposed debt restrictions be implemented. So rumours that expenditure before the new season begins (officially on July 1st, I believe) count in some other way towards calculating a club's debt may or may not be true. I'll be perfectly honest here, I've read the rules numerous times and dozed off on every occasion so I'll pass on the reasons and just welcome the fact I've not had to bite my fingernails for the next eight weeks waiting for something to happen in the transfer market.

It's easy for me to say that I think Carroll should hotfoot it around to Karen's office with a Bic in his hand, but I do genuinely think it's likely to be the best offer that the striker can expect at the moment. Although I personally think the Geordie is Champions League material, it does seem to me that the level of the club who could reasonably be expected to bid are probably the very one selling him! Certainly I can't see a bid from the top four or five; Liverpool are selling, Everton are in flux and I doubt this most English of forwards is likely to elicit much interest from abroad.

I expect the opportunity to return to Tyneside is always likely but rumours are that Newcastle have cooled on the possibility and, in any case, I believe the opportunities at Upton Park probably outweigh the benefits of returning to a club that were happy to sell him in the first place. It's been shown by his recent inclusion in the England squad that playing for West Ham shouldn't be a hindrance in Carroll gaining a place in the World Cup squad next summer and, in any case, I doubt the Hammers would stand in his way were another £35m bid to come in! Should Carroll agree to personal terms, the board will have to be warmly congratulated on having moved so quickly. Of course, all this conjecture has to be balanced with the stories just breaking that the heel injury that has forced Carroll to pull out of this summer's England matches is in fact much worse than feared and could mean the striker missing the whole of pre-season and the start of the 2013-14 campaign. Despite the best efforts of the Hammers' board, I have a feeling this story may run a little longer yet.

One sad point though is the announcement that out-of-contract Carlton Cole is to leave the club after seven seasons. Cole has been a sterling servant to the club since he joined from Chelsea in July 2006 and the player has made it quite clear of his love for West Ham and the fans who -- to be fair -- haven't always been supportive of the big striker. Cole showed both his vulnerable side, while also displaying a good sense of humour when he tweeted "Life is filled with ups & downs today is a down but I'll be back! Carlton Cole/CFC as I have been called has left the building" The F in the CC? I'll let you sort that one out, too!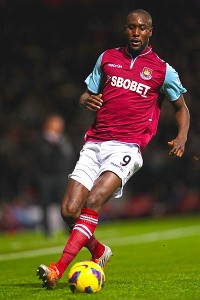 Ben Hoskins/Getty ImagesCarlton Cole is departing Upton Park after seven seasons in which he scored 59 goals.
Unfairly in my opinion, Cole was considered by some to be profligate in front of goal but this belied the fact that Cole often figured in a number of struggling teams, usually playing the role of sole striker -- a position that didn't always suit his style. His scoring record of 59 goals in 237 appearances disguises the fact that Cole was top scorer for several seasons and his goals were often crucial in staving off relegation -- as under Gianfranco Zola where he had probably his best season -- and more importantly, returning the club to the top flight at Wembley in 2012 when he scored the first goal in an impressive performance in the Play-off final. Allardyce's suggestion that 'Carlton's chances would be limited if he stayed' are, we would hope at least, largely accurate. But his following statement that 'strikers need to play' disguises the fact that Cole has reported to have knee problems and is unlikely to give any club a full season. West Ham have a poor record in discarding players who could still do a job for us -- the sale of Bobby Zamora to Fulham and James Collins to Villa are two that spring to mind -- and I'd have preferred to see Cole in a roster of four/five forwards occasionally coming off the bench or playing cup games.

Still, I'm sure Cole can do an excellent job for someone and, as he showed last year with some sterling performances, will still be more than a handful for most Championship sides if he does have to drop down a level. Regardless, Cole is a player who will get a warm welcome back to Upton Park and this blog wishes him well, good luck and thanks him for his loyal service.

Now, if you'll excuse me, I have a Geordie's number to find -- and has anyone seen my biro?