Disturbing signs at the Boleyn at season finale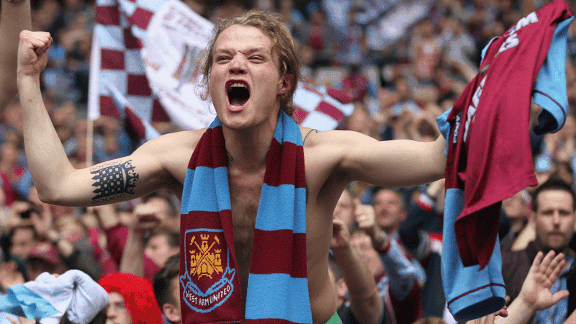 GettyImagesWest Ham supporters will be trooping the colours
West Ham's final game of the year against Reading has been designated as a claret and blue festival, with supporters being urged to wear their replica kits or the club colours to celebrate the Hammers' successful return to the top flight and, hopefully, what will be a top half of the table finish.

Frankly, I'd have thought asking a supporter to don the club's colours was a bit of a given and almost every game would be a celebration on that count. Barring the wearing of coats during the more inclement weather - a claret and blue anorak is surely destined for detaining by the Sartorial Elegance Police - the colours are normally on display every home game, but I'm pretty sure everyone will be happy to go that extra step, don the underwear too, and join in the fun, providing the spring snow keeps away.

What is causing more of a stir though is the club's decision to nominate the game as a Category 1 match. This puts the match up there with those against Tottenham, Chelsea and Manchester's City and United and it seems some home fans have baulked at the announcement, while Reading's visiting support - having been asked to shell out a minimum £49 for the privilege of waving their team away from the Premier League by beating a side they have a bit of a sign over - have responded by declaring a boycott in protest.

With less than 400 tickets still available now though, it seems that once again the Hammers' fanatical support are prepared to do anything to follow their team; this being the 17th consecutive game which is likely to be a sell-out. Cliche it may be - insert your own Dick Van Dyke joke here - but the faithful do like a good old east-end knees-up and there is sure to be a party atmosphere on the last day; having to shell out an extra bit from the wage packet was never going to be an issue.

In terms of preparation for the move to the Olympic Park, the attendance figure is extremely encouraging. It seems certain that West Ham's home gate would be significantly greater than it is were the ground bigger and, while some are still eying the 50,000 mark as a big ask at first, I don't think an average gate of between 40 - 45,000 is beyond West Ham once they move.

Nevertheless, there is a little bit of disquiet over the fact that the club seem to have taken advantage of the fact that the last game would be a sell-out and decided to promote it to Category 1 status. I'm sure official explanations will conclude that this is a safety aspect as much as a financial one, but with all the big claims being made for the ticketing prices for the new stadium, it's being seen as a bit ominous that the club appear to be cashing in on the celebrations.

Of course, it may well be that this decision was made early after seeing the pre-season predictions by the U.K's national newspaper The Independent who named this game one of their ten likely 'Matches of the Season'. Explaining that this was likely to be a crunch game in which the two protagonists went head-to-head to decide who might stay up and who might go down, West Ham fans can be forgiven for suppressing a rueful smile.

In very real terms, the Hammers' have looked comfortable after the first month and retaining their status was pretty much assured before the New Year while Reading, on the other hand, have looked doomed almost from the start; proof - were it needed - that the Championship can be an extremely hard league to predict.

There are strong rumours that Carlton Cole may be given a game in what appears to be his West Ham swansong, while Gary O'Neill is another expecting not be retained who may get a run-out. Nice though it is to say farewell to those who have served the club well - Cole, in particular earning praise from me for sterling work in what has often been a difficult task - I hope the changes don't detract from the desire of the fans to beat Reading.

It may be an end of season celebration, but this game is one that still has a lot riding on it.