Allardyce extends contract with Hammers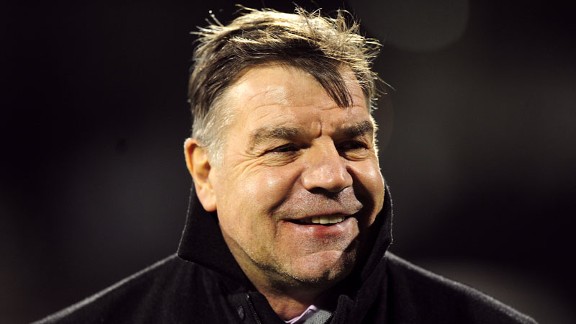 PA PhotosSam Allardyce guided West Ham to promotion last season
It's a measure of how many West Ham fans are now starting to reassess the management style and philosophy of Sam Allardyce that news the ex-Bolton, Newcastle and Blackburn boss signed a two-year extension to his contract at Upton Park last week has raised not much more than a tacit nod of approval from most of the claret and blue faithful.

Even as recent a time as the turn of the year, the announcement would probably have elicited a strong debate and threats of violence on the unofficial Hammers websites; as it is though, it seems even the most strident of the Anti-Sam brigade have had to concede that to not continue to back a man who has taken a newly promoted team to a comfortable mid-table position would be perverse even by modern-day football standards.

If Davids Gold and Sullivan presented Allardyce with a tick box of what they wanted when he was appointed boss in June 2011, then Big Sam could safely have passed it back without any qualms. Stabilise the club, bring a sense of structure, team spirit and harmony back to the dressing room? Tick! A quick return from the Championship? Tick! Ensure the club don't struggle on their first season back? Tick! Build for the future in the second season....? Well, the pen is poised at least!

Of course, there are many who still insist Allardyce is a long-ball dinosaur whose main requirements are that players are physically imposing and that victories mostly arrive on the back of set pieces and mean defences. Understandably, many of those same people will point to the Hammers' away record this campaign and demand that you argue it isn't a point for the prosecution. And sometimes, just sometimes, it's hard not to concede there may be a point in what they say.

But that's to deny the fact that Sam has an admirable record for getting the best out of what he has firstly been given, and then later what he is able to add with the finances available. It's inevitable -- as has been shown with recent reviews of the transfer dealings of Sir Alex Ferguson following his decision to retire -- that even the very best get it wrong, not only sometimes but actually fairly often. But no one remembers the duff ones if you come up trumps enough, and that is what Big Sam will be looking to do the next couple of seasons.

Make no mistake, if Allardyce can be said to have done well so far -- and I think he can -- then it is in his next contract period when we'll really see if he has the mettle that English football and West Ham United require. Big Sam will be overseeing the transition of the club from Upton Park to Olympic Park and, quite likely, a dizzying growth of a side for too long stuck in an underachieving quagmire. There's a definite undercurrent that -- this being West Ham after all! -- the club are just as likely to bring the manager down as much as he is likely to drag us up.

For though there might well be a statue of Moore, Hurst and Peters just down the road and a stand named after Sir Trevor Brooking, somewhere -- perhaps in some far, forgotten corner of the docks that used to define the average West Ham fan -- there will be a plinth containing a bronze cast of a man falling over his own shoelaces and inscribed underneath will be the legend 'West Ham United 1958 - ?'

With the extra TV revenue available from next season, it's likely that Sam will be given reasonable sums for the transfer market, but there have been signs that the manager hasn't always been happy with the response the team have given him in certain scenarios and certainly, as against Everton. he has appeared frustrated by the inability of some of his team to carry out his wishes on the pitch. He may want to make more wholesale changes and, I argue, it is then that we will be able to make a full assessment of what Sam Allardyce is able to achieve given the opportunity.

For all the heralded 'line of succession' talk currently enveloping Manchester United, it's worth remembering that David Moyes, despite his Everton 'success', never managed to win a single piece of silverware while, at the other end of the scale, Roberto Martinez is quite likely to discover that trophies may only bring you a success of sorts. Who Is the better manager? I'll let you argue that one.

It's an interesting debate and I one I get quite a feel for here at ESPNFC City, where you're never a mouse click away from an opinion. I sense that older Hammers fans would be quite happy with the 'up like a rocket, down like a stick' success of someone like Martinez, many unhappy at what they see as mid-table mediocrity. Others would prefer the Moyes model of punching above the weight, safe in the certainty that the lottery of the playoffs won't disturb your sleep patterns.

Me? I've argued since his appointment that Sam Allardyce is just what West Ham need right now. His understanding that the Hammers need stability and a platform from which to go forward makes sense to these ears. I've seen attacking football, pretty patterns and false dawns aplenty and I'm happy to put up with anything that saves me from the type of season I suffered in 2010-11; a dispiriting, miserable experience that I wouldn't wish on anyone.

So, congratulations on the new contract Sam and good work so far. Let's see where we go from here though, eh?