Winston Reid scoops Hammer of the Year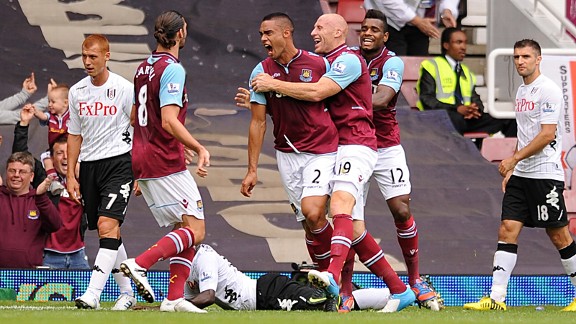 EmpicsWinston Reid has enjoyed a fine individual season
Defender Winston Reid has been deservedly named Hammer of the Year at the Annual Players Awards with Jussi Jaaskelainen getting the vote, perhaps surprisingly, as runner-up.

The HOTY award is voted for by the fans and, as such, is a solid acknowledgment of players who give their all in the claret and blue cause. Past winners look like a Who's Who of football; the trophy bearing the names of people such as Sir Geoff Hurst, Sir Trevor Brooking, Bobby Moore, Martin Peters, Alan Devonshire, Tony Cottee, Alvin Martin and, more recently, Scott Parker, to name just a few.

The highly coveted award is a merited recognition for the young New Zealand international who has looked completely unfazed at stepping up a level after his solid performances in the Championship last season. Reid has looked composed and assured throughout the campaign and, having just signed a new contract, it's hoped that Reid might be one of the players who can lead West Ham into their transition period as they prepare to move into the Olympic Park.

Jussi also has looked solid between the posts and some spectacular saves in recent games have perhaps raised his profile a little more than it had been during the main bulk of the season. Certainly the general feeling of the fans was that the contenders for the award would be Reid and the ever-dependable James Collins but the popular Welsh defender even lost out to Mohamed Diame who was voted third.

In an understandably glitzy affair at the Grosvenor Hotel in London, Billy Bonds received the club's first ever Lifetime Achievement Award - fully merited, of course, and humbly accepted by Bonds who has kept a low profile away from the club since his resignation as Manager back in August 1994. Hopefully, attempts by David's Gold and Sullivan will see Bonds become more of a fixture at Upton Park as many other ex-players are nowadays. The fans love Bonzo and it would be nice to see him presented to the crowd at the last game of the season against Reading.

Elsewhere, Elliot Lee won Academy Player of the Year, Young Player of the Year went to George Moncur while Mo Diame was awarded Best Goal of the Year for his strike against Manchester United in April.

Then, in what can only be assumed to be a calculated bit of schmoozing, the Board awarded their own Player of the Year Award to Andy Carroll. Short of getting on their knees, crying "Pweeeze Andy, pretty Pweeeze" and tugging their forelocks at the popular Geordie, it is difficult to imagine what else the owners could do - bar, of course, writing out a very large cheque to Liverpool FC. It will be interesting to see if this bit of crafty business does the trick.

The West Ham squad also picked Reid as their 'Players Player of the Year' - that must have been particularly rewarding for the 24-year-old - before Sam Allardyce was 'awarded' a 'Keep Calm and in Big Sam we trust' T-Shirt. Not sure if it was XXXL size but if Sam is like me - starting to despair at the infuriating idea that putting anything behind 'Keep Calm' is the height of sophisticated humour - then I think we should be keeping our eye on eBay for the next couple of weeks.

All in all, the usual amount of back-slapping expected on such a night but - lest we forget - richly deserved in terms of what has already been achieved this season. The last two season's gala evenings have preceeded a nervy pre-playoff affair and a relegation wake. At least everyone could enjoy a drink at this one and congratulations go to all concerned.