Billy Bonds: A Hammers legend honoured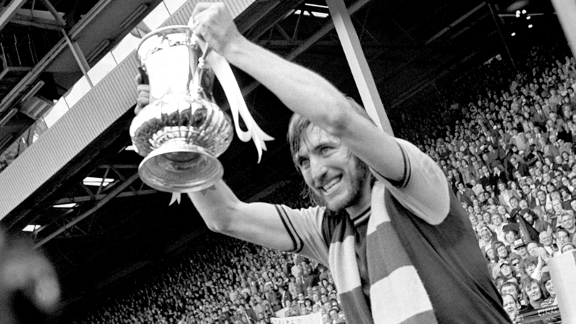 PA PhotosBilly Bonds: Two-time FA Cup winner, captain, manager and genuine West Ham legend
"Six foot two, eyes of blue, Billy Bonds is after you lalalalalalalala"

The word legend is an over-used epithet is today's language - I was even daubed one last week when I sorted out someone's PC! - but, in football terms at least, West Ham United will honour a genuine one of their own at the club's annual Player Awards at the Grosvenor Hotel in London this week.

Billy Bonds MBE is about to become the club's first recipient of a Lifetime Achievement Award; an honour richly deserved and, to be honest, way overdue. For Bonds has suffered somewhat at the cruel twist of fate that meant his managership of the club coincided with the ill-fated Bond Scheme, ensuring his tenure was forever associated with the worst of the Hammers 'yo-yo years,' when the board fought with the fans in a battle during which little money was available and team spirit was at a low ebb.

Nevertheless, Bonds secured promotion as a manager in only his second year on the the coaching staff that he joined after he retired from playing at the end of the 1987-88 season. Although the Hammers suffered the ignominy of going straight back down again, Bonds oversaw another immediate promotion - the club then joining the newly-formed Premier League - before being sadly ousted in a disrespectful manner in 1994 following the coup d'état that saw Harry Redknapp take over the manager's role.

Admirable though it is, however, it's not Bonds' managerial acumen for which he is most remembered, but rather as a superb defender and midfield player who made a club record 793 appearances for the Hammers between 1967 and 1988, twice lifting the FA Cup - once as a 34 year-old in an immaculate display in the 1-0 win over Arsenal when West Ham were a Second Division (now Championship) side. Bonds also captained the 1976 European Cup Winners' Cup side that lost in a memorable final to Anderlecht in Brussels.

Staggeringly, Bonds played until just after his 41st birthday and was merited with a PFA Award for his services to football that same season. Four times 'Hammer of the Year' in 1971, 1974, 1975 and 1987, Billy had an incredible level of fitness and the season after West Ham won the cup in 1980, he played an amazing 59 games as the club won promotion back to the First Division with a then-record haul of points, while also unluckily losing out to Liverpool in a League Cup Final appearance that went to a replay.

Awarded an MBE for 'services to football' in the Queen's New Year Honours List four months before his eventual retirement, Bonds could look back to an initial retirement four years earlier in May 1984, when he officially handed his captain's armband to the young England defender Alvin Martin. However, with the club struck by an appalling injury crisis, Billy answered his club's call and returned to duty in August of that same year, playing so well that he was easily able to retain his place amongst younger players who couldn't match his skill, enthusiasm and admirable match fitness.

Although Billy lost the whole of the 1985-86 season to injury, he returned to win his final Hammer of the Year Award, proving his longevity and the reverence by which he was held by the fans. For Bonds showed a commitment to the claret-and-blue cause that can only be guessed at by today's players. He never shirked a tackle, gave up a ball or failed to give 100% as an inspirational player and captain.

Billy joined West Ham in May 1967 from Charlton for £50,000. In terms of length of service and success for a club of West Ham's stature, it must rate as one of the best transfers of all times. Born in Woolwich in 1946, Bonds had debuted for the Addicks as an 18-year-old, making 95 appearances as a full-back before Ron Greenwood spotted his potential and brought the young and raw talent to bolster his sometimes soft defence.

'Bonzo' as he was obviously dubbed, was an instant hit; earning a reputation as a hard man, the young right-back became a fan favourite as he became identified with the still solid working-class support prevalent at the club at the time. It may have been Moore and Peters, then Brooking and Devonshire who showed the culture and artistry that became synonymous with the Hammers style of play, but it was Bonds, flying in to tackle, face grimacing, fists pumped who many supporters identified with.

Billy could have become a bit of an anochronyism as the 60s and 70s melded into the 80s but his ability to adapt and learn had long been spotted, first by Greenwood then John Lyall, as the robust full-back was converted initially into a ball-winning but stylish midfielder and later as a game-aware, positionally excellent, centre-back. Bonds later partnership with the young Alvin Martin may well have been the best the club has ever seen.

As if this wasn't enough, Bonds showed his all-round ability and professionalism by one season becoming the club's top scorer from midfield, netting a crucial 13 goals as the Hammers successfully fought a relegation battle during the 1973-74 season.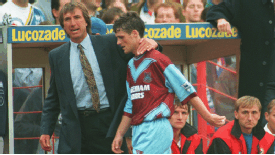 PA PhotosBilly Bonds went on to manage the Hammers during a very difficult period for the club in the early 1990s
If there is a hole in Billy's CV it can only come on the international stage. Although selected for the Under-23s, the closest Bonds got to a deserved cap was a place on the bench in 1977 when England played Italy in a World Cup qualifier. It was generally reckoned by his retirement that Bonds was probably the 'best player never to play for England'. However, this moniker in itself just shows the mettle of the man.

For in his younger years, although an excellent club player, Billy would probably have been seen as too wild and unpredictable to play for an England side then still considered to be one of the world's elite. But Bonds was able to adapt his game to the changing requirements as attacking players began receiving more protection from referees and, in the twilight of his career, he would ooze the class and composure that surely would have seen him as a shoo-in on the international stage had he been 15 years younger.

But whenever fans of a specific club start talking about their great players, it's always the memories and the stories passed down by supporters that help cement the 'legendary' status. I can see Bonzo, hair plastered down, bandage around his head from a severe head wound that required several stitches, urging his players on in a match I've otherwise long forgotten. The bandage became such a potent symbol that Bill decided to wear one permanently in a guise best described by the late, great ITV commentator Brian Moore as "the buccaneering Billy Bonds".

I see a rain-soaked Bonds powering through cloying mud to lash home an equalising goal in a heart-breaking semi-final defeat against Stoke City in the 1972 League Cup; the same player who turned his back, not able to look, as Geoff Hurst took a penalty in a decisive moment in the second-leg of that same tie.

I see Bonds twice lifting the FA Cup at Wembley, the second time in 1980 celebrating a sublime moment in which he had stood alongside a rookie Alvin Martin and played his heart out attempting successfully to nullify an Arsenal attack of Frank Stapleton and Alan Sunderland. It says much about the presence of the man that it was only through recently watching a full re-run of that final - a game that seems to totally centre around Trevor Brooking's reflex winning headed goal - that I realised just how good Billy was that day.

A ferocious tackler, skilful ball-winner, good in the air, excellent passer but, above all, inspirational to those around him and on the terraces, Billy Bonds was a player who never once went missing in a game. Before he joined West Ham in 1979, Cup-winning goalkeeper Phil Parkes admitted that he'd thought Bonds was someone who just shouted a lot and covered a lot of ground but, playing behind him Parkes realised just how crucial Bonzo was to West Ham's game. "He just made everything look simple".

Just two seasons after leading West Ham through some incredible quarter, semi and final rounds of the Cup Winners' Cup - some of the greatest matches in the club's illustrious history - Bonzo found himself surprisingly relegated in 1978, alongside his good mate Trevor Brooking, with a Hammers side in transition. Bonds probably could have walked into virtually any team in the division he'd just left, but I don't recall that ever being mentioned. Rather Billy just continued as he had before and was rewarded in the 1979-80 and 1980-81 seasons with some of his greatest achievements.

Surely nothing sums up Billy Bonds better, however than the day in March 1974 when a relegation-threatened West Ham faced Chelsea at Upton Park. This was the season that Bonds became top-scorer, and prior to the game an acutely embarrassed captain was handed a cheque for £100 and a silver statuette after being named 'Footballer of the Month' by a national newspaper. "I feared a backlash" said Bonds, who was never comfortable being in the spotlight. Greenwood explained that "Billy thought all the adulation might cause him to not be at his best". The result? Bonds scored a hat-trick to ensure the relegation crisis was over.

Billy was proud of his association with the club he joined as a 21 year-old, recalling in his autobiography how he was waiting in the tunnel before the momentous semi-final of the Cup Winners' Cup against Eintracht Frankfurt in 1976 and, glancing across at the captain of the German team, Bonzo noted how nervous his counterpart was. "He took one look at how close the fans were to the players, heard the roar of the crowd and I saw him go white. I knew we were going to win"

Every club has its 'legends' - some genuine, some just local heroes who've done well - and West Ham are lucky enough to have some names who, it's already proved, are destined to last beyond their lifetimes. The naming of stands after players can prove difficult when you already have a World Cup-winning captain and a couple of Knights of the Realm to secure first, but Billy Bonds is a player whose record was recognised by fellow professionals well beyond the confines of Upton Park, a player who even fans of other clubs can recognise and give a nod of consent too.

Excellent though the Lifetime Achievement award is then, it is vital that Bonzo's name be enshrined in the fabric of the new stadium when the club moves to the Olympic Park. In my opinion, Billy deserves at least one side of any stadium to be named after him. For rest assured, if West Ham United endure for the full 99 years of their tenancy in Stratford, Hammers fans will still talk about the legend that is Billy Bonds.