Hammers plan ahead; life goes on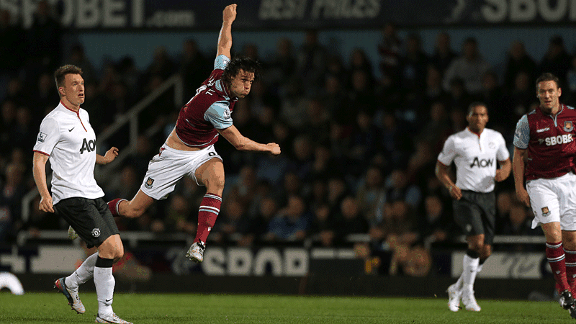 PA PhotosWest Ham's (?) Andy Carroll in action against the champions, Man Utd
In a week in which West Ham fans began getting emails and letters asking for their opinions on the move to the Olympic Stadium; a process that includes some heartstring-tugging videos along with some impressive statistics and plans for the what the finished structure is likely to look like, it's inevitable that the football world at large has its attention elsewhere.

Manchester United's record-breaking 20th title is to be congratulated I guess, but I don't feel this has been a particularly impressive season from any of the top five or six sides and it's seemed at times that the Reds haven't needed to be at their best. To wrap the title up with a few weeks to go suggests a strong team and one significantly in advance of their opponents, but had Sir Alex Ferguson's side been pushed a little closer than they were I think cracks might have started to show, although ultimately it will be hard to argue with Robin Van Persie's 24 goals in 34 games. This is the type of thing that £22.5 million buys you and is the reason why I for one prefer to note that of United's 20 titles, 13 of them have come since the bloated excesses of the sullen mistress that calls itself the Premier League were introduced.

There's no doubt that Ferguson will be a man enshrined in Manchester United's history, even if the Premier League endures for another few hundred years - and rightly so too. However, I don't think anyone should ever forget that twist of fate that married the undoubted coaching skills of a young Fergie with a flamboyant Frenchman called Eric Cantona and a fledgling break-away league that was renegotiating TV rights back in the early nineties. Even if nobody else gives it much thought, I suspect there are those in Liverpool and several other cities that do!

Talking of Liverpool of course, brings us to the raging storm of Luis Suarez and his attraction to biting the hand - arm, leg, neck, he's not bothered - that doesn't feed him. Of course, we're all wringing our hands, crying in our beer and bemoaning the loss of sportsmanship and fair play in English football... but come on! Didn't anyone else think this was highly amusing and a rollicking good watch? My only regret on the whole scenario is that I wasn't able to turn the incident into some sort of games console affair where I could pitch Suarez against the likes of Norman Hunter - lest we forget he bit your legs - a young Billy Bonds, Ron 'Chopper' Harris, Nobby Stiles or Billy Bremner and watch what happened as the Uruguayan attempted to taste the flesh of such luminaries. The resulting battle would have put a Frazier v Ali bout into the shade.

Complain and ring the BBC if you must, but let's keep some sense of impropriety here. If we just had a Manchester United and no Luis Suarez most of us would be sleeping through the football season.

Meanwhile back on home soil, the wordy battle to employ the undoubted skills of Andy Carroll next season continue to grow. Big Sam Allardyce seems to have moved very swiftly from last week's suggestion that for West Ham to buy the Geordie from Liverpool would possibly put them in contravention of the new FA Financial Fair Play rules - which are only fair to the likes of Manchester United, City, Arsenal etc anyway (see previous comment!) - to almost pleading with the board to find the money, with guarded suggestions that the player would be difficult to replace and a season of toil might ensue without the man with the ponytail running out of the tunnel next season.

I expect the 'will he, won't he?' saga will keep most Hammers fans gainfully glued to the pages of ESPN and the unofficial fans sites for most of the summer. This will at least be a glorious counterpoint to the glossy, brightly-coloured artist impressions of the Queen Elizabeth Park that currently fill my in-box. As the updates roll-in, be assured the ESPN West Ham blog will keep you informed.