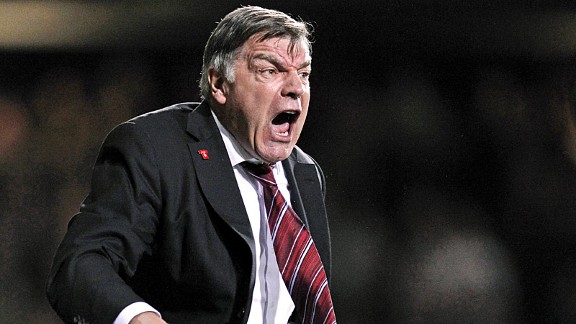 Ian Kington/AFP/Getty ImagesSam Allardyce: Searching for the right balance away from home
It would be terribly wrong to pretend that everyone who follows East London's finest are convinced -- there are many who long to see the back of Sam Allardyce and his supposed 'brand of football' -- but I sense the naysayers are starting to fall into the minority.

- Allardyce to avoid FA action

My stance on this has never changed; the glory days, perpetrated by the likes of Ron Greenwood and John Lyall, are such a distant memory that few -- bar those eyeing up the lure of an inflation-busting bus pass -- can really claim to be able to relate to them. The West Ham Academy has certainly produced many fine players since, and there are a lot of fans who won't have been too long in the job market who will recall a team containing the likes of Rio Ferdinand, Frank Lampard, a younger Joe Cole, Paolo di Canio and Trevor Sinclair and still have fond memories of the possibilities of the 'Golden Generation'. But let's not pretend the side that shone under Harry Redknapp did little more than many other Hammers sides before or since, entertaining all and sundry certainly, but ultimately flattering to deceive as they revealed a brittle spine that was frequently exposed when the pressure was at its greatest.

West Ham's 2-2 draw with Manchester United could be viewed in two ways: The rather petty view that the Hammers are a big, physical unit; that it's to be expected high balls will be lumped up for Andy Carroll to elbow the goalkeeper aside, or as I prefer, a physical side -- yes! -- but difficult to break down with a lot of spirit and a considerable amount of skill. Barcelona won't be quaking, I know, but there's more to this squad than the supposed philosophy of Allardyce allows, as the signing of Joe Cole and Matthew Jarvis should give testament to.

As ever, the inconsistencies in football continue to amuse. In denigrating West Ham's approach to the 1-1 draw at St Mary's last week, the correspondent on this very site failed to mention that the Saints goal had come from a huge goal kick that involved just two Southampton players. When exactly is a long ball an exquisitely fashioned 50 yard pass?

It will be interesting to see what happens then, with the visit of Wigan Athletic to the East End this weekend. In many ways, Wigan are like the West Ham of old: known for their attractive play and the good designs of their manager, but struggling at the wrong end of the table and in danger of finding their admirable intentions undermined. And don't get fooled by that Cup final berth. How may years did the Hammers find themselves in good cup runs while fighting relegation?

Having lost twice to the Lactics this season in cup and league, the Hammers will be hoping to reverse the trend against a club who have caused the Irons a deal of heartache over recent years, and there will be many of the claret and blue persuasion who won't be too disappointed if Wigan do finally slip through the relegation trapdoor this campaign.

Saturday's game could be interpreted as a clash between two different styles, but I prefer to see it as a game that should give a good indication of the immediate future of both clubs. Three points for Allardyce's bunch of alleged bruisers will surely help the growing admiration for the unfairly maligned gaffer, but nothing short of a win for Wigan will convince me that -- pretty though the football may be at times -- Roberto Martinez might not soon find himself facing the harsh football lesson that has afflicted many an attractive Hammers side in the past.

It's a tough fact of life but, as someone now getting used to seeing West Ham turn out more in expectation than hope, it's a something I'm happily willing to embrace.