Mel is the man for West Brom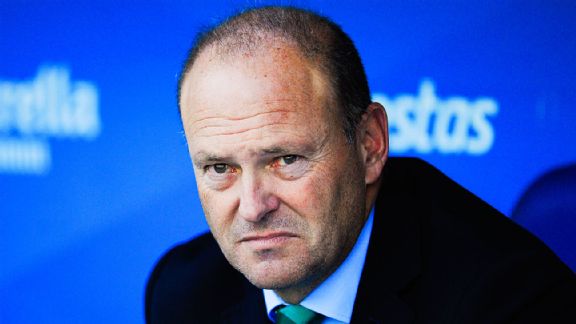 David Ramos/Getty ImagesPepe Mel led Real Betis to a Europa League berth last season.
After nearly a month-long search, West Brom have appointed Pepe Mel as their new head coach to replace Steve Clarke. It was a long process but it does look like Albion got their man, eventually. Mel could have been appointed over Christmas but talks broke down over deals for his two assistants. However, it seemed that Mel has had a change of heart and that West Brom have backed down from their tough stance on backroom staff, even though Mel's assistants look like they will join in the summer rather than immediately.

- Corrigan: From Betis to Baggies
- Report: West Brom appoint Mel

This is Mel's 10th club as a manager and he joins after being sacked by Real Betis just 12 days before Clarke was relieved of his duties by Albion. Despite this sacking, Mel undoubtedly got the job based on his achievements with Betis in a three-year spell with the club. In his first year with Betis, he got them promoted back to the top flight, before finishing 13th in their first season back in La Liga.

Last season he took them up another level by guiding them to a seventh place finish, which included wins over both Barcelona and Real Madrid. Of course, there will be questions asked about how he is any better than Clarke, considering they got sacked around the same time. But much like observers pointed to the fact Clarke lost Romelu Lukaku last summer, it must be noted that Betis lost several key players in the summer: Jose Canas, Benat and Dorlan Pabon all left the club, while Ruben Castro only returned from injury just before Mel was shown the door. Many managers or head coaches would struggle losing three of their key players in one foul swoop.

It wasn't only what he achieved at Betis that would have made Mel an appealing option to West Brom, it was the way he did it. Betis picked up numerous plaudits for their high-pressing, attacking style of football against any opposition, with Pep Guardiola among many figures lining up to applaud Mel's attitude to the game. Looking at many of the other names linked with the head coach job at West Brom, it's clear that a more adventurous, possession-based style of play was one of their main requirements following the more defensive, counter-attacking style employed by Roy Hodgson and Steve Clarke.

This is unsurprising considering the number of attacking options that are at Mel's disposal. One of the reasons Clarke wasn't getting results is that couldn't find a way of making these attacking players flourish on a regular basis, partly because he seemingly couldn't adapt his style to the variety of options he had. With Mel at the helm, it seems that there will be far more focus on what these players offer in attack rather than whether they fulfill their defensive duties.

Of course, there are other aspects to Mel's CV that would have made him an attractive proposition to West Brom's hierarchy. One of these is that he is used to working within the management model that Albion have, where transfers are dealt with between the head coach and sporting/technical director. Mel worked alongside a sporting director at Betis, so he will undoubtedly already have an understanding of the process.

Another consideration must have been that Mel is used to working on a budget. It was reported that another potential suitor for the job, Quique Flores, wanted a large transfer budget and that quite simply wasn't going to happen. While Mel will not be working in the poor financial conditions he had at Real Betis, there certainly won't be any crazy spending going on.

So what will West Brom want from Mel in his time at the club? Undoubtedly, the main aim for Mel for the remainder of this season is simply to keep the club in the Premier League. Keith Downing has done a sterling job in temporary charge of the first team, being undefeated in his four Premier League games thus far and seemingly restoring a bit of confidence to the ranks, while also allowing some of the fringe players to show what they can do.

Downing will be an invaluable aid to Mel in his first few months at the club and his knowledge needs to be tapped into, with Mel making tweaks to implement his own style rather than wholesale changes. As long as Mel keeps West Brom in the Premier League, I don't think fans will mind if the change in style is a gradual process rather than an immediate one.

It is only in the summer and at the start of the next season that I think we will see something that resembles a side that Mel wants. Up to nine players could leave the club at the end of the season, either due to their contracts with the club coming to an end or their loans deal being completed. Mel will have to make decisions on those players and also look at the positions he thinks need strengthening, so it seems as if The Baggies could be in for another busy summer.

Some have suggested that Albion have taken a risk with this appointment. That might be true, but any appointment is a risk these days. Martin Jol was considered the "safe" option, but even he would have been coming in off the back of a poor spell at Fulham. West Brom will just be hoping that Mel turns out to be another Mauricio Pochettino rather than the next Juande Ramos.