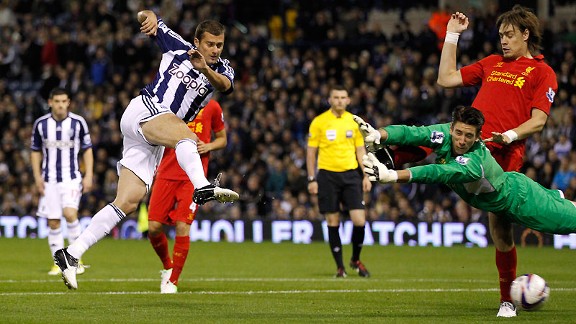 GettyImagesGabriel Tamasscores past Liverpool goalkeeper Brad Jones


Wednesday night's defeat against Liverpool in the Capital One Cup has raised more questions for Steve Clarke ahead of Sunday's derby game with Aston Villa. The display was poor all round and some of the performances will have given Clarke a dilemma as to who will lead the line against Villa.

Romelu Lukaku started the game up front by himself. There is no doubt about it, the on-loan Chelsea star is a big talent both in terms of ability and size. He holds the ball up very well, he's good in the air, he has pace and has shown that he can finish. But he is a long way from being the finished article, which is probably why he is out on loan rather than in the Chelsea first team. For all of these strengths, his running with the ball still leaves a lot to be desired. There were three occasions last night where he had the opportunity to run at goal but a heavy 2nd or 3rd touch let the defender sneak in and win the ball back. Also, and through no fault of his own, Lukaku's presence in the team seems to lead to the defence sometimes lumping the ball forward to him rather than looking to build play, like Clarke wants them to.

I believe Lukaku would work far better in a pair up front, and his partnership with Shane Long against Reading looked particularly threatening. Long has had a decent start to the season with 3 goals, albeit two against Yeovil in the previous round of the cup. Long is a player I imagine defenders hate to play against and our players love to play with. He does not stop running and he likes to put himself about. Long has serious pace and is surprisingly good in the air. The one issue I have with Long is his play with his back to goal, sometimes his first touch lets him down and we struggle to retain possession. That's why I think him and Lukaku would make a good pairing up front, Lukaku can do some of the things Long can't and vice versa.

Simple you say, why doesn't Clarke do that then? Well there's a few reasons. First of all, it looks as if we will play a 4-3-3 this season which means there is only space for one central striker, with 4-4-2 looking to be a back up option should things not go to plan(like the Reading game). And then there are some more forwards who we have to bring into the equation.

Markus Rosenberg played the full 90 minutes and looked a little off the pace. But I was impressed with what I saw, it is very clear that he is an intelligent player who has something about him. He's not as fast as Long or as big as Lukaku but he has a very nice touch, he can spot a pass and looks decent with his back to goal. He's an experienced international who has scored goals in the top league in Europe but where does he fit in?

And then arguably the forgotten man of Albion's strikers, Peter Odemwingie. Odemwingie has been put into a wide role this season and last, and he does look threatening there on occasions. But he is far better suited to the central role as we saw in his first season at the club where he scored 15 Premier League goals. It's been a long time since Odemwingie has played the central role here but I wouldn't be adverse to seeing him there again, he clearly has the tools to play that role.

This dilemma is, as I mentioned earlier, compounded by Clarke's preference for a 4-3-3 formation that has seen both Odemwingie and Rosenberg forced into wider roles which don't suit them. Depending on injuries, Clarke may be forced into a 4-4-2 formation this Sunday in which case with Odemwingie's suspension I'd expect Long and Lukaku to start up front.